Justin Bieber gets real for YouTube
December 31st, 2019 under Justin Bieber, YouTube. [ Comments: none ]

Justin Bieber is 25, and he has lived a lifetime already. The last five years have been extremely tough and formative for him. He took a break from music, got in trouble, sought help, married his wife, and finally returned to music.
YouTube got an inside look into his life, and they will be sharing it with us starting on January 27th. Every Wednesday, they will be sharing new episodes of the 10-part series Seasons. We can expect to see a behind-the-scenes look at Bieber's private life, including never-before-seen footage of his wedding to Hailey Bieber and his day-to-day alongside those in his inner circle. With brand new music scoring the episodes, Justin reflects on the highs and lows of growing up in the public eye as he invites his fans on the journey leading up to the release of the highly-anticipated and most personal album of his career.
Along with all that, we will also get to hear the inspiration for his new songs on what he thinks is his best album.
Whether you are a fan or not, it will be an interesting documentary to watch and enjoy. He might only be a quarter of a century old, but he has the wisdom of a much older man. Although, most of the time, he acts like the teen who got his start on YouTube. Talk about full circle.
Seasons will be available for free with commercials on YouTube. However, if you want to see it all early and commercial-free, then subscribe to YouTube Premium for series like this and Cobra Kai.

---
Carrie Underwood quits the CMAs
December 31st, 2019 under Carrie Underwood. [ Comments: none ]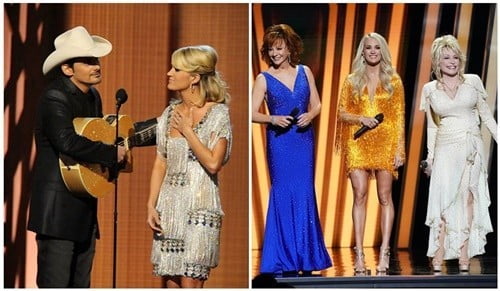 For the last 12 years, Carrie Underwood has hosted the CMA Awards for ABC, but she will not be back for lucky 13. The singer feels that she cannot top last year's show, so why try. She posted a long letter explaing her decision why.
One of the highlights of 2019 and of my entire career so far was being on stage with the legends that are Reba and Dolly Parton. I'm so proud that we could celebrate the incredible female artists that are part of the legacy of country music, past, present and future, and I'm thankful for the huge audiences all over the world that tuned in to see it. It's hard to believe that it was my 12th year hosting and I will always treasure every show, from the 11 that I was so lucky to do with my partner in crime and friend for life, Brad Paisley, to sharing the stage with two of my all-time heroes. I'm so incredibly grateful to everyone involved with the CMA Awards all these years. It's hard to imagine topping what we have accomplished together, so I've decided that it's time to pass the hosting torch (at least for now!) to others that will cherish it and honor it as much as I do. I've got so many exciting things coming in the new year and beyond, and I can't wait to see what the future has in store for all of us. #blessed #MemorableMoments
Will you miss her? I say they should replace her with Trace Adkins. He is the Ricky Gervais of Country Music. You never know what he is going to say, but you know it will be funny.

---
Mariah Carey did what no other artist has ever done
December 31st, 2019 under Mariah Carey. [ Comments: none ]

Mariah Carey did something that Elvis Presley, Barbra Streisand, Dolly Parton, Willie Nelson, Whitney Houston, Lionel Richie, Billy Joel, David Bowie, Frank Sinatra, Aretha Franklin, Kenny Rogers, Reba McIntyre, Paul McCartney, Tina Turner, Celine Dion nor Bruce Springsteen have done. In fact, Stevie Wonder, Michael Jackson, Elton John, Janet Jackson, Madonna, Christina Aguilera, Britney Spears, and Usher have come close but they are no Mariah
So what did she do that they didn't do? She is the first solo artist to top the Billboard 100 charts in four different decades. She had #1 hits in the 1990s, 2000s, 2010s and she will have one come 2020. All I Want for Christmas, a song that is 25 years old, is sitting on top of the chart today and will do so until January 4th. Talk about hitting a high note.
Personally, I cannot believe she is the first amongst all of those legends. However, she does release catchy songs that warrant being #1, so it makes sense.

---
Michelle Williams is engaged and pregnant
December 31st, 2019 under Heath Ledger/ Michelle Williams. [ Comments: none ]
Even though Michelle Williams is a secretive woman, there is a secret she cannot keep hidden. According to People, she is engaged to Thomas Kail and they are expecting a child together. He went from directing her on Fosse/Verdon to directing her in the bedroom.
This will be her second marriage. She secretly married Phil Elverum in 2018 and divorced him earlier this year. The actress also has a 14-year-old daughter, Matilda, with the late Heath Ledger.
Besides directing, Kail is good friends with Lin Manuel-Miranda and the two produced Hamilton and Into the Heights together.
I have a feeling the news broke because she will be showing on Sunday when she walks the Golden Globes red carpet with him. Kind of a preemptive strike by her people.

---
Hot Links!
December 31st, 2019 under Hot Links!. [ Comments: none ]

You'll never believe what Peloton guy did? – Celebitchy

Does this explain how Cats ended? – Screen Rant

Sharon Osbourne is Hollywood's biggest bitch – Dlisted

Sure that's why they cut Kelly Marie Tran's role – Pajiba

The nude Pirelli calendars throughout the years – Drunken Stepfather

---