The cast of All That 1.0 reunited for trivia at Good Burger
September 18th, 2019 under Alisa Reyes. [ Comments:

none

]

About two months ago, one of the skits from All That came to life with Good Burger getting a Pop Up restaurant. Yesterday, several members from the original series got together to play trivia with their fans. Actually, Sinbad, Alisa Reyes, Lori Beth Denberg, Josh Server, Angelique Bates, Christy Knowings and Leon Frierson read the questions and we had to answer them. I just Googled all the answers because that is how I play trivia.
It is not about me, it is about my friend Alisa and her castmates having fun reliving their youth with the fans. While those fans got to meet their TV friends who were a big part of younger days.
Everyone had a blast eating the Good Burgers and drinking the adult orange sodas with alcohol. Everyone except absentees Kenan Thompson who does something on Saturday Night and Kel Mitchell who is Dancing with the Stars.
Since they could not be there, they got two impersonators to play them. The guy who played Ed was so good, I actually thought it was Mitchell himself. Yes, lots of laughs at my expense.
The Good Burger in LA is closing on the 29th and reopening in Chicago next year. When it comes to the All That reboot, it is back on Saturday with the 4 final episodes of the first season. Keep your eye to see Mitchell, Server, Denberg and Reyes in at least one of those episodes.
Personally, I wish Nickelodeon would also do an adult version of All That with the OGs. Would you watch?
---
Simon Cowell and Randy Jackson thought American Idol would fail
September 18th, 2019 under American Idol 1-5, Kelly Clarkson, Paula Abdul, Simon Cowell. [ Comments:

none

]

Kelly Clarkson has a new talk show and she had some huge guests on it today. They are Simon Cowell, Paula Abdul and the dog Randy Jackson. Three people who have been with her since the start of her career back in 2002 on a little show called American Idol.
That was an interesting year for all of them and they talked about what it was like working on the singing competition before it aired. Cowell said the auditions were so bad he thought the show was going to fail. He went back to London and had no idea when the show was going to debut in the States. The day after it premiered, he got a phone call telling him the show was a hit. Cowell really thought it would be on for two weeks and then be done. Jackson felt the same way, but Paula knew it was going to be a hit. Who is the smartest one in the trio?
Although the boys would try to make Abdul look crazy and dumb on the judging panel. They would play a game they called The Name Game. Cowell would say to them, you can have x amount of time on Rodeo Drive with his black card if they said certain words like "spotted dick" on the air.
The had a lot of fun working together, as you can see, would they do it again? In a heartbeat. If I were ABC, I would fire those three judges they have now and replace them with this set. Then I would watch American Idol again.
One thing I will never watch again is From Justin to Kelly. I am not alone because Clarkson really hates the film. In fact, the singer told her nanny if she ever shows it to her two kids, that person would be fired. What would it take to get Clarkson to remake it? If Cowell did it with her. He would do it in a small role.
Talking about that film, whatever happened to Justin Guarini? He also was on the show and talked about how he landed that Dr. Diet Pepper commercials. However, he did not say if he would do another From Justin to Kelly. I would watch a sequel, wouldn't you?
Seeing them all together makes me miss how good Idol was before they added the fourth judge. That is when the show went downhill.
---
Is Christie Brinkley up for another season of Dancing with the Stars?
September 18th, 2019 under Christie Brinkley, Dancing with the Stars. [ Comments:

none

]

Christie Brinkley was all set to do Dancing with the Stars this season. Then last week, she feel and shattered her arm. The injury was so bad that it required surgery and she had to drop out of the competition before dancing her first dance on live television.
Brinkley's daughter was flying out to support her mom when the injured dancer got the news and the supermodel asked her daughter to step into her dancing shoes. At first Sailor was like no, but she decided to give it a try. Even though she had just a few days to learn the steps, she still wowed the judges and the audience on Monday night.
After the episode was over, Extra spoke to mother and daughter, and Sharna Burgess asked Christie would she do a different season of the show. She kind of hesitated before both women said yes.
Looks like we know at least one competitor on the next edition of DWTS.
---
Mario Lopez tore his biceps and got surgery
September 18th, 2019 under Mario Lopez. [ Comments:

none

]

I think you can tell by Mario Lopez's muscles, he works out a lot. The host does a lot of boxing like workouts and that has caused him some serious injuries recently. In July 2018, he tore his Achilles heel and got surgery to fix it.
You think he would learn from that, but he did not. Yesterday, he posted the above photos and wrote, "Evidently, I'm not 25yrs old anymore…Tore my biceps sparring. Might have to take it down a notch. Surgery was a success. Thank you Dr. Itamura!"
I am sure his bosses at Access Hollywood prefer would really prefer that. There is only one man I want to see on that show with a green arm and it is The Incredible Hulk.
---
Nick Carter gets a restraining order against Aaron Carter
September 18th, 2019 under Backstreet Boys /Aaron Carter. [ Comments:

none

]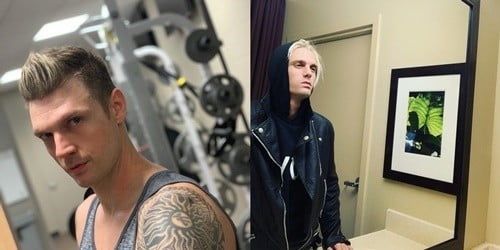 For years, Aaron Carter has been taunting his older brother Nick Carter on Twitter. In the last few weeks, it has gotten really bad. So much so, their fans have joined in on the feud. I guess the little brother went too far because he tweeted, "So my brother just got a restraining order against me. And I was just served lol." Then he added, "Take care. @nickcarter we're done for life…I haven't seen him in four years. And I don't intend."
After Aaron went public, Nick explained why he got the order. He explained, "After careful consideration, my sister Angel and I regret that we were required to seek a restraining order against our brother Aaron today. In light of Aaron's increasingly alarming behavior and his recent confession that he harbors thoughts and intentions of killing my pregnant wife and unborn child, we were left with no choice but to take every measure possible to protect ourselves and our family. We love our brother and truly hope he gets the proper treatment he needs before any harm comes to himself or anyone else,"
Nick also included the hashtag #guncontrolnow with his statement. That is because his baby bro openly admits that he has an arsenal of guns that he will not part with it.
After getting the restraining order, Aaron then accused his brother of rape and beating up Paris Hilton. Claims that have been reported in the media.
It would be nice to see the two of them get along. Especially since their mom is in rehab. However, this seems to be a relationship that looks like it can never be repaired.
---