Jerry O'Connell has his hands full
April 30th, 2010 under Jerry O'Connell/Rebecca Romijn. [ Comments: none ]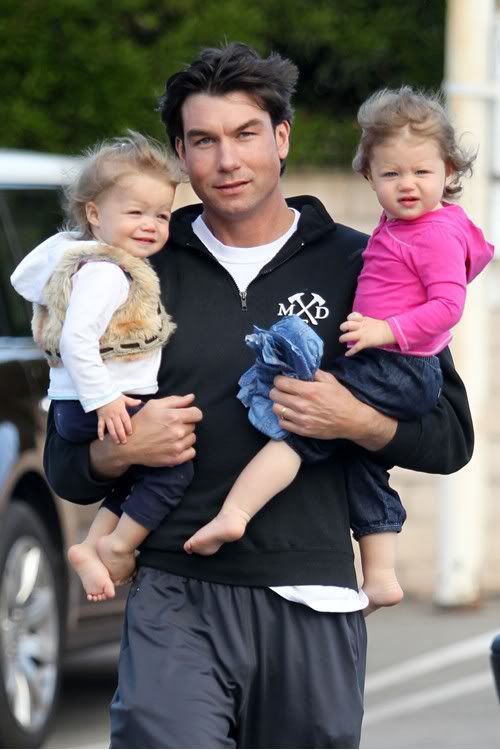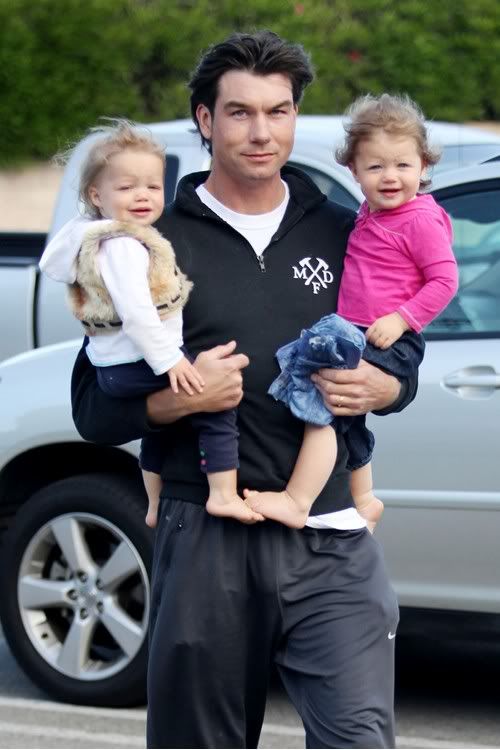 Pacific Coast News Online
Jerry O'Connell took his awwwdorable 16 month twin girls to an indoor playground yesterday and Dolly Rebecca Rose and Charlie Tamara Tulip look so happy to be spending some time with their dad. It is amazing how much both girls look like him with a touch of their mother Rebecca Romijn. They are just so precious!
BTW I tried not to look because he holding his little girls in his arms, but he should've worn better fitting pants that didn't show where the twins came from.

---
Halle Berry has split from her baby's daddy
April 30th, 2010 under Halle Berry. [ Comments: none ]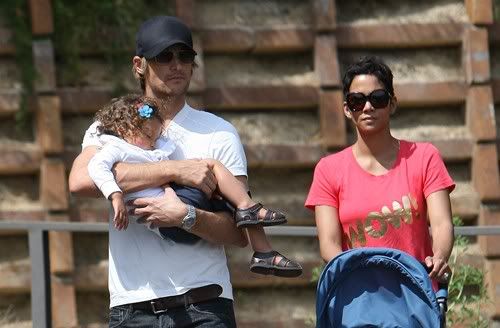 (photo from Fame Pictures)


Halle Berry and her gorgeous boyfriend Gabriel Aubry have split according to TMZ. The two had been dating for 4 years and have an awwwdorable 2 year old daughter Nahla together. No reason was given for the split, but the two are amicably working on a longer term custody agreement for their daughter according to TMZ.
OK, let's start taking bets on who she will be linked to first?

---
Courtney Love auditioned for The Mickey Mouse Club
April 30th, 2010 under Courtney Love, Jimmy Kimmel. [ Comments: none ]

Courtney Love was on Jimmy Kimmel Live yesterday and she told him that when she was 9 or 10 years old she auditioned for The Mickey Mouse Club. The reason why we didn't know that until now is not only because she didn't talk about it before now but because she auditioned under the name Coco Rodriguez. Coco was what she called herself back then and Rodriguez was her stepfather's (at the time) last name. Could you imagine if she got on the show? Maybe she never would've married Kurt Cobain and we would have never had heard of her because no way would she have joined a band like Hole with the TMMC influence.
BTW she would not have been on the same Mickey Mouse Club as Britney Spears, Christina Aguilera, Justin Timberlake and Keri Russell because they weren't born when she auditioned for the show.

---
The female version of Hung…Tight!
April 30th, 2010 under Awesome Videos. [ Comments: none ]

via Adam Mckay's Twitter
Diablo Cody's United States of Tara is an Emmy winning show for Showtime and now she is going to try to do the same at HBO with Tight. Tight is a spinoff of the critically acclaimed HBO show Hung about a man with an almost perfect penis who starts using his best asset to make extra money by selling its use to women. Instead of focusing on the man's greatest f*ck strength, it is focusing on women's. Michaela Watkins has an extremely tight vajayjay and she doesn't have to vajazzle it to make the men want to pay for it. Tight looks like an instant classic and I can't wait to see it. Looks like Diablo Cody will be adding an Emmy to her shelf to go along with her Oscar and soon-to-be-born baby!
Seriously Tight is so wrong, it is right!

---
Hot Links!
April 29th, 2010 under Hot Links!. [ Comments: none ]
Britney Spears finally found a bra –
Popbytes
Paris Hilton in a see-thru shirt with no bra –
ICYDK
April has not been a good month for Kate Gosselin –
GB
Which couple has nude pix all over their bedroom? –
AG
Who has a sex tape you don't want to see? –
Celebitchy
Which Disney darling would do a nude scene? –
CelebJihad

---