[ # ] You say Moana, I hear marijuana
July 12th, 2019 under Odd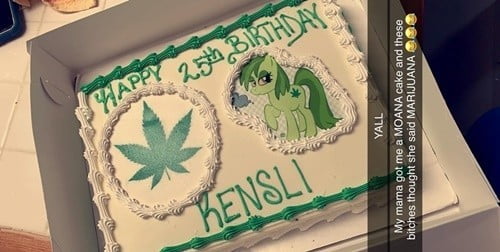 It was Kensli Davis' 25th birthday, and her mom wanted to do something special for her daughter. Therefore, she called Dairy Queen and ordered an ice cream cake for her. Not just any ordinary cake, a Moana one. Davis really loves the movie and her monther told that to the person on the phone.
Well, I guess the person is not familiar with the musical because that was not what was on the cake, Instead there was a marijuana leaf with a really groovy green My Little Pony character and green frosting all over the cake. On a positive note, at least they spelled her name correctly.
Was the cake a high point or a low one for her big day? She told her friends, "…😂😂😂 That ice cream cake was still good though 🤷" At the end of the day, that is all that matters. That and she got a great story!
I have never seen Moama (sorry DJ), I guess it is more of a trippy movie than a movie about a trip.
---