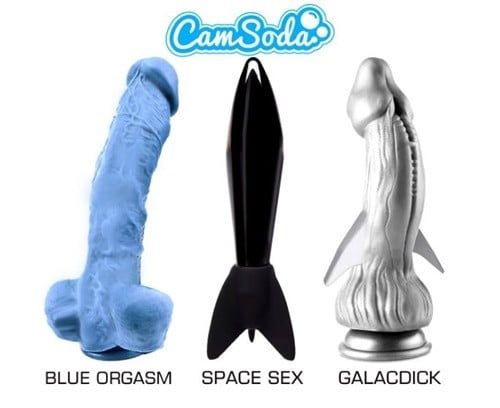 Yesterday when Jeff Bezos flew up into space with his rocketship, people couldn't help but to notice how phallic it looked.
As soon as CamSoda saw it, a lightbulb went off in their heads. They said let's make dildos in the shape of Elon Musk, Richard Branson, and Bezos' penis substitutes and call the line Billionaire Space Race. You know, because we like to cum into money. An old joke that still works.
"Right now billionaires are getting off by going to space in their rockets. With our line of Billionaire Flesh Rockets, people who can't afford a ticket aboard the VSS Unity, Blue Origin or Elon's SpaceX rocket can get off in a different way and penetrate the o-zone," said CamSoda VP Daryn Parker. "Go boldly into where no one's gone before, explore Uranus and maybe even have a close encounter of the pantless kind. Screw being pluton-ic! Grab your Billionaire Flesh Rocket today."
The three sex toys are being rushed into production and will be available for pre-sale soon.
Which one do you want to take for a ride? I am going with the biggest figurative dick of the three and choosing the Blue Orgasm. Then again, Space Sex should be able to drive itself. However, sometimes we all need a Virgin…

---