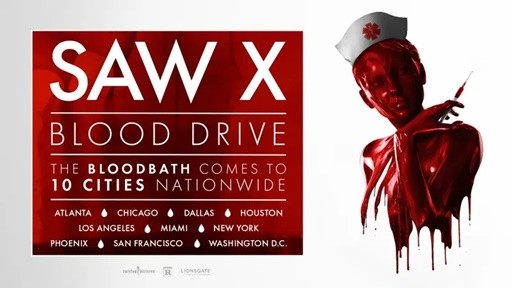 There is a lot of blood going to waste in Saw X, so Lionsgate wants your blood to make up for it.
So they are holding blood drives in Atlanta, Chicago, Dallas, Houston, Los Angeles, Miami, New York, Phoenix, San Francisco, and Washington DC from today until the release of Saw X on September 29th.
To find out when and where you can donate, then check out Audacy.
If you can donate, please consider doing it. There is a national blood shortage, and it has been a slow month at the Red Cross, according to my phlebotomist. Since we live in a country that is always waiting for the next mass shooting or Jigsaw rampage, we cannot have our blood supply reach critical levels. It will take less than half an hour, and you can save a life.
I donate platelets; it takes longer, but you can watch a movie like one of the Saws during the procedure.
So give blood, or you might meet Jigsaw in a dark room with several other strangers fighting for your life. And there might not be any blood left to save you…

---