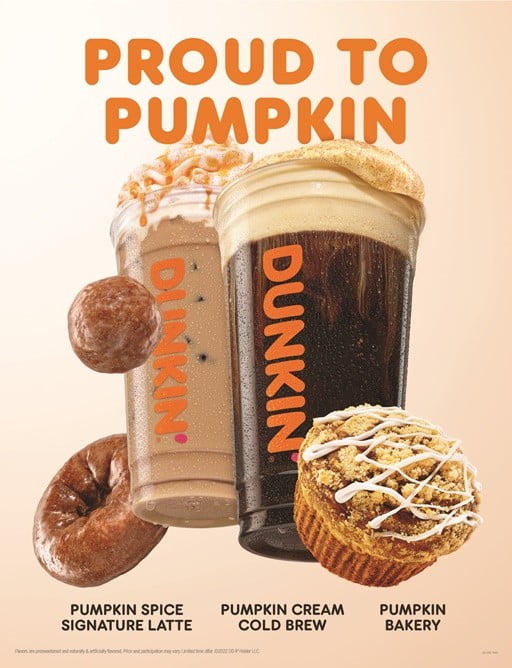 Since Oreo and Krispy Kreme started their Pumpkin Spice season early, Dunkin' Donuts is doing the same.
From August 17th-September 13th, you will be able to order glazed Pumpkin cake donuts, Pumpkin MUNCHKINS® Donut Hole Treats, and Pumpkin muffins, along with Pumpkin Cream Cold Brew, Pumpkin Spice Signature Latte, Blood Orange Dunkin' Refresher, Nutty Pumpkin Coffee, Maple Sugar Bacon Breakfast Sandwich, and Maple Sugar Snackin' Bacon.
Now that I think about it, maybe starting the season early isn't such a bad thing. Hopefully, it will bring the Fall temperature sooner because this heat is killing me!
To read about the new drinks, then
NEW Nutty Pumpkin Coffeefast f: This latest coffee creation combines Dunkin's Original Blend Iced Coffee with a delicious pumpkin spice swirl, hazelnut flavor shot, and cream for a reimagined take on classic pumpkin flavors. Full of fall flavor, the Nutty Pumpkin is available hot or iced.
Fall for Blood Orange: Dunkin' is bringing guests an exciting fall refresh with the brand-new Blood Orange Dunkin' Refresher. Served chilled over ice, this seasonal citrus-forward Dunkin' Refresher balances tart cranberry with bright blood orange flavor, along with subtle notes of fall spices, like ginger and cinnamon. Made with either green tea or coconutmilk, Dunkin' is falling hard for blood orange this season.

---