[ # ] Papa Johns is selling a pizza without the crust
August 18th, 2022 under Fast Food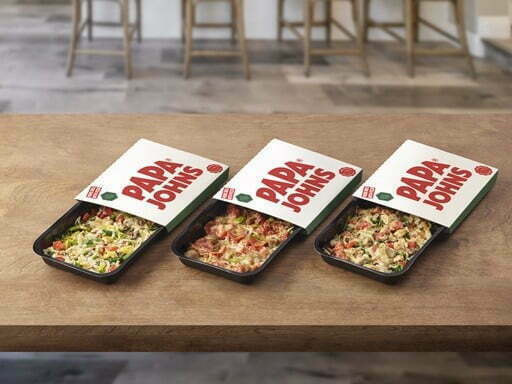 Are you trying to cut down on carbs but still be able to eat pizza? Then Papa Johns just turned your dieting nightmare into a dream. That is because they got rid of the crust and are selling everything you get on top of it in a bowl.
"We are very excited to offer Papa Bowls as a new menu category and as a new way consumers can experience our premium ingredients," said Scott Rodriguez, Papa Johns Senior Vice President of Menu Strategy and Product Innovation. "Our signature crust continues to be a beloved favorite, but we know that sometimes customers crave something different. We want them to know we are committed to delivering on all of those cravings through our menu."
On Monday, they have three different bowls joining the menu for $7.99 each.
Italian Meats Trio features signature pizza and alfredo sauces, layered with Papa Johns signature pepperoni, sausage, meatballs, green peppers, onions and tomatoes. Topped with three melty cheeses and sprinkled with Italian seasoning.
Chicken Alfredo features creamy alfredo and garlic parmesan sauces and juicy grilled chicken, complete with spinach, mushrooms, onions and tomatoes, then topped with a melty three cheese blend and Italian seasoning.
Garden Veggie includes spinach, mushrooms, onions, green peppers, tomatoes and banana peppers baked in a bowl with Papa Johns signature pizza sauce and garlic parmesan, covered in three melty cheeses and topped with Italian seasoning.
Part of me is curious about the bowls because sometimes I wonder what crustless pizza tastes like. But is it really pizza if there is no crust? Are you willing to find out?

---