[ # ] Lou Diamond Phillips is a pussy magnet!
February 27th, 2019 under Lou Diamond Phillips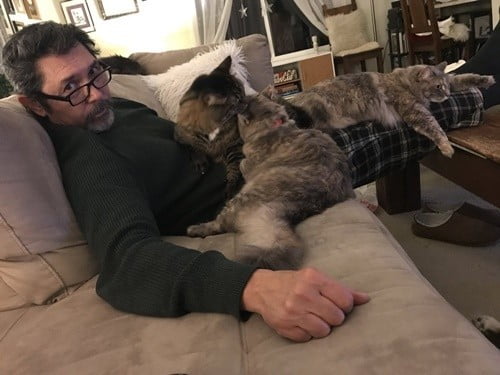 After Lou Diamond Phillips did La Bamba , he becae one of the hottest actors with the ladies. Now, 30 years later, he is just as hot with the pussies. As in cats.
The actor posted this meowvelous photo with his three cats and said, "This happens so often I'm beginning to think that @YMPhillips launders my shorts in catnip." I think he is right because how many of us cat owners can get one cat to stay on our laps like that. Let alone three. There is obviously something special about him.
Although, I feel bad for him. Anyone who has a cat knows that if you get that purrfect love from your kitty, you don't want to move because you do not know if it will happen again. Therefore, I wonder how long he was stuck like that and how long he stayed like that after this picture was snapped?

---