[ # ] Is this why McDonald's fries are so salty?
October 1st, 2019 under Fast Food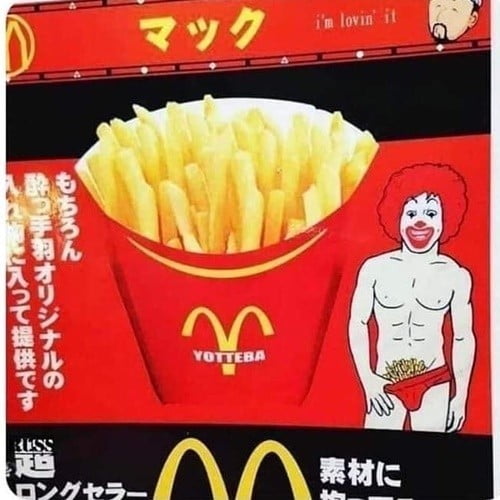 YourEveryDayAsian found this McDonald's ad from Japan. It has a very toned Ronald McDonald wearing just a red Speedo with their french fries sticking out it. Does that make you excited to have one of them in your mouth? You know, when you suck on one and a little liquid potato juice squirts on to your tongue. You cannot help but swallow that yummy fry.
Sorry, I got distracted for a second. Maybe this poster answers more than we ever wanted to know about their mascot. For the most part, he has length, but he definitely has no girth. When was the last time you had a big fat fry from them that filled up your whole mouth? You have to go to a deli or dinner to get one of those fries. With those, you can get satisfied with just one, with Mickey D's you need several of them. However, it is not the size that matters, it is how they are cooked in their batters.
BTW, if that is where their fries come from, where do their hamburgers come from? Some things we do not what to know.
---