[ # ] Ed Sheeran's dream came true!
June 5th, 2019 under Ed Sheeran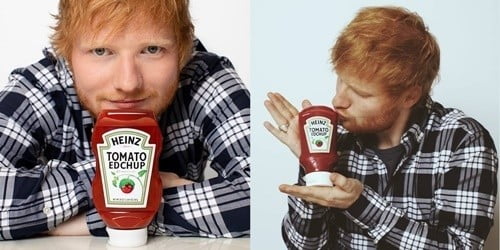 loves ketchup as much as he Ed Sheeran loves singing. In fact, he has pitched the company several ideas over the years. Well, Heinz finally threw him a bone. Or should I say a ketchup bottle? For a limited time you can buy a bottle of Edchup for $5!
How does the singer, whose hair matches the color of the condiment feel about it? He wrote, "It's actually real and you'll be able to get your hands on one very soon #Edchup #KetchupDay #EDxHEINZ #TheDreamThatKeepsOnGiving"
I think he is in love. If Cherry Seaborn does not watch out, she might lose her lover to all the bottles of Edchup he is going to buy. I think I know a way she can keep him. She can cover herself in the red sauce and you see where I am going with this thought…

---