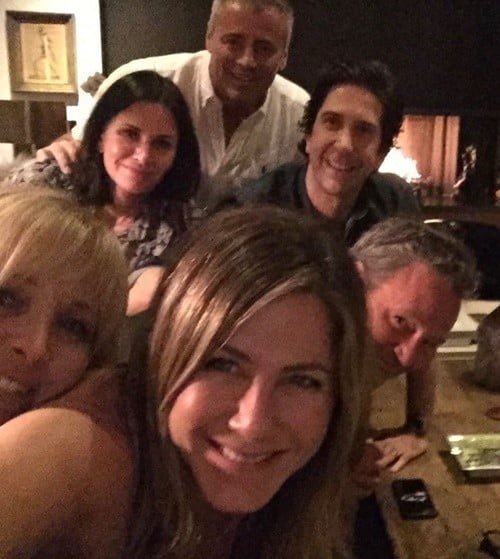 Jennifer Aniston joining Instagram is a huge deal, but not break the internet huge. What is that huge is that she posted a photo with all six Friends in one place at the same time. For the first time since the beloved sitcom ended in 2004, we are seeing Aniston, Lisa Kudrow, Courteney Cox, Matthew Perry, Matt Le Blanc and David Schwimmer in one photo.
For 15 years, we have wanted a reunion and we finally got one. While they look a little older, they all still look fabulous. Maybe since they were all together again on one location, they might be willing to give us that television reunion we all really really want.
When it comes to Jen putting Kim Kardashian in the internet's history place. In less than two hours of posting the photo, it has already been liked by over 823,000 people including her ex-husband Justin Theroux. She did it without any warning. No one knew she was going to join the social media site. No fanfare, just one little photo that almost all of the World (see how much Netflix paid to keep it on their streaming site) has been waiting for. Maybe it will help to bring World Peace?
Top that the Kardashians, Taylor Swift and Selena Gomez. You can't unless all y'all posed nude together.

---