[ # ] Cindy Brady in bed with her three brothers!
September 17th, 2019 under HGTV, The Brady Bunch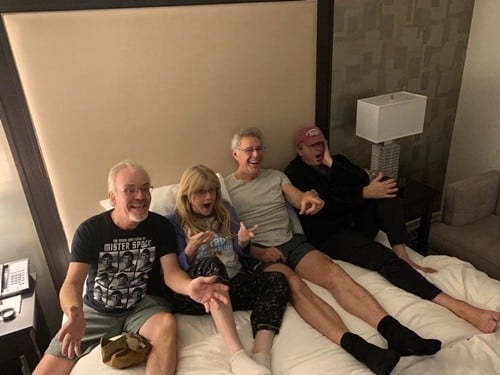 Fifty years ago, Susan Olsen, Barry Williams, Chistopher Knight and Mike Lookinland became brothers and sister for The Brady Bunch. Nearly five decades later they were reunited to renovate the inside of the exterior house seen of the sitcom.
A Very Brady Renovation is currently airing Monday nights at 9p on HGTV and some of the Bradys got together to watch it live. What better way to watch it then in bed. That is exactly what Bobby, Cindy, Greg and Peter did yesterday in NYC.
They might not be related by blood, but they have that special bond that only relatives have.
BTW How much are you loving the renovation show? The amount of work they did to make a soundstage exist in a real home is absolutely awesome. Each episode blows me away.

---