Who knew Zac Efron was into slapstick comedy?
March 29th, 2021 under Zac Efron, Zach Braff. [ Comments: none ]
Zac Efron was checking out a garden, and he didn't notice something in his path. That thing was a rake, and he stepped on the medal part of it.
What happens when you do that? The wood part stands straight up and hits you in the face. That caused the actor to fall down—a move we have seen in many slapstick comedies. Therefore, when he is ready to return to acting, I think he needs to do a movie like that. Preferably not another one with Seth Rogen because he is better than that.

---
It looks like Zac Efron has found love
March 18th, 2021 under Zac Efron. [ Comments: none ]

Zac Efron has dated a lot of women throughout his life, but I have never seen him look at any of them like he is looking at this joey on Kangaroo Island. Then again, who wouldn't. I am in love with both of them from the picture. Who wouldn't be?

---
Zac Efron reunites with Disney for a Three Men and a Baby remake
August 10th, 2020 under Disney+, Zac Efron. [ Comments: none ]

Disney+ is remaking Three Men and a Baby, and Zac Efron is going to play one of the men according to The Hollywood Reporter. However, we don't know which one. Do you think he is a Tom Selleck, Ted Danson, or Steve Guttenberg? I say he is playing Guttenberg's character.
When it comes to the remake, I don't think it needs to be made. I would rather have a third film with the original three. If not, then I want the infamous ghost from the first picture to get his own movie.

---
Killing Zac Efron almost killed Zac Efron
December 29th, 2019 under Zac Efron. [ Comments: none ]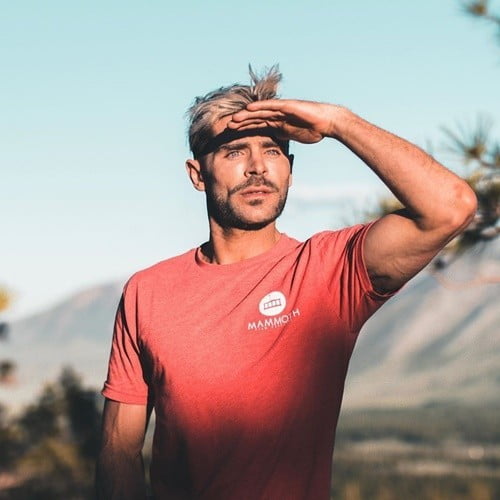 Zac Efron spent the last few months filming the adventure reality series Killing Zac Efron and it almost killed him. According to The Sunday Telegraph, the actor became ill while filming in Papua New Guinea and was flown to Brisbane, Australia. From there was he was taken to a local private hospital where he was treated for "a form of Typhoid or similar bacterial infection."
After being treated for several days for the ailment, he was allowed to fly back to the United States on Christmas Eve where he continues to recover. In fact, Daily Mail has photos of him partying yesterday in Los Angeles. What doesn't kill you, only makes you stronger.
Killing Zac Efron is slated to stream on Quibi in 2020. No word if Efron will continue filming the series after it nearly killed him. For some reason, I do not think a near-death experience will stop him.

---
BTWF: Zac Efron on Summerland
April 30th, 2019 under Before They Were Famous, Graham Norton, Zac Efron. [ Comments: none ]

Before women wanted to kiss Zac Efron on camera, his co-star on Summerland did not want to do it. To hear why Kay Panabaker did not want to kiss the 16-year-old in that 2004 episode, then click here!

---