America Ferrera is celebrating 2020 with baby #2
January 1st, 2020 under Ugly Betty. [ Comments: none ]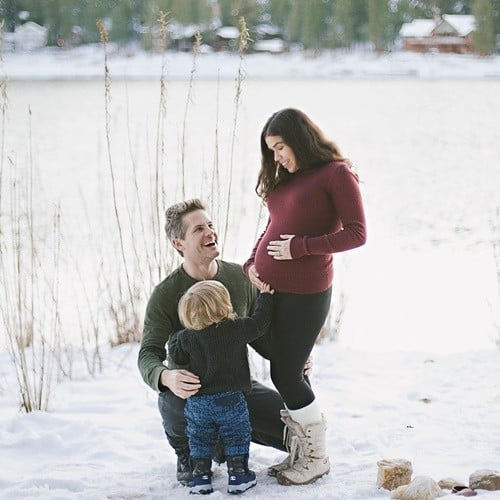 America Ferrera has been keeping a secret, and that is that she is pregnant with baby #2. The actress, her husband Ryan Piers Williams and their 19-month-old son Sebastian, made the announcement on social media on New Year's Eve. No word when it is due, but it looks like it will be sooner, rather than later.
Also, it is unsure if her pregnancy will be written into Superstore. However, if they do, then it will be Jonah's or will it be?

---
Michael Urie was no Ugly Betty at the Met Gala
May 7th, 2019 under Ugly Betty. [ Comments: none ]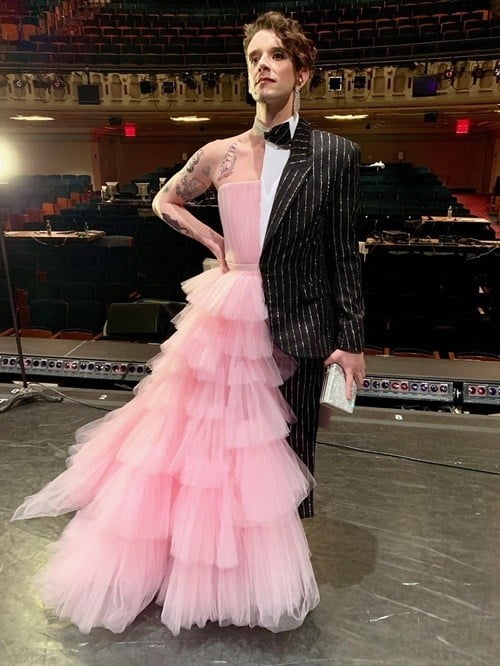 Michael Urie walked the Met Gala pink carpet in a Christian Siriano original. It was a soft pink sleeveless ruffled gown on the right side and shiny pin stripped tux on the left. Because sometimes being best dressed in one category is not enough. You need to be the best dressed male and female of the night. Which he is!
He was last night's campiest celebrity wearing an outfit that only someone with a vibrant personality like his can pull off. Well him and someone trying to win a variety show with a one-person both sex act.
To see a closeup his face that was half made up and half with stubble, then click here!

---
Can you tell which is America Ferrera's real and fake post birthing photos?
November 1st, 2018 under Superstore, Ugly Betty. [ Comments: none ]

Back in May, America Ferrera gave birth to her first child. Tonight at 8p on NBC on Superstore, her character is giving birth to her second one.

The actress shared a photo shortly after she had her son Sebastian and one after she had her TV baby. She wants to know if you can tell which one is which? I guessed and got it wrong. Did you get it right?

To find out if you are right, you can watch the sitcom. Which is what I would suggest. Or if you can't, then click here!

---
America Ferrera has a beautiful baby boy!
May 29th, 2018 under American Pie, Babies, Superstore, Ugly Betty. [ Comments: none ]

America Ferrera was the last member of the Sisterhood to trade in her Traveling Pants for diapers, but she is finally is like the rest of them. The actress broke the happy news on social media when she wrote, "When 2 become 3…Welcome Sebastian Piers Williams – aka Baz! Mom, Dad, and Baby are happy, healthy and totally in love! 😍😍😍." No word when he was born; but by the looks of his foot, it was not that long ago.

This is her and Ryan Piers Williams' first child. The proud parents will be celebrating their 7th wedding anniversary next month.

The Superstore actress was not the only one to break baby news on Instagram today, American Pie's Chris Kline welcomed his second child with his wife, Laina Rose Thyfault. He wrote, "This Saturday 5/26 at 2:25pm my wife @lalalainarose gave birth to our second beautiful miracle. Isla Rose Klein. 8lbs 7oz of healthy baby girl. Laina and Isla took the journey together with Courage, Strength and Epic Grace. My Girls, I am so proud of you and so grateful that you were delivered safely back to me. I love you Laina. Thank you for making me a father again."

The couple, who will celebrate their third wedding anniversary in August, also have a son, Frederick Easton, who turns two next month.

Finally, Josh Brolin and his wife, Kathryn announced that they have a baby girl on the way, but did not say when she will be here. This is his third child, he has a son Trevor, 29, and a daughter Eden, 24, with Alice Adair.

---
The pretty girls from Ugly Betty reunited!
April 30th, 2018 under Ugly Betty. [ Comments: none ]

America Ferrera is about to have her first baby any day now. You know what that means? Baby shower time. Just like Betty Suarez would have done, Ugly Betty invited her coworkers to the shindig.

Those costars included Vanessa Williams, Becki Newton and Judith Light, and they look closer than they ever looked on the dramedy. Which was the purpose of their friendship on the show.

And on that note, seeing them together like that, I wonder why can't we get an Ugly Betty revival? ABC could totally use it. Plus, Ferrera can be a mom, and shoot Superstore and Betty at the same time. Give her some traveling pants and she can do anything. Right? So what are they waiting for?

---