CBS gave Bold and the Beautiful a beautiful gift for their 35th anniversary
March 2nd, 2022 under TV Soaps. [ Comments: none ]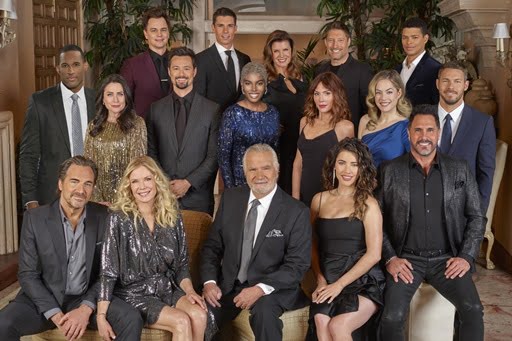 The Bold and the Beautiful is going to turn 35 on March 23rd. However, CBS couldn't wait to give the Soap Opera its anniversary present of a two-year renewal.
"35 years ago, I would have never imagined what was in store," said Bradley P. Bell, executive producer and head writer of THE BOLD AND THE BEAUTIFUL. "Since our premiere in 1987, it's been a fantastic journey and incredible experience for all of us. We would not be here if not for the invaluable support of CBS and our millions of fans around the globe for their loyalty and support."
Because of their global success as the #1 Daytime Drama in the World, the news comes as no surprise.
To see some interesting stats about the show's 35-year history, then click here!

---
BTWF: Ming-Na Wen on As the World Turns
January 18th, 2022 under Before They Were Famous, TV Soaps. [ Comments: none ]
Before Ming-Na Wen played a doctor in ER, she studied law on As the World Turns. She looks the same now as she did when she was 24 in that 1988 episode.
Wen talked about her first big role to Kelly Ripa on Live with Kelly and Ryan, and what she says is so true. Soap Operas are the best training ground for actors. To hear what she said, then click here!

---
Richard Burgi fired from Y&R cause he 'naively and inadvertently violated the show's Covid policy.'
January 12th, 2022 under Coronavirus, TV Soaps. [ Comments: none ]
Richard Burgi has been playing Ashland Locke on The Young and the Restless for almost a year, but he was recently fired from the role. The actor took to Instagram to explain why.
Over Christmas break, Burgi tested positive for COVID-19. When he returned, he followed the CDC guidelines and returned to work, with two negative tests, five days after he tested positive. However, the show's policy says that he needed to wait for ten days. Since the actor didn't, they decided to let him go and replace him with Robert Newman, according to Soap Opera Digest.
He feels terrible about what he did. Personally, I think they should have suspended him, as compared to firing him because he didn't know that they were not following the Center for Disease Control's new guidelines. If anyone is at fault here, it is the CDC.
When it comes to if Burgi has any animosity towards the Soap Opera, he does not. He said," "It bothers me mightily, but it is what it is. I respect whatever the show's decision is. They're doing the best they can, as we all are. I truly wish the gentleman who's coming in to play Ashland a wonderful time. He's going to be working with the most incredible actress and a great, great cast. It's an amazing show, I have nothing but good memories and good wishes for it."
He is handling the situation with class. I can't wait to see what he does next because this should not fault him in Hollywood. It was an innocent mistake, and he made sure he was negative before returning to work.
What do you think?

---
Do you think Eric Braeden is sexy?
January 5th, 2022 under Eric Braeden, TV Soaps. [ Comments: none ]
Eric Braeden is on TikTok, and he took part in one of the social media site's newest trends. That trend is dancing to Rod Stewart's Do Ya Think I'm Sexy?
Do I think the 80-year-old is sexy? In a word, YES! He will always be Young and Restless no matter how old he gets.

---
Did General Hospital really kill off Luke?
January 4th, 2022 under TV Soaps. [ Comments: none ]
Back in 2015, Anthony Geary retired from General Hospital. However, his character Luke Spencer lived on.
That is until now. Because yesterday, Tracy Quartermaine (Jane Elliott) knocked on Laura's (Genie Francis) door and told her Luke is gone. Today, his current love explained to his soulmate that he was killed in a cable car accident in Austria. Then Tracy said that the cops identified his remains and gave her his personal items, so it was really him.
But it is? In the world of Soap Operas, only time will tell.
Do you think this is how Luke finally met his demise? Or are you expecting to show up at his funeral?

---