Kristoff St. John gets a 4-episode sendoff on The Young & The Restless
April 15th, 2019 under TV Soaps. [ Comments:

none

]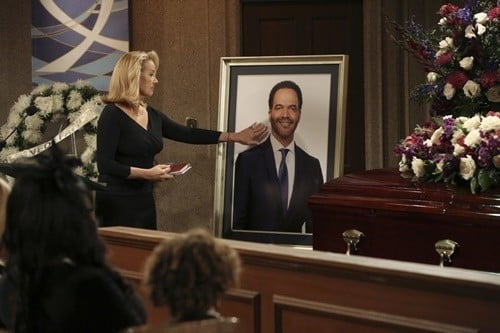 On Febraury 3rd, Kristoff St. John passed away suddenly. That left The Young & The Restless in a tough situation. How would they handle the real life death of one of its longest characters. Today, they revealed how they will write off Neil Winters, a man who has been with them for 27 years.
Starting on April 23rd, Genoa City will be shocked to learn of his sudden passing. Over the next three days, they will remember their friend and family member. Shemar Moore, Christel Khalil and Eileen Davidson will return to say goodbye to him. Stan Shaw, Kristoff's longtime friend and co-star from Roots: The Next Generations will appear as the Reverend at his funeral on April 25.
Then on April 29th, St. John will get a stand-alone tribute episode where current and past cast members like Victoria Rowell and Mishael Morgan will talk about the man that touched all of their lives.
This is a storyline no soap opera wants to do, but you know they will do a good job remembering someone that has been with them for over a quarter of a century. Get the tissues ready because we are going to need them.
---
Y&R celebrates Nikki Newman's 40th anniversary on Wednesday!
February 19th, 2019 under TV Soaps. [ Comments:

none

]

On February 20 1979, The Young and the Restless introduced us to Nikki Newman, and this Wednesday on CBS she will get a whole episode dedicated just to her.
Melody Thomas Scott has to say this about playing the same role for 4 decades, "I would never have guessed when I first accepted the role of 'Nikki Newman' in 1979 that I would be fortunate enough to be playing her 40 years later. I treasure the gifts and memories it has given me immensely. I feel most fortunate to have enjoyed every minute of these 40 years."
How many people can say they held the same job for 40 years, but there are two people on the daytime drama who can say that, Scott and Doug Davidson. Pretty impressive, as long as you don't consider all they have been through since the late '70s. How many sex scenes, drinks, children aging unnaturally, cast changes, different writers, marriages, divorces, being let go and so on. They have lived lifetimes in just one.
In case you wondering, there are two actors, who are currently on soaps, that have been on their longer shows than them. Suzanne Rogers has been on Days of our Lives for 44 years and Leslie Charleson joined General Hospital in 1977.
BTW Y&R turns 46 next month.
---
Doug Davidson is back on The Young and the Restless.
February 18th, 2019 under TV Soaps. [ Comments:

none

]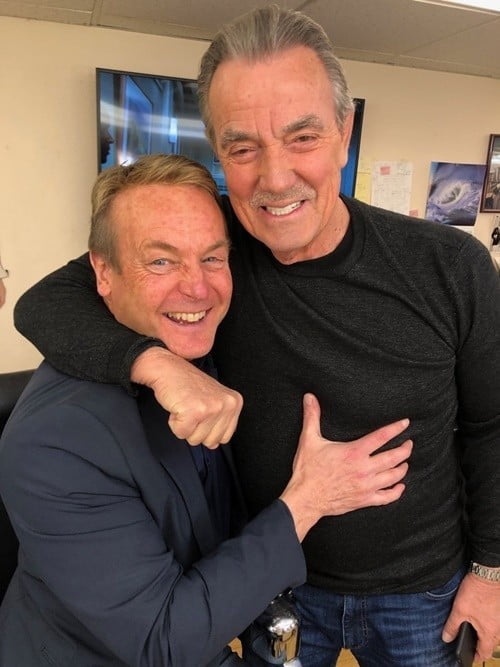 Back in September, shortly after Doug Davidson celebrated his 40th anniversary on The Young and the Restless, the daytime drama fired him. Fans of the show were obviously pissed because you don't mess with soap fans. Thus, they protested Y&R's decision and the bosses listended.
Therefore, he is back on the show! Eric Braeden broke the news on Twitter last week by posting the above photo. Then Paul Williams followed up with, "Okay! So, the cat is out of the bag. NONE of any of this would happen without all of your undying loyalty, support and kindness. All of you are the reason 'Paul' is back on the canvas. THANK YOU SO MUCH. @EBraeden has been incredible the entire time. A huge thanks to him as well!"
It is nice when shows do the right thing. This was the very right thing to do. Soap Operas have to realize viewers prefer the people who have been there for a while over the newbies. They have been welcoming them into their homes, five days a week for years, they have a special bond with them. Take them away, they are pissed and stop watching. With ratings the way they are, they cannot afford to lose any more eyeballs.
---
The Young & the Restless will say goodbye to Kristoff St. John in April
February 10th, 2019 under TV Soaps. [ Comments:

none

]

Last Sunday, Kristoff St. John passed away suddenly. His character, Neil Winters, was still a part of The Young & the Restless, which means the daytime drama has to figure out what to do with his character. On Friday, they announced how they will handle the actor's death.
Y&R wrote, "The Young and the Restless will forever value the legacy of Kristoff St. John in his portrayal of Neil Winters. Beginning in late April, Y&R will feature a storyline that pays tribute to both Kristoff and his character."
The reason why it will take so long to deal with his passing is that TV soaps tape so far in advance.
---
Kristoff St. John's final Y&R episode airs today, tribute episode on Friday
February 6th, 2019 under TV Soaps. [ Comments:

none

]

On Monday morning, we all woke up to the shocking news that Kristoff St. John suddenly passed away at the age of 52. The most saddened by his death are the fans of The Young & The Restless.
Today, 3 days after his death, he will make his final appearance on the CBS daytime drama. A role he has been seen in ever since February 14, 1991. On Friday, the #1 soap opera will give Neil Winters a send-off episode. Six days before he would have celebrated spending his 18th anniversary on the show.
No word yet, how Y&R will deal with his character in the future, but for now we will just let them mourn someone who has been part of their close-knit family for almost 2 decades.
---