Wynonna Judd tries the Fruit Roll-Up TikTok trend
June 30th, 2023 under The Judds. [ Comments: none ]
Fruit Roll-Ups are very popular on TikTok these days because of the different trends that people try out with them.
First, there was wrapping the pressed fruit strip around ice cream. Then, there was one where you wrapped around his pickle. And now, they are just wrapping it around a pickle.
Wynonna Judd tried the latter, and she liked it. She really, really liked it.
Since she does, I am going to try it out too. I am going to use it as practice until I get to wrap it around the other pickle. Which at this rate…
And I bet you thought she did the other pickle too, from the headline. Where were your minds? Same place mine always is! So don't feel bad!

---
The show will go on for The Judds: The Final Tour
May 19th, 2022 under The Judds. [ Comments: 1 ]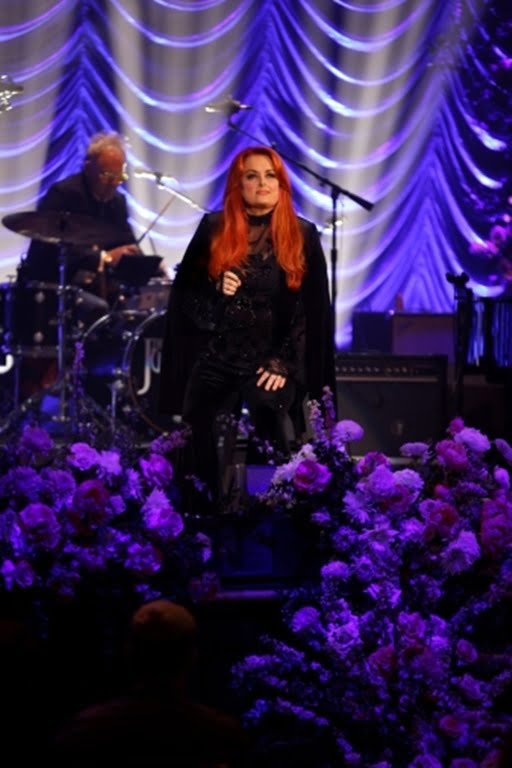 On April 30th, Naomi Judd passed away, just months before she was going to go on tour with her daughter for one last time. However, it seemed like it was not meant to be.
But not everything is as it seems to be. Wynnona Judd asked some of her celebrity friends to join on the road. And together, they will give her mom the memorable sendoff she deserves.
The tour starts with Martina McBride on the six-month anniversary of Naomi's death. For the next nine dates, Wynnona will be joined by Brandi Carlile, Little Big Town, Ashley McBryde, Trisha Yearwood, with more names being added. And it will conclude where it all began on October 29th in Kentucky with Faith Hill.
"What a full-circle moment it will be to end the tour in Kentucky where it all began. It means so much to have my sister-friend, Faith, join me for this musical celebration." Wynonna adds, "It is pretty amazing – all of the people who have come forward to offer up their time and their gifts. I am feeling extra grateful."
I am sure their fans are all going to be treated to a memorable night, a night that will make Naomi proud of her daughter and their friends.
To see where The Judds and Friends will be performing, then click here!

---
BTWF: Naomi Judd on Password
May 4th, 2022 under Before They Were Famous, The Judds. [ Comments: none ]
Before we knew her as Naomi Judd, she competed as Diana Ciminella on Password. How beautiful was the 27-year-old in that 1973 episode?

---
Ashley and Wynonna Judd honored their mom at the Country Music Hall of Fame
May 2nd, 2022 under Obits, The Judds. [ Comments: none ]
Naomi Judd passed away yesterday at the age of 76, and tonight she was supposed to be inducted into the Country Music Hall of Fame with her older daughter, Wynonna, for their duo, The Judds.
However, that did not come to pass because she passed. Her daughters, Ashley and Wynonna, could've stayed at home, but they showed up to honor their mother on what should have been a happy occasion.
Ricky Skaggs introduced The Judds, and then the two sisters accepted their medallions. When they were done with that, they each gave a speech. Ashley started it off with, "My momma loved you so much, and she appreciated your love for her, and I'm sorry that she couldn't hang on until today."
Ashley then went on to say that honor was not only their mom's but also their sister's. Then she went on to praise her sister.
When she was done, it was time for Wynonna to talk."I didn't prepare anything tonight 'cause I knew that mom would probably talk the most," Wynonna said with tears in her eyes. "I feel so blessed, and it's a very strange dynamic to be this broken and this blessed … but though my heart is broken, I will continue to sing."
Wynnona said that she kissed her mom on the forehead one final time at 2:20p and hadn't spoken from that moment until she accepted the award. Then, she said the last time they were together; they read Psalm 23 together. So she read it with the audience.
When Wynonna was done, they thanked their peers and walked off the stage.
My heart breaks for them. I know what it is like to lose both of my parents, and it is never easy. I admire their courage for going through with the ceremony, but I think they felt it is what their mother would've wanted.
It was the perfect place to hold a memorial service and let the people who knew and loved their mom honor her.
The Judds are loved by Country Music, and you can't get more country than this.
So, to Wynonna and Ashley, thank you for sharing your mom with us during the good and bad times. Thank you for honoring her tonight in such a beautiful way. She is looking down on you with pride, and know she is at peace. She is why we say Rest In Peace. Because that is what she is doing. The pain is gone, and she is free.

---
RIP Naomi Judd
April 30th, 2022 under Obits, The Judds. [ Comments: 1 ]
Ashley and Wynonna Judd announced today that their mother, Naomi passed away today at the age of 76. "Today, we sisters experienced a tragedy. We lost our beautiful mother to the disease of mental illness. We are shattered. We are navigating profound grief and know that as we loved her, she was loved by her public. We are in unknown territory."
2022 was supposed to be an excellent year for The Judds. Naomi and Wynonna were going to hit the road in September for a final tour. They recently reunited and played the CMT Awards, much delight to their fans. And tomorrow, they were going to be inducted into the County Music Hall of Fame.
In 2016, the singer released her book River of Time: My Descent into Depression and How I Emerged with Hope. Sometimes when a depressed person is full of so much hope and joy to look forward to, it has the opposite effect on them. I am not saying that is the case, but that was my first thought when I heard of her passing.
Depression is an evil thing that takes over everything, and it is impossible once again to get control of yourself. Even the happiest of things make you sad.
Hopefully, now Naomi is at peace and truly happy. My heart goes out to her husband, Larry Strickland, daughters, and grandchildren.

---