Riverdale says goodbye to Luke Perry, The CW says hello to Nancy Drew
October 9th, 2019 under Archie Comics, The CW. [ Comments:

none

]

Tonight at 8p, Riverdale says goodbye to Luke Perry who passed away in March from a stroke. They wanted to give him a proper sendoff and they do.
Archie (KJ Apa) gets a phone call that his father was killed in another town. He runs home to his mom and the funeral director tells them that they cannot pick him up until July 5th because of the holiday on the next day and the parade in Riverdale.
Archie cannot wait that long, so he drives up there with Veronica (Camila Mendes), Betty (Lili Reinhart) and Jughead (Cole Sprouse) to pick his dad up. When they get there, they go to the place where his dad died and he meets the woman who was with him at the time of his death. Then he confronts the person who was also there and learns something about himself.
Now, it is time for him to go home and that is when you need to get the tissues. I cried as much then as when I heard Perry passed away. Riverdale did the proper tribute for a friend to them and us.

Then at 9p, Nancy Drew is back on our TVs and she has another mystery to solve.
Nancy Drew (Kennedy McMann) had a normal life until her mom died and then she gave up on school. Because of that, she did not apply to college and works as a waitress in her hometown where she lives with her dad (Scott Wolf). There she works with an old classmate George (Leah Lewis), who doesn't like her. Bess (Maddison Jaizani) who is taking a gap gear in their sleepy town. She is also dating Nick (Tunji Kasim) who has a criminal past.
One night while they are working, a socialite is killed in their small town outside the diner and they are all suspects. Since Nancy has solved a crime before, she thinks she can solve this case too. However, the police don't want her help.
Will she be able to solve the murder? We will have to tune in every week to find out?
---
Mysteries Decoded tries to solve the biggest mysteries
August 13th, 2019 under The CW. [ Comments:

none

]

There is something about a good mystery that hooks us in and won't let us go until we know the truth. Not every mystery is solvable. However, Mysteries Decoded on The CW tonight and every Tuesday at 9p is going to try.
Private Investigator Jennifer Marshall will do her best to get some answers with new evidence which we have not heard before. She a US Navy veteran and that makes her a natural skeptic. Will that work for or against her?
Tonight, she goes to the house where some say Lizzie Borden killed her parents and also the place where she lived after she was acquitted of their murders. She will use mediums who will try to contact Lizzie and her family. Will Lizzie come forward, her father, her stepmother or her sister stop by, to tell the truth? Marshall will also talk to a woman who is writing a book about the notorious murder that led to a famous nursery rhyme, what will she find out?
Next week, they look into The Mothman prophecies. Is the vision of doom real or is it an animal? She will talk to people who have seen it, residents of the town and those familiar with the legend.
As the weeks go one, she will also try to solve the mysteries of Area 51 and the Salem Witch Trials. If these mysteries were closed, then we would not care about them anymore. Since they are not, this show is interesting for people who both know what they are about and those who don't know anything about these legends.
I watch shows like this all the time, and this one gives a different take of what we have seen done time and time again.
---
Dynasty gets another new Cristal
July 30th, 2019 under Dynasty, The CW. [ Comments:

1

]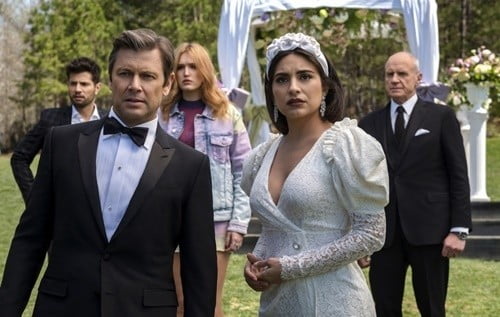 Dynasty is about to begin its third season, and they are getting their third Cristal, their second Cristal Jennings.
Confused? For season 1, Nathalie Kelley played Cristal Flores Carrington. The actress was asked not to return for season 2 and was killed off. She was replaced by Ana Brenda Contreras who starred as Cristal Jennings. She claimed her friend Cristal took her name for a new identity.
Now, Deadline is reporting that Contreras is out and Daniella Alonso is in. Showrunner Josh Reims told the trade, "Unfortunately, Ana Brenda Contreras will not be returning for the third season of Dynasty due to personal reasons. We'd like to thank her for her contributions to the show and wish her all the best. We're excited to welcome Daniella Alonso who will step into the role of Cristal."
Contreras is the second actress to leave the nighttime soap for personal reasons. Nicollette Sheridan quit the show earlier this year to be with her dying mother. Elizabeth Gillies temporarily stepped into the role to play her character's mother.
Therefore, if you do the math that is 3 Cristals and 2 Alexises. Dynasty is more of a soap opera behind the scenes than in front of the camera. Although the final minutes of the season 2 finale were pretty close to perfection.
Season 3 debuts October 11th on The CW with a new Cristal and no Alexis.
---
When will your favorite CW shows be back?
June 17th, 2019 under The CW. [ Comments:

none

]

The Emmys air on September 22nd and the fall TV season starts on the 23rd for most of the broadcast networks like CBS and NBC. The CW is not like the other nets, so they are starting 13 days after that. Which normally is fine, but I hate having to waiting even another day to find out what happens next on Dynasty. I mean, that season finale was jaw-dropping moment after jaw-dropping moment. Why are they making me wait until October 11th to find out what happens next? So rude! They should start earlier because it is all about me, me, me. Seriously, wasn't the second season Dynasty so tantalizing? That ending truly was the cherry on top of a scandalous Golden Opulence Sundae.
SUNDAY, OCTOBER 6
8:00-9:00pm BATWOMAN (Series Premiere)
9:00-10:00pm SUPERGIRL (Season Premiere)
MONDAY, OCTOBER 7
8:00-9:00pm ALL AMERICAN (Season Premiere)
9:00-10:00pm BATWOMAN (Encore of Series Premiere)
TUESDAY, OCTOBER 8
8:00-9:00pm THE FLASH (Season Premiere)
9:00-10:00pm BATWOMAN (2nd Encore of Series Premiere)
WEDNESDAY, OCTOBER 9
8:00-9:00pm RIVERDALE (Season Premiere)
9:00-10:00pm NANCY DREW (Series Premiere)
THURSDAY, OCTOBER 10
8:00-9:00pm SUPERNATURAL (Season Premiere)
9:00-10:00pm LEGACIES (Season Premiere)
FRIDAY, OCTOBER 11
8:00-9:00pm CHARMED (Season Premiere)
9:00-10:00pm DYNASTY (Season Premiere)
MONDAY, OCTOBER 14
8:00-9:00pm ALL AMERICAN (Original Episode)
9:00-10:00pm NANCY DREW (Encore of Series Premiere)
TUESDAY, OCTOBER 15
8:00-9:00pm THE FLASH (Original Episode)
9:00-10:00pm ARROW (Season Premiere)
MONDAY, OCTOBER 21
8:00-9:00pm ALL AMERICAN (Original Episode)
9:00-10:00pm BLACK LIGHTNING (Season Premiere)
---
Burden of Truth is back for another captivating legal season
June 2nd, 2019 under The CW. [ Comments:

none

]

If someone told you that a legal drama that takes on one case a season could be one of the most interesting shows on television, then you probably would not believe them. Well, Burden of Truth is just that show, so you will want to watch it on The CW starting tonight at 8p.
Last year, Joanna Hanley (Kristin Kreuk), a big city lawyer, returned to her small town to represent the company that supplied the HPV vaccine to the teenage girls who were suddenly stricken with a mysterious illness that left them with the seizures and loss of memory. When one of the girls, who did not get the vaccine, gets sick, Joanna's company is found innocent. She now has to look into what is the connection between the girls and their uncurable illness. Eventually, she finds out the mill is at fault and they are forced to pay the girls $2 million each. That causes the mill to shut down and now her old town is dying.
Joanna did not fight the case alone, Billy (Peter Mooney) is a lawyer in that small town and now they have turned against him because so many people lost the jobs.
When Joanna was back in Millwood she befriended Luna (Star Slade), one of the teenage girls, who did not get sick. The two women will find out they have a connection they never knew about. Her mom, Gerrilynn (Jessica Matten), had an affair with Joanna's father when she was minor and she got pregnant. David Hanley (Alex Carter) denied he was the dad and never told anyone about the affair and the baby including his own daughter.
Did I mention everyone hates David and he was forced out of town taking his daughter with him? Even Joanna does not really like her dad and now she hates him just as much for lying to her for all of those years.
Which catches you up to the season premiere. It has been a year since Joanna won the case of a lifetime and she changed her last name to Chang. She works for another big city law firm and is given a big case to handle. Noah (Varun Saranga) is a hacktivist who created an app that can spy on your privacy. Lovand, the company he created it for, wants him to take it down. He does not want to do it, so they sue him to do just that. They win, but he refuses to do it. Now, he not only puts his life in danger, but he also puts Joanna's in trouble too. Will she continue to defend him or will she walk away?
Meanwhile back in Millwood, Joanna's father is acquitted of any negligence from his affair with Gerrilynn. Something that upsets her and her daughter. They vow to make him pay, but how far will they go to do so? That will be revealed in the third episode and that is when the show gets really good this season.
Summer TV used to be where networks used to dump their unwanted shows. Not anymore. Burden of Truth is better than all those regular season legal shows put together. Tune into the 8-part miniseries that reminds us that a show can tell one story for a season and still be interesting to watch week-after-week.
Don't believe me? How about the fact that The CW already picked it up for a third season and the second on did not even premiere yet.
---