A Tsunami hits 9-1-1
September 30th, 2019 under Ryan Murphy. [ Comments:

none

]

At the end of last week's episode on 9-1-1, Buck (Oliver Stark), Eddie's (Ryan Guzman) disabled son Christopher (Gavin McHugh) and thousands of people watched as the water disappeared from the Santa Monica Pier back into the ocean. Tonight at 8p on Fox, we find out why, a Tsunami.
The lifeguard tried to warn them as fast as he could, but there was not enough time. They ran as fast as they could, but they were caught up in the wave that took out Santa Monica.
As the wave settles, 9-1-1 in inundated with calls of trapped people asking out to get out of their cars and homes that are rapidly filling up with water. Several calls go dead because the person on the other end is, well, dead.
Even though those calls get disconnected, their system is still full. People cannot get through. People like Athena and the dozens of others who were involved in a pile-up further inland with her. She is trying to keep everyone calm and get the injured help. However, there is no one available that can help them. They need immediate assistance because there is a downed power line and the sewer system is backing up due to the excess water.
There is no one to help because all first responders are being sent to Santa Monica to rescue whatever survivors there are. LAFD Station 118 trades in their firetrucks for rafts. The first group of people they come across are a wedding party in a boat that what was in the ocean when the Tsunami hit. They only have a limited time to help them because the boat is filling up with water.
Talking about filling up with water, several of the nearby hospitals are flooded. Therefore the ones inland have no room for any new patients. It is up the Mandy (Jennifer Love Hewitt) to come up with a solution because there is nowhere for the injured to go.
If that is not enough to handle. What comes in, must go out. Just when they thought the levels settled, the ocean wants its water back.
I don't know why I still watch 9-1-1 while I live in Los Angeles. It is scary as hell for me because what happens on the show can happen here and it does. Like they did a major earthquake last season and we had two in July. Even though the drama scares the crap out of me, I am too addicted to stop watching. It is too exciting for me to say no more. Who else feels the same way?
Especially when they do an episode like this one. The actors and crew did such a great job with a production, you feel like you are watching a movie and not a television show.

---
9-1-1 is back saving lives, Prodigal Son tries to stop murders
September 23rd, 2019 under Fox, Ryan Murphy. [ Comments:

none

]

Fox is ready for a new season and they are starting it off with 9-1-1. The episode starts with a car being chased by police. Maddie (Jennifer Love Hewitt) gets a phone call from the guy being chased and he has a good reason for not being able to stop. He can't. The brakes are not working. Now, everyone has to figure a way to get him to stop the car and get out of it alive. I recently saw an old telemovie about this just scenario because it has actually happened.
That is what Ryan Murphy does. He brings real-life scenarios to his show and gives it his spin of things. Sometimes I wish he didn't because I still have not been able to use my car wash that was featured on one of his episodes and my car is really dirty.
Back to the show, it takes place months after the season finale and Buck (Oliver Stark) is finally ready to get back to work. That is if he can pass the test. While he waits, he takes Eddie's (Ryan Guzman) son to the Santa Monica Pier for a nice day out. That is until a tsunami ruins their day. Well, maybe not everything is ripped from the headlines.
Oh and did I mention that LAFD Station 118 go to a nursing home to check out an elderly man who has an unusual STD! Let's just say we are all going to have the sex talk with older family members after tonight. Condoms prevent more than pregnancy.
I always forget how much I miss 9-1-1 until it is back. And it is back baby.

Then at 9p, it is time for Prodigal Son. When Malcolm Bright (Tom Payne) was a little boy, his father was arrested for being a serial killer. Ever since then he wants to distance himself from his dad. However, he has become an FBI profiler. When they fire him, Gil Arroyo (Lou Diamond Phillips) from the NYPD hires him to work for them.
The first case is a copycat of his dad's murders. What better source of information than his father. Thus, he goes to his dad for help. Which might not be a good idea because Dr. Martin Whitly (Michael Sheen) gets into his head. That makes him go even deeper into his profiling.
His mother Jessica Whitly (Bellamy Young) and sister Ainsley Whitly (Halston Sage) are going to try to stop him from talking to his father. However, he can't even he wanted to. His dad knows has his number and he is not going to stop calling.
The more he deals with his dad, the more he remembers his childhood. He starts to remember things that he locked away which will make him question if the people around him knew more than they told him and how much more.
As he is going through all of this, he still has to deal with his job. Getting into the minds of serial killers. Each week, he will solve the modern-day murders as the ones from his past come back to haunt him in this dark thrilling drama.

---
9-1-1 reveals what disaster they take on in the season premiere
August 15th, 2019 under Ryan Murphy. [ Comments:

none

]

Ryan Murphy likes to up the ante with each season premiere of 9-1-1. For the midseason premiere of the Fox drama, LA suffered a major earthquake. Now for the 3rd season premiere on September 23rd, they are hit with tsunami. Santa Monica has not seen such a devastating natural disater since they were struck by a Sharknado in 2013.
Seriously, if Murphy keeps doing stories like this in the city where I live in, I think I am going to have to move. They had a quake in February and then we had one in July. I don't want a tsumani in 6 months. Granted, I am in inland enough, but still. It is bad enough they shot an episode at the place where I get my car washed. Is he trying to run us out of LA?
You would think I would have learned my lesson by now, but I have not. I cannot stop watching. Can you?

---
9-1-1 gets an Austin spinoff with Rob Lowe
May 12th, 2019 under Fox, Rob Lowe, Ryan Murphy. [ Comments:

none

]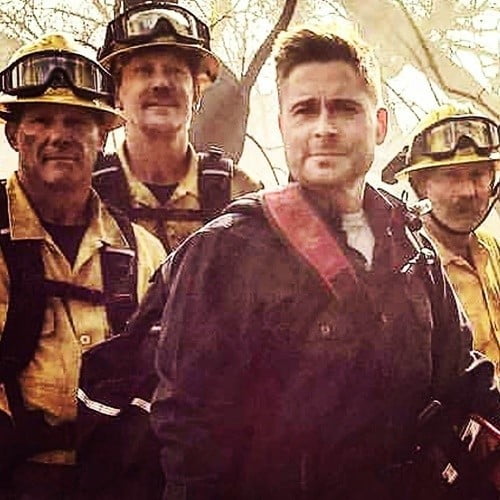 9-1-1 is doing so well, Fox is giving it a spinoff. 9-1-1: Lone Star stars Rob Lowe and will debut next season.
The drama centers around a sophisticated New York cop (Lowe) who, along with his son, re-locates to Austin, and must try to balance saving those who are at their most vulnerable with solving the problems in his own life. No word how old his son will be.
Personally, I wish they would have gone with Florida as a location because imagine the stories Ryan Murphy and his crew could have come up with for 9-1-1: Sunshine State? It is so much more up his alley. Maybe they will do that for the 2020-2021 season?

---
No need to call 9-1-1 or see The Resident, both show were picked up!
March 25th, 2019 under Fox, Ryan Murphy. [ Comments:

none

]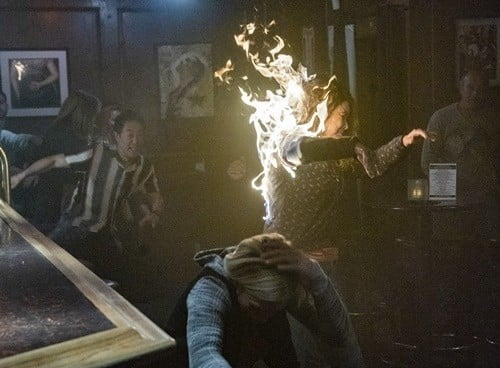 Fox announced today that its two Monday night dramas, The Resident and 9-1-1 will be back for a third season. While the news is not a surprise, what took them so long to renew them is. Then again, I could be biased because I watch both of them.
In fact, tonight's episode of 9-1-1 at 9p is one not to miss. Last week when the show left off, Chimney's (Kenneth Choi) girlfriend (Jennifer Love Hewitt) came face-to-face with her abusive ex (Hewitt's real-life husband Brian Hallisay). I could tell you that tonight's episode picks up where that one left off, but I would be lying to you. It is actually about Chimney's backstory.
Tonight, we find out how his character became a firefighter/paramedic. He was doing something else when he got the calling. Then, he, along with someone close to him, went to the academy together. After they graduated they went to two different houses and got very different treatment. Chimney's was much more of a rookie's, but in the long run, it helped to make him the first responder he became. That and something else.
It was not an easy road for him, but what doesn't kill you, makes you stronger.
What this episode means for the future of Maddie (Hewitt) and Chimney, I guess we will find out next week.

---