Would you pay to see Roseanne Barr and Andrew Dice Clay together?
June 23rd, 2019 under Andrew Dice Clay, Roseanne. [ Comments:

none

]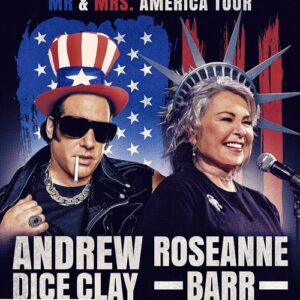 Back in the '80s, Roseanne Barr and Andrew Dice Clay were two of the most controversial comedians out there. Not much has changed. Except that fewer people want to see them perform live now than they did then. Which could be why the two friends of over 30 years are taking their act on their road.
Clay announced on Fox News today that "Mr. & Mrs. America" will be touring together starting in September. Talk about a double bill from hell.
How does he feel about their comedic partnership, he said, "We're both excited because we both don't give a sh!t what anybody thinks about anything." Expect them to say whatever they want on these tour dates which could further alienate them from the mainstream. What do they care? They are stronger together than by themselves. How much stronger? Only ticket sales will answer that question. Thus, my question for you is will you pay to hear what they have to say.
Hickory, Dickory, Dock, Hope you don't go into hock. Because if you do, then you might become Little Boy Blue.
---
Roseanne blames Sara Gilbert for ruining her life with a tweet
March 22nd, 2019 under Roseanne. [ Comments:

none

]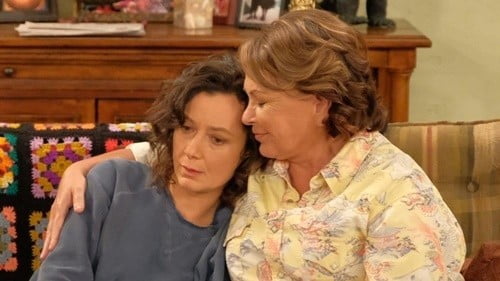 Roseanne sent a tweet that was heard around the World and it cost her job as the lead and executive producer of her show. However, she tells The Washington Post that a followup tweet from Sara Gilbert ruined her life.
Barr says that in between her tweet and ABC cancelleing the show, Gilbert tweeted, "Roseanne's recent comments about Valerie Jarrett, and so much more, are abhorrent and do not reflect the beliefs of our cast and crew or anyone associated with our show. I am disappointed in her actions to say the least."
Roseanne took that tweet, not only as the final nail in her show but also her life. She added that Gilbert "will never get enough until she consumes my liver with a fine Chianti."
Meanwhile, Gilbert told the paper, "while I'm extremely disappointed and heartbroken over the dissolution of the original show, she will always be family, and I will always love Roseanne."
I don't think Roseanne feels the same way. In fact, Roseanne made it seems like their love was lost when they were producing the revival. The first go around Roseanne had a lot more control of the sitcom, but this time she says she had to share the creative with Gilbert and EPs Bruce Helford and Tom Werner. Which I am sure she did not like.
Even though the show was based on her characters, this time around it was Gilbert who brought it back and most likely felt the show was also hers. I know I felt the revival was more Gilbert's show than Roseanne's which is why it was nowhere as good as the first few seasons of the show. It is also why I don't like The Conners.
Personally, I think both of their politics suck. They needed to put the show before their politics which I don't think they did.
While I am not a fan of The Conners, I must be alone because ABC picked it up for a second season today.
---
The Conners ends the season with a lot changes
January 22nd, 2019 under Roseanne. [ Comments:

none

]

The Conners might be a comedy but get prepared to cry and laugh tonight at 8p on ABC.
Last week, Darlene's (Sara Gilbert) boyfriend (Jay R. Ferguson) asked her to move to Chicago with him and this week she has to tell her family about her decision. How will they feel about her moving an hour away with the kids? Who will take care of the chickens?
While she is dealing with that Jackie (Laurie Metcalf) has her own problems. Her boyfriend (Matthew Broderick) has been cheating on her. How will she handle it? She will do a very Jackie thing! And the best news is Broderick will not be around for season 2 (hey it is in the promo so no spoiler) if there is one!!! His character is the absolute worse, so I am glad he is gone.
Now, what about Becky? She is getting closer with her baby daddy. How close?
Who is that mystery guest? I cannot tell you and I cannot tell you if it plays into Darlene staying or going, but I think you know what is going to happen. Or do you?
Did I mention the episode ends with a cliffhanger? What do you think will happen?
While The Conners is not as good as Roseanne in its heyday, it was better than Roseanne was last year. Therefore, I would say it is comparable to the season before she won the lottery. Thus, it will be interesting to see if it gets another season. I am OK with whatever ABC decides. It is watchable, but not a show I will miss if it is gone like Speechless and Fresh Off the Boat. Hint hint!
---
Is Dan moving on on The Conners? Black-ish goes to the movies!
December 11th, 2018 under ABC, Anthony Anderson, John Goodman, Roseanne. [ Comments:

none

]

Tonight at 8p on The Conners, an old friend (Katey Sagal) comes to town and she eyes on Dan (John Goodman). Is he ready to move on Roseanne? How will his kids react to a woman flirting with their dad?

Meanwhile on the ABC sitcom, Harris (Emma Kenney) gets busted by the cops for underage drinking, and Becky (Lecy Goranson) is the one that is home when the police bring her home. They promise not to tell Darlene (Sara Gilbert) about it, but she finds out anyway. What happens next might put a permanent wedge between the two sisters.

Finally, who did Matthew Broderick piss off to get this role? I understand that they want to give Laurie Metcalf something to do, but this is just awful.

Then at 9p on Black-ish, it is Christmas at the Johnson household. They celebrate by going to movies. Bo (Tracee Ellis Ross) will see anything. The kids want to see the latest comic book movie. Dre (Anthony Anderson), on the other hand, wants to see the Rosa Parks biopic because he thinks his family should support African American movies.

Who do you think wins? After a long debate, Dre wins and his family loses. How will they get out of it? You have to watch the episode to see the takeaway lesson.
---
The Conners flies the chicken coop
November 27th, 2018 under Roseanne. [ Comments:

none

]

Tonight at 8p on ABC, Jackie (Laurie Metcalf) gets her way on The Conners. She wants Dan (John Goodman) to build her a chicken coop in his backyard. When the kids ask him to do it, he begrudgingly agrees. She has an ulterior motive for getting him to do it. How will he react when she tells him what it is.
Meanwhile, Becky (Lecy Goranson) is dealing with the costs of having a baby. When she gets an offer she cannot refuse, she has to decide if she wants to take it. While she decides if it is the right choice, she looks at her life. Making that alternative sound even better. You will never believe who helps her make up her mind.
Tonight's episode proves that The Conners can be as good as Roseanne was the first time around.
---