You say Moana, I hear marijuana
July 12th, 2019 under Odd. [ Comments:

none

]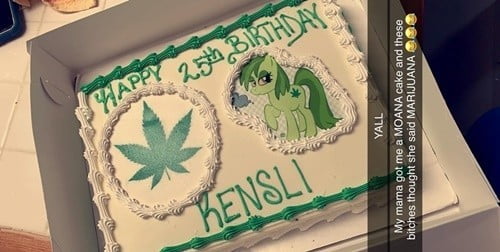 It was Kensli Davis' 25th birthday, and her mom wanted to do something special for her daughter. Therefore, she called Dairy Queen and ordered an ice cream cake for her. Not just any ordinary cake, a Moana one. Davis really loves the movie and her monther told that to the person on the phone.
Well, I guess the person is not familiar with the musical because that was not what was on the cake, Instead there was a marijuana leaf with a really groovy green My Little Pony character and green frosting all over the cake. On a positive note, at least they spelled her name correctly.
Was the cake a high point or a low one for her big day? She told her friends, "…😂😂😂 That ice cream cake was still good though 🤷" At the end of the day, that is all that matters. That and she got a great story!
I have never seen Moama (sorry DJ), I guess it is more of a trippy movie than a movie about a trip.
---
Lexington police mourn the loss of a donut truck
January 2nd, 2019 under Odd. [ Comments:

none

]

The sterotype of cops loving donuts is as old as time itself. Seems there is some truth to it. When a Krispy Kreme delivery truck caught on fire in Lexington, Kentucky, three police officers were brought to tears over the loss of the donuts.

According to WKYT, the driver is fine while the truck and the donuts are a complete loss. Therefore, let's have a moment of silence for the burnt sugary goodness.

Take some solace that Krispy Kreme had a message for the distraught men, "🙏🏻 We're thinking of you during this difficult time…and have more doughnuts on the way! 🍩" They cannot get there soon enough.

BTW if the story could not get any better, it happened on the cross streets of Man o' War Boulevard and Pink Pigeon Parkway. I don't know why, but I love those street names.
---
Would you drink candy corn flavored beer?
October 12th, 2018 under Candy, Odd. [ Comments:

none

]

While I am not a fan of beer, I do like apple cider and pumpkin spiced beer. When it comes to Halloween candy, I love it all…but candy corn. I do not know anyone who likes it.

That is me, it is not Westallion Brewing Company in West Allis, Wisconsin. The brewery has a new flavor on tap and it is candy corn flavored beer. They describe it as, "We created a cream ale using lactose sugars to keep some sweetness, but added Simcoe hops to create a bit of a bite and a balance (and maybe help remind us that it's still beer?). Instead of smashing up some candy corns and throwing them in our beer, we made our own candy corn out of less beer destructive ingredients and threw them into our beer!"

Is it wrong of me, but I so want to try it. It sounds weird enough to be delicious?

BTW did you know candy corn is created by the company now known as Jelly Belly? Before they were known by their name, they were called chicken feed. Which it totally looks like when you think about it. Thank you to the Westallion Brewing Company for sharing that sweet piece of information.
---
A bionic pen!s and a very strong vajayjay
September 20th, 2018 under Odd, This Morning. [ Comments:

none

]

This Morning on ITV in London had some very interesting guests on its morning news show in the last few days and I am sure you will be excited to watch. As excited as I was when I watched.
The first segment is about a man, who sadly lost his pen!s and a test!cle in an accident when he was 6 years old, and now Mohammed Abad has a bionic one. Since he did not really have one, he searched for a hospital that could help him. Finally, it happened. And that meant, that "it" could happen.
After searching for Mrs. Right, he found a woman on Facebook who was willing to help him lose his virginity. At first, it did not work. But as they say, "If at first, you do not succeed, then try, try again." And they did. Two hours, later both of them were very happy. In fact, Charlotte Rose, a sex worker, says the guy who crafted his pen!s should create more. If you get what she means!
Maybe Abad should change his name to Averygood!
Then there is Kirsty Wright, who can lift 2 pounds with her baby maker. She found that out after her she had her third child. That baby left her having problems holding in her pee. A friend told her to try jade eggs because they help to strengthen the vaginal wall.
Wright's muscle of love got so strong, she wanted to see if she could lift weights with it. She can. She is up to two whole pounds and I should be able to do that too by the end of the end of the day. Because after watching what she can do, I don't need a jade egg to build up my wall. If you catch my drift. Men, this video is probably the equivalent of you watching another man getting hit down there.
Talking about men, she said he never had an orga$m until she started working out, or would it be in? Anyways, maybe GOOP was onto something.
---
Would you eat a Dirty Dishwater or Stink Bug flavored Jelly Belly?
August 13th, 2018 under Candy, Odd. [ Comments:

none

]

Jelly Belly has two new flavors for their fifth edition of BeanBoozled. They are Dirty Dishwater and Stink Bug. Who would want to eat those? Well, you won't know you are eating them, because they look like Birthday Cake and Toasted Marshmallow, respectively. Therefore, you think you think you are eating the sweet flavor, but you are actually eating ones that make you want to hurl.

On that note, that is one of the old flavors from BeanBoozled. The 20 flavors in this edition are Barf, Berry Blue, Birthday Cake, Booger, Buttered Popcorn, Canned Dog Food, Chocolate Pudding, Coconut, Dead Fish, Dirty Dishwater, Juicy Pear, Peach, Rotten Egg, Stinky Socks, Spoiled Milk, Stink Bug, Strawberry Banana Smoothie, Toasted Marshmallow, Toothpaste and Tutti-Fruitti.

As nasty as they sound, I want to try every one of them. Just to see what they taste like. Then, after I had one of each, I will put them all in a bowl and give it to my friends. But I won't tell them about the yucky flavors, I will just let them think they are all the yummy ones. Is that wrong?

If you are not evil like me, then you can add BeanBoozled to your game night. For just $13.99, you can buy the game that comes with two packs of the jellybeans and a spinner. Imagine how much fun it will be to play after a few drinks? Maybe not because one or more of those flavors will make them want to barf! Most likely the one that tastes like barf!
---