An unvaccinated Nicki Minaj got COVID, wouldn't get the vax for The Met Gala
September 13th, 2021 under Coronavirus, Nicki Minaj. [ Comments: none ]
Nicki Minaj was supposed to attend MTV's VMAs and The Met Gala over the last 2 days but pulled out of both. Today, she explained why. "I was prepping for vmas then i shot a video & guess who got COVID?" she wrote. "Do u know what it is not to be able to kiss or hold your tiny baby for over a week? A baby who is only used to his mama? 'get vaccinated' Drake had just told me he got covid w|THE VACCINE tho so chile."
Then she explained why she hasn't gotten vaccinated. She said, "They want you to get vaccinated for the Met. if I get vaccinated it won't for the Met. It'll be once I feel I've done enough research. I'm working on that now. In the meantime my loves, be safe. Wear the mask with 2 strings that grips your head & face. Not that loose one Folded handsHeart suit."
She also told her fans that she has had the same symptoms as people who got the vaccine.
That might be the case for her, but it is not for everyone. What would've happened if, Gd forbid, she had given COVID-19 to her son. I think then she will have wished she got the vaccine earlier.
She is not anti-vax and is asking which one to take. At this point, it doesn't matter; just get it.
I mean, how much more research does she have to do? It is not like the vaccine came out this month. It's been almost a year since we knew they were coming. The vaccine is safer than getting COVID-19. Ask anyone who had the latter first.

---
Nicki Minaj is a mommy!
October 1st, 2020 under Nicki Minaj. [ Comments: none ]

Back in July, Nicki Minaj announced that she and her husband, Kenneth Petty, were expecting their first child. Now, Billboard is reporting that they had their baby. Ws don't if it is a Barbie or if it has an anaconda, but I am sure she will be sharing all the deets soon. Hopefully, before the couple celebrates their first wedding anniversary on October 21st.

---
Va Va Voom! Nicki Minaj is preggers!
July 20th, 2020 under Nicki Minaj. [ Comments: none ]

For over a year, there have been rumors that Nicki Minaj is pregnant. Well, now, as you can see, the rumors are true. The singer is expecting her first child with her husband, Kenneth Petty.

Minaj told her fans, "Love. Marriage. Baby carriage. Overflowing with excitement & gratitude. Thank you all for the well wishes. 💛"

She did not say how far along she is, but I am assuming she is about six months along.

---
Nicki Minaj says she is retiring
September 5th, 2019 under Nicki Minaj. [ Comments: none ]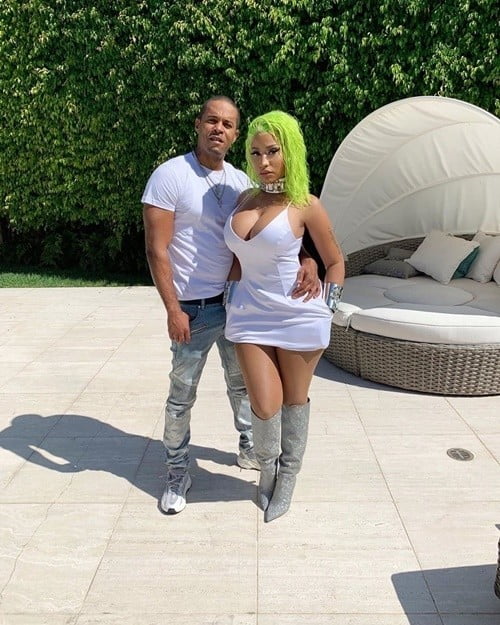 Nicki Minaj announced today that she is done with music for the time being. Actually, she wrote, "I've decided to retire & have my family. I know you guys are happy now. To my fans, keep reppin me, do it til da death of me, ❌ in the box- cuz ain't nobody checkin me. ✅ Love you for LIFE 😘 ♥️ 🦄"
At just the age of 36, she is one of the best selling artists of all time with nearly 100 million records sold. Therefore, if she wants to retire to be a mom with her "husband" Kenneth Petty, then she can afford to do so.
Not to sound like a pessimist, but after they break up, which they will, she will be back doing music again making us all happy. Thus, as upsetting as the news is, I don't expect it to be for too long. I bet you she and Ed Sheeran will be back doing music again around the same time.

---
Nicki Minaj is every woman trying to put on a pair of old jeans
December 11th, 2018 under Nicki Minaj. [ Comments: none ]

Ladies, how many times have you gone into your closet and found a pair of jeans you absolutely love but have not worn in ages. You go to put them on, and they do not go anywhere near your anaconda.

Well, Nicki Minaj might be climbing the charts, but her dungarees are not doing the same up her legs. Proving she is just like all of us!

---