Nick Cannon reveals how he got Beat Shazam
June 1st, 2023 under Jamie Foxx, Nick Cannon. [ Comments: none ]
Jamie Foxx was supposed to host Beat Shazam again this summer with his daughter Corrine, but he suffered an undisclosed medical complication. Therefore, Fox needed someone to fill in for the ailing host, and they went with Nick Cannon.
Today, Cannon was interviewed by Extra, and he talked about how it all went down. "It was a lot. It was over text and emails," he said. "I was actually working on something else, and they say, 'Jamie wants you to do this.' And I was like, 'I'll do anything for Jamie.' Once I got the blessing, I'm there. I got the blessing from him and Corinne [Foxx]."
Does Cannon have the blessing to disclose what is wrong with Foxx? He does not, and he is going to respect the actor's privacy. Then he added that when Foxx is ready to talk about it, he will. But until then, they are going to put out the information they want out there and not what some asshole wants to make up without any proof.
On that note. Can we talk about sad Billy Bush sounds trying to be all hip while talking to Cannon? In the words of K.C. and the Sunshine Band, "Baby, give it up. Give it up. Baby, give it up!"

---
Nick Cannon messed up big time on Mother's Day
May 16th, 2023 under Nick Cannon. [ Comments: none ]
Just in case you have been living under a rock, Nick Cannon has 12 children with six baby mamas.
Since he appreciates the six women raising his babies, he decided to do something nice for them on Mother's Day. Not give them a million dollars each. But instead, he handwrote personalized cards that were unique for each one of them.
How sweet? It would've been. But…he "got the cards mixed up." He then told his unsympathetic co-hosts on The Daily Cannon, "When one baby mama reads the card about how I feel about the other baby mama…"
Now, giving them a million dollars doesn't sound so bad. Does it? I am sure he had to give all of them, except Mariah Carey, that and so much more after that colossal fuck up.
The moral of the story is don't knock up so many women, and you won't have any problems giving her the card that was meant for her.
I hope for Father's Day, they all get him a vasectomy.

---
Ladies, take your birth control pills. Nick Cannon is in the mood to impregnate.
May 7th, 2023 under Nick Cannon. [ Comments: none ]
Nick Cannon posted a warning on his Facebook page today, and women beware. He wrote, "Something about a Fresh Haircut that makes you feel like you can impregnate the whole world…"
And as we know, when the father of 12 is in the mood to get a woman pregnant, he does.
Since I live in LA, I took a second birth control pill, and I am walking around with a box of condoms, just in we cross paths.

---
Nick Cannon replaces an ailing Jamie Foxx on Beat Shazam
May 3rd, 2023 under Fox, Jamie Foxx, Nick Cannon. [ Comments: none ]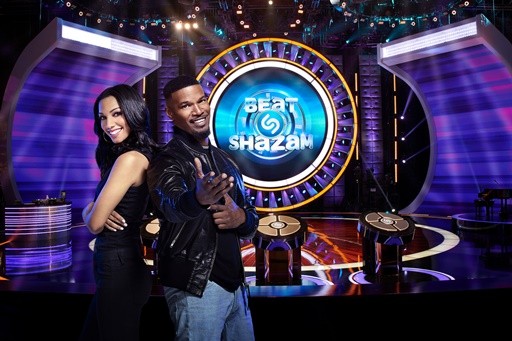 On April 12th, Jamie Foxx's daughter, Corinne, posted on Instagram that her father was in an Atlanta hospital with a "medical complication." Since then, she has been social media silent.
There have been rumors the Oscar winner suffered a stroke, but no one has confirmed or said anything.
However, today TMZ posted a story that Foxx is still hospitalized after three weeks.
And since the show must go on, Beat the Shazam will go on without him.
Fox released this statement, "Beat Shazam has been an unscripted mainstay on the FOX schedule for six seasons and counting.
"This season, not wanting fans of the game show to miss a minute of the fun, Nick Cannon has offered to fill in as guest host for his friends, Jamie and Corinne Foxx. Kelly Osbourne will be filling in as guest DJ.
"Everyone at FOX Entertainment wishes Jamie well as he continues his recovery, and we greatly appreciate Nick's willingness to jump in and help this summer."
Beat Shazam is expected to debut on May 23rd.
When it comes to Foxx, hopefully, he will be better soon and can host the show again next year.
UPDATE: Jamie Foxx posted this on Facebook, "Appreciate all the love!!! Feeling blessed."
Although, I am not sure he is the one who wrote it. It could be someone posting for him because people want to know how he is doing due to this latest development. I hope I am wrong. And continues to be on the way to full recovery.

---
Would Nick Cannon get a vasectomy?
April 11th, 2023 under Howard Stern, Nick Cannon. [ Comments: none ]
Nick Cannon has 12 kids under 12 from six different women. So you have to wonder if he would ever get a vasectomy. Howard Stern was wondering that, too, so he asked the baby daddy that very question on his radio show yesterday.
"I was looking around. I was shopping to see…that's a scary thing," Cannon said.
So why did he look into it? The comedian told the Shock Jock, "I felt pressured. I felt the world was trying to make me get a vasectomy. I don't operate well under pressure. My body. My choice."
Cannon went on to say that people would stop him on the street and tell him to get snipped. Can you blame them? We probably would all say the same thing to him if we saw him walking by.
I mean, how many more kids does he need? Although, he did tell Stern he would go for 13 with the recently single Taylor Swift. She better run away as fast as she can if she sees him because his sperm is potent.

---