Kate Winslet shows off her new body!
March 22nd, 2011 under Movie Star Gossip. [ Comments: none ]

WireImage
Kate Winslet has lost some weight and yesterday she was once again showing it off at the Mildred Pierce premiere. The Oscar winner wore a dress that was sheer on the side leaving very little to the imagination. But then again in a few of her movies we have already seen that…

---
Jackie Chan and his month old twins!!!
August 17th, 2010 under Jackie Chan, Movie Star Gossip. [ Comments: none ]

Jackie Chan Tweeted this awwwwdorable picture and said, "Happy 1 month birthday to my babies, LA & ZY Chan!" I didn't think that Jackie Chan could get any cuter but seeing him with those stuffed panda bears, I just want to squeeze his cheeks! LA and ZY are lucky to have him as a daddy! I wonder if they will be in his next movie?

---
Stephen Dorff needs to keep his shirt off
July 5th, 2010 under Movie Star Gossip. [ Comments: 1 ]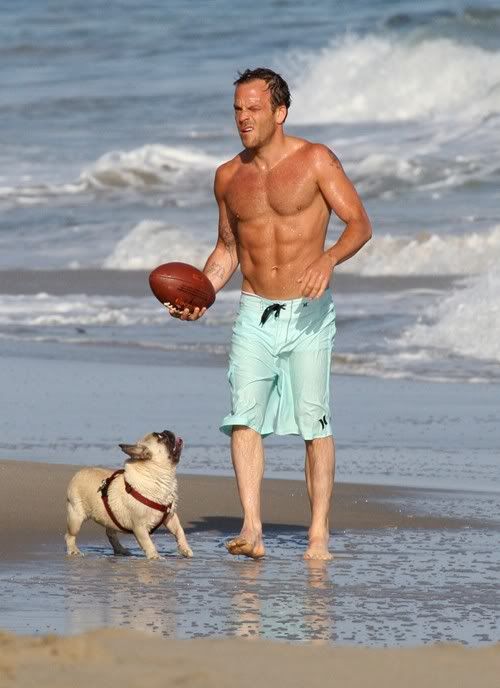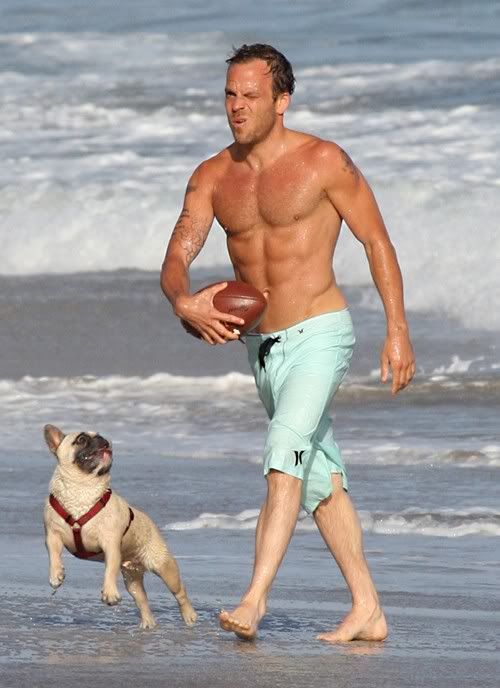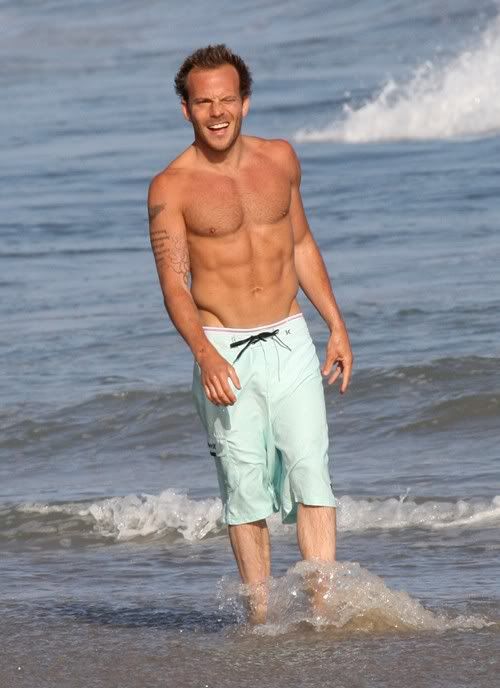 Fame Pictures
Stephen Dorff spent July 4th tossing a football around in just his swimming trunks in Malibu and I so think he needs to keep his shirt off. Seriously who knew that the Backbeat star also has abs to beat! Thankfully in his upcoming movie Born to Be a Star, the actor who turns 37 later this month will be playing a porn star and you know what that means…at least you know what I hope that means…that we will Stephen with even less clothes for a longer period of time!!! That movie just went on my must see list.
BTW I don't know what I enjoyed looking at more…his abs or the awwwdorable little pug's face begging him to throw the ball so he could play with it. I think I have to go with the latter!

---
Men and their kilts!
April 6th, 2010 under Movie Star Gossip. [ Comments: 1 ]

WireImage
Alan Cumming and Donald Trump Jr were Scottish for the night when they put on a kilt for the 8th Annual "Dressed To Kilt" Charity Fashion Show. For some reason both men decided to lift their garment to show us if they truly went Scottish for the night. As we can tell by his boxers Trump's son didn't, but I want to know what the freak Alan Cumming is reaching for? Is he trying to rearrange his testicles or something because it looks truly painful whatever he is doing. Seriously what is he doing in that picture?

---
Daryl Hannah claims Asperger's Syndrome had her blacklisted in Hollywood
February 15th, 2010 under Movie Star Gossip. [ Comments: 7 ]

(photo from WireImage)


Back when Daryl Hannah made Splash it seemed like Hollywood was her oyster, but her career really went no where. Now she has come forth and claims that Asperger's Syndrome had her blacklisted in Hollywood according to Digital Spy.
"I never went on talkshows, never went to premieres. Going to the Academy Awards was so painful for me. I'd almost faint just walking down the red carpet. I was so socially awkward and uncomfortable that I eventually got blacklisted.
"Studio executives would call me but I'd be too shy to call them back. So after a while a couple of studios literally told my manager that I was blacklisted."
She added: "If something in my personal life comes up that moves me – whether it's because my father was ill, or because I want to spend time with my boyfriend – I will prioritize that over taking a movie part. That's the way I've been throughout my life."
I wonder if she came forward with this years ago if that would've helped her career because then the people that she says blacklisted her, would have understood why she wouldn't do things they asked her to do?

---