Is Gene Simmons the new Pentagon spokesperson?
May 16th, 2019 under KISS. [ Comments: none ]

There has not been a press conference at the Pentagon's briefing room in almost a year, but today there was one. Gene Simmons spoke to the press, so is he their new spokesperson? With this administration, you never know. However, for now, the KISS singer is not their man. Although, anything can happen. He can wind up being their sexual expert ambassador.

---
Gene Simmons shares a photo that is true Rock'n'Roll
April 2nd, 2019 under KISS. [ Comments: none ]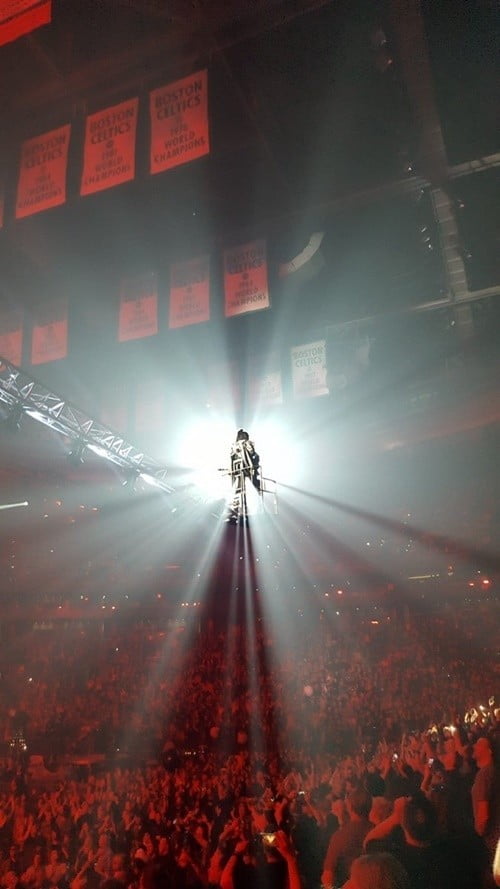 KISS sings that Gd Gave Rock and Roll To You, and it looks like Gene Simmons is trying to get as close to Hashem as possible to thank him for that.
The singer shared a photo of himself on a lift way above the audience and said, "It's lonely at the top!" But he should think about all of his admirers below who are looking up at him like he is is diety for that moment.
Unless he is afraid of heights and is thinking how he hopes he does not throw up on them which is what I would be thinking. I would be fretting that the crane would get stuck and I would have to be up there for an eternity. Which is why I write about Rock and I am not a Rock star. That and I cannot sing to save my life like I was stuck on a crane in an arena.

---
Did Gene Simmons reveal who the Alien is on The Masked Singer?
January 10th, 2019 under Fox, KISS. [ Comments: none ]

Gene Simmons posted a photo of the Alien from The Masked Singer and said, "I was Masked Singer long before this Alien landed."

If you watched the show, then you know that the female contestant grew up in the public eye. While I think it is La Toya Jackson, some are guessing it is someone from the Kardashians and others ponder if it is one of Bruce Willis and Demi Moore's daughters. However, the singer from Kiss had a reality show, and that means his daughter, Sophie, grew up in front of the cameras.

Is she the Alien? To see what she said, then click here!

---
What is watch Alex Trebek become Gene Simmons!
October 31st, 2018 under Jeopardy, KISS. [ Comments: none ]

When I think of Alex Trebek, I don't think of him having a naughty side. But he does. For Halloween, he dressed up as Gene Simmons on Jeopardy. Not the Simmons we are used to seeing on Family Jewels, but the one we know from KISS.
You know if this game show thing does not work out, he could totally be a rocker! I could totally see him jamming to Rock and Roll All Nite. Couldn't you?
When it comes to the video, how cool is it to see them transform into that iconic look?

---
A '70s girl's wet dream!
March 26th, 2018 under 70s, KISS, Star Wars, Wet dream. [ Comments: none ]

Back in the '70s, all a girl wanted was Gene Simmons' tongue to KISS her and Mark Hamill's lightsaber to, well you know! But yet that was only a dream, and they never saw the two of them together.

Now 40 years later, the two sex idols met up at Sirius radio and all of those are girls are dreaming having a three-way with them and Rock and Roll All Night. The only Star Wars in the bedroom that night is who would go first! And they Luke Skywalker is the Joker.

---