BTWF: Zooey Deschanel on Veronica's Closet
August 14th, 2023 under Before They Were Famous, Kirstie Alley, Zooey Deschanel. [ Comments: none ]
Before Zooey Deschanel starred in The New Girl, she was the new girl in Hollywood making her on-camera debut on Veronica's Closet. How adorkable was the 17-year-old in that 1998 episode?

---
RIP Kirstie Alley
December 5th, 2022 under Kirstie Alley. [ Comments: 7 ]
Kirstie Alley passed away today at the age of 71, according to her children. "We are sad to inform you that our incredible, fierce and loving mother has passed away after a battle with cancer, only recently discovered.
"She was surrounded by her closest family and fought with great strength, leaving us with a certainty of her never-ending joy of living and whatever adventures lie ahead. As iconic as she was on screen, she was an even more amazing mother and grandmother," True and Lilly Parker wrote.
"Our mother's zest and passion for life, her children, grandchildren and her many animals, not to mention her eternal joy of creating, were unparalleled and leave us inspired to live life to the fullest just as she did."
She lived life to the fullest when she was acting on Cheers, Fat Actress, and Veronica's Closet, and in movies like the Look Who's Talking franchise, Drop Dead Gorgeous, Star Trek II: The Wrath of Khan, Summer School, Madhouse, and For Richer and Poorer, to name a few.
Today, let's remember her by watching her work and laughing with and at her.

---
BTWF: Kirstie Alley on Password Plus
December 5th, 2022 under Before They Were Famous, Kirstie Alley. [ Comments: none ]
Before Kirstie Alley was living in a fixer-upper in Mad House, she claimed to be an interior designer on Password Plus. She always looked the same was as she did when she was 29 during that 1980 game show appearance.

---
Did Kirstie Alley steal Madonna's face?
September 9th, 2022 under Kirstie Alley. [ Comments: none ]
I haven't seen Kirstie Alley in a while, and I am not sure if I am seeing her here. That is because the actress looks more like Madonna than herself.
Maybe it is the blonde hair or the way that she is wearing her makeup now, but she looks like a different person. What do you think it is?

---
Kirstie Alley fantasizes about being married to Justin Bieber
February 14th, 2020 under Kirstie Alley. [ Comments: none ]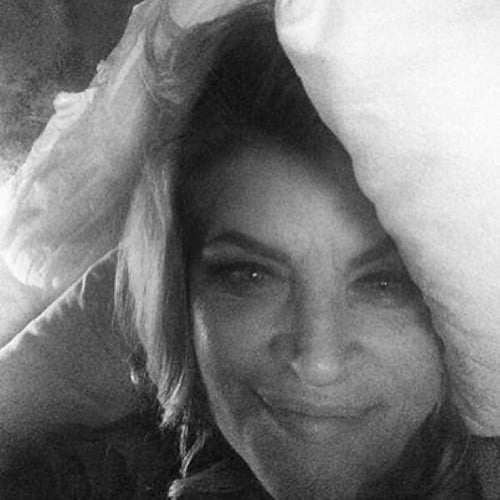 Kirstie Alley revealed 25 Things we don't know about her to Us Weekly, and there is one thing on that list we wish never knew about the 69-year-old actress. She wrote, "I create lives when I'm bored. In my secret fake life, I'm 20 years old and married to Justin Bieber. We live on a farm, I'm thin with C-cup breasts, and we skinny-dip in our private converted limestone quarry." Why does that feel like something we would see on Skinimax?
The image is stuck in my mind and it won't get out. I just picture her as she is now, getting it on with the Beebs dressed like one of the waitresses at Oktoberfest. I don't want to know what is in his mustache after that. No. No. No. No, No!
If she wants to lose interest in him, all he has to do is eat with his mouth open in her fantasy, or he can put on 20/20. She says she would rather watch that show than get laid. She chooses to watch the show that teaches you how to kill your lover then be with a lover. That makes sense? If you want to be her partner, then you have to make sure her cotton sheets are wrinkle-free and the pillow cases have been ironed.
There is also another requirement for the men in her life. They must've been married by the time they were 45 to get with her. If not, she won't go out with you because she percieves them as "pervs".
These are just a few of the 25 Things we learned about her. Aren't you glad, she shared all of this information with us? I am still thinking about her and Bieber milking the cow.

---