Kate Hudson woke up like this
June 6th, 2019 under Kate Hudson. [ Comments:

none

]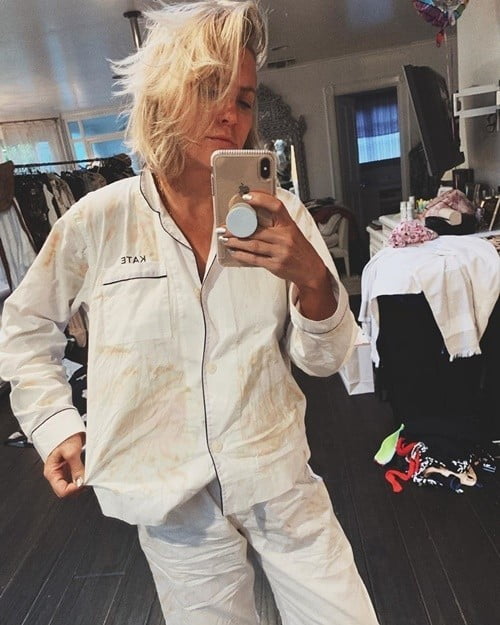 Kate Hudson woke up to a costly lesson this morning. If you are going to get a spray tan, then don't go to sleep in white pajamas. What happens? You wake up with burnt orange ones.
You know, that stain is not going to come out, so she is stuck with them as is. Or she can just donate them. I am sure someone else would want them. Someone like me.
Boys, how mad are you to find out she does not sleep in the nude?
---
Kate Hudson had her baby girl
October 3rd, 2018 under Kate Hudson. [ Comments:

none

]

Kate Hudson became a mom for a third time yesterday. She and Ron Fujikawa welcomed Rani (pronounced Ronnie) Rose. The little girl is named after her late grandfather Ron.

Hudson has two boys Ryder Robinson, 14, with Chris Robinson and Bingham Hawn Bellamy, 7, with Matt Bellamy. Therefore, expect her to be expecting again 7 years from now.
---
Kate Hudson shows off her bikini
June 25th, 2018 under Kate Hudson. [ Comments:

1

]

Kate Hudon is very pregnant, so pregnant that you cannot see her bikini if she is laying out. Don't believe me, here is she is modeling it. She swears she is wearing one, but her future daughter is hiding it.

Hudson is learning the difference between carrying a boy and girl. Girls make you carry bigger all around than a boy.
---
Surprise Kate Hudson is having a girl!
April 6th, 2018 under Kate Hudson. [ Comments:

none

]

Kate Hudson is pregnant with her third child, with a third man and it will be her first daughter. She announced the news on social media today and said she was trying to keep the pregnancy a secret. Now that she has popped, she has no choice to not only reveal she is with child but also share the news with us that the child is a girl. Plus, keeping the pregnancy a secret is exhausting for her.
She also said that her boyfriend, Danny Fujikawa, and her sons "are crazy excited!" She has two boys, Ryder, 14, with Chris Robinson and Bingham, 6, with Matt Bellamy. When baby #3 is born, all of her kids will be 7 years apart. Which means her kids are all lucky #7. Therefore, expect her to announce baby number #4 is coming 7 years from now.
---
Sia and Kate Hudson's son shaved her head
October 13th, 2017 under Jimmy Kimmel, Kate Hudson, Sia. [ Comments:

none

]

We know that Kate Hudson shaved her head for a movie directed by Sia, but we do not much else. Yesterday when she was on Jimmy Kimmel Live, he asked her about it. The actress said she knew all along that she was going to get buzzed, but up until the razor hit her head she was OK with it. Then when she heard the buzzing she got nervous, not to go bald, but what would the shape of her head look like? As the singer and her 6-year-old son, Bingham, were causing her long locks to hit the floor, she says it was like giving birth. Instead of is it a boy, it was it is round. As the ABC host told her, "Who would've imagined that your head would also be perfect?"
Does she like the new do? Of course she does. She has such a beautiful face, she would look gorgeous with any type of hairstyle. As we can see.
---