Kaley Cuoco's Harley Quinn has too many F-bombs!
October 16th, 2019 under Kaley Cuoco, Kelly Clarkson. [ Comments:

none

]

Just in case you needed another reason to check out Kaley Cuoco's new animated show on DC Universe November 29th, she gave us a f*cking great one on The Kelly Clarkson Show today.
Harley Quinn is not the type of cartoon you can watch with your kids. That is because she has the mouth of a sailor. Which Cuoco enjoys and finds it cathartic. While it works for her, it does not work for the network. The show once got notes that they need to cut down the amount of F-bombs in an episode.
Which makes you wonder how many f*cks make them suddenly give a f*ck? 10? 25? 50? 100? 1,000? I was once on a phone with someone in customer service and they drove me so crazy, I swear I hit the 1,000 mark of For UnCarnal Knowledge. Yes, it did make feel better, just like to does these two ladies!
---
Doom Patrol is not doomed!
July 22nd, 2019 under Brendan Fraser, DC Comics, Kaley Cuoco, Matt Bomer. [ Comments:

none

]

It was a busy weekend for DC Universe and they gave us plenty to be excited about.
First off, the news that made me the happiest, Doom Patrol will be back for a second season next year. Not only will it stream on DC Universe, but you will also be able to watch it on their new service HBO Max with the Gossip Girl spinoff. When it comes to our favorite anti-heroes, how can you not love a superhero show that has sex, cursing and a mass orgasm? The only thing I don't want back next season is the huge cockroach. If they do bring him back then they need to do me a positive and give us more Matt Bomer topless scenes! Did I mention that he and Brendan Fraser are in it? It truly is the perfect show.
That was the only big story to come out from them at San Diego Comic-Com. Titans, the show Doom Patrol spun off of, will debut new episodes starting on September 26th. Young Justice: Outsiders will be back for a fourth season.
Finally, Harley Quinn gets animated and the cartoon, that stars Kaley Cuoco in the title character, is not for kids. A cartoon just for us also debuts this fall!
---
Imagine The Big Bang Theory without Kaley Cuoco
May 16th, 2019 under Chuck Lorre, Kaley Cuoco. [ Comments:

none

]
https://twitter.com/i/status/1129164122699051008
When you think of The Big Bang Theory, you think of Kaley Cuoco as Penny. However, she told Entertainment Tonight it almost did not happen. That is because the show's creator Chuck Lorre thought she was too young for the part.
Whoever they hired was not the right fit, so they brought her back in and the rest is Hollywood history. Good thing it did not work out for the other Penny because I cannot imagine anyone else in the role who is as perfect as her.
---
The Big Bang Theory gets their hands dirty
May 1st, 2019 under Kaley Cuoco, Mayim Bialik. [ Comments:

none

]

Yesterday, Johnny Galecki, Jim Parsons, Kaley Cuoco, Simon Helberg, Kunal Nayyar, Mayim Bialik and Melissa Rauch taped their final episode of The Big Bang Theory. This morning they made their mark on Hollywood permanent. They left their handprints and signatures in cement outside of the TCL Chinese Theatre.
Cuoco described the honor as, "Grateful for the endless dream that is the @bigbangtheory_cbs 💥 🖊." Her TV husband Jonny Galecki also kept it simple with, "A true honor."
The actresses who joined the sitcom, later on, wrote a little more. Rauch wrote, "As if being a part of the @bigbangtheory_cbs wasn't enough of an honor of a lifetime…getting to share this moment at #thechinesetheater with these wonderful friends today was truly incredible." Bialick got sentimental with, "I grew up walking distance from the theater where today my mom, my sons, and their dad watched me put my hands in cement. It's completely surreal and I don't think I even understand how profound this is yet."
The series finale airs on May 16th, their handprints will be their forever.
To see the names and hands in cement, then click here!
---
Kaley Couco got emotional at Big Bang's final table read
April 24th, 2019 under Kaley Cuoco. [ Comments:

none

]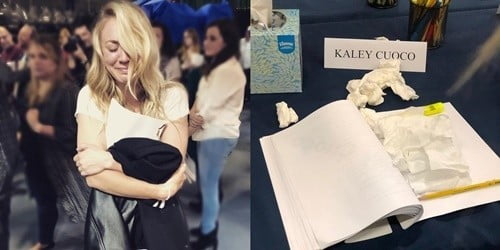 Today, the cast of The Big Bang Theory got together for their final table read and Kaley Couco got teary eyed while reading what is going to happen on their last episode. So much so, her script was covered with used tissues.
While she did not spoil what is going to happen on the series finale, she did write, "Prepare yourselves … for a finale that has truly given me a loss for words ❤️ Our whole universe …. @bigbangtheory_cbs."
Am I the only person who wants the final scene to be that the elevator is finally working, they all get in, the door closes, you hear screams and then a loud boom. What? You thought about it too.
---