Joe Biden brings the stars back to the inauguration
January 13th, 2021 under Bon Jovi, Demi Lovato, Justin Timberlake, Politics. [ Comments: none ]

In exactly one week, Joe Biden and Kamala Harris will be running the United States, and that is something to celebrate. Therefore, the Presidential Inaugural Committee is throwing them a primetime party that will be hosted by Tom Hanks.

You can't have a party without music, so Jon Bon Jovi, Demi Lovato, Justin Timberlake, and Ant Clemons will be performing or giving remarks. More names will be added as we get closer to the date. Unlike Donald Trump, there are so many to choose from.

The special will also feature different segments and performances and it will highlight the strength of our democracy, the perseverance of our people, and our ability to come together during trying times and emerge stronger than ever before. The program will celebrate American heroes who are helping their fellow Americans through this crisis, including frontline workers, health care workers, teachers, citizens giving back, and those who are breaking barriers.

You can watch the 90-minute event on ABC, CBS, CNN, NBC, and MSNBC starting at 8:30p.

---
Justin Timberlake and Ant Clemons say there will be Better Days
December 4th, 2020 under Justin Timberlake. [ Comments: none ]

Not only did Justin Timberlake secretly work on a new kid this year. He also worked on some new music with Ant Clemons. Yesterday, the singers introduced their duet Better Days during a Stacey Abrams' Rock The Runoff virtual fundraiser.
"We wrote the song together during the lockdown as a reaction to the frustrations and challenges we've all been hit with this year… but also as a reminder to stay hopeful and continue working toward a better future," Timberlake wrote. "All proceeds from tonight's event went towards Fair Fight's incredible work to fight voter suppression and ensure every Georgian can be a part of the January 5 runoff election. This state election is gonna play a crucial role in moving our country forward – and we are not helpless in this fight."
Hopefully, as we round the corner on 2020, we have better days, like the ones they sang about in 2021.

---
Lance Bass confirms Justin Timberlake and Jessica Biel had baby #2
September 28th, 2020 under Jessica Biel, Justin Timberlake, Lance Bass. [ Comments: 1 ]

Back in July, there were rumors that Justin Timberlake and Jessica Biel became parents for the second time. However, the couple never confirmed it. In fact, they still haven't, even though Lance Bass spilled the milk to Entertaiment Tonight this weekend.
Katie Krause was chatting with the *NSYNC member, and she asked him if the rumors are true. The singer told her, "We have talked several times, and of course, we knew before anyone else did. It's been a fun celebration, and they're very, very happy."
Then Bass said that all of the recent conversations between him and Timberlake have been about the newborn. While Bass confirmed that Silas Timberlake, 5, is a big brother, he did not reveal any other details like the sex of the "cute baby" or its name. He said he if he revealed the latter, Timberlake would kill him.
I wonder what Timberlake will do to him for confirming the baby news? Never reunite with *NSYNC again? Bass also talked about if that could happen during the interview.

---
Justin Timberlake had bottles of pee thrown at him
February 14th, 2020 under Justin Timberlake. [ Comments: none ]

Back in 2003, Mick Jagger invited Justin Timberlake to play the SARSStock Festival in Toronto with The Rolling Stones and a few other bands like AC/DC and Rush. As soon as the *NSYNC star saw who is else was on the bill, he told Graham Norton today that he didn't think it "was going to go well."
He was right. Actually, he did not realize how awful it was going to go. As soon as he started playing, people in the first two rows started throwing bottles with urine in them at him. They wanted sexy back, as in any band other than him.
Since they were stuck with him, he kept playing, and they kept throwing. The singer said he was impressed with himself because he was able to dodge the bottles thrown at him. Now, we know where he gets his dance moves from, we call them Dodging.
To the question, did the concert-goers bring the bottles already filled with them? I am thinking not. When you see the aerials of the field, you realize there is no way the people in the front rows are going to get to one of those port-o-potties in time. Therefore, they make do with what they have. What did they have? Empty water bottles. Thus, they just filled them back up with the water after they were done using it.
Anyways back to Justin, after the first song, the host of the event, gave him an out if he wanted to leave the stage. He opted to stay and kept playing his whole set. After the second tune, they stopped. He is not sure if it is because he earned their respect, or they ran out of things to throw at him. I say it is a mixture of both with emphasis on the latter.
When it comes to that whole performance, he is still traumatized from it. If Jessica Biel ever gets mad at him. You know, for drunkenly holding hands with a female co-star. She now knows how to punish him; she can do it by throwing bottles of pee at him. That will teach him a lesson.
If you want to see a few bottles thrown at him during the second song, then click here!

---
Justin Timberlake breaks his silence about the cheating rumors
December 4th, 2019 under Justin Timberlake. [ Comments: none ]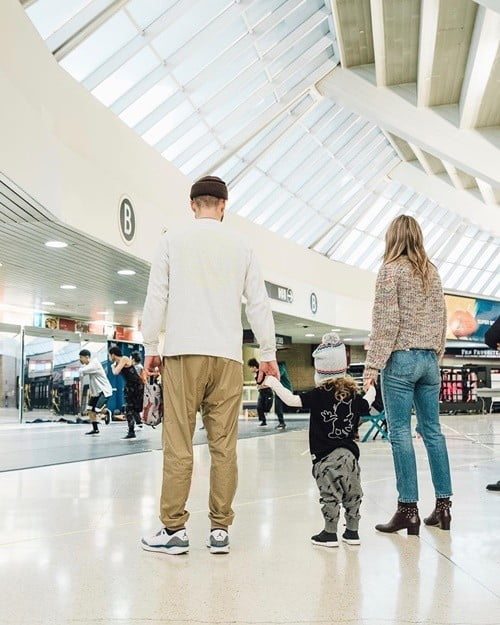 A few weeks ago, Justin Timberlake was caught holding hands with someone that is not his wife, Jessica Biel. That person is his Palmer co-star, Alisha Wainwright. Today, he took to social media to address what happened that fateful night.
I stay away from gossip as much as I can, but for my family, I feel it is important to address recent rumors that are hurting the people I love.

A few weeks ago I displayed a strong lapse in judgment — but let me be clear — nothing happened between me and my costar. I drank way too much that night and I regret my behavior. I should have known better. This is not the example I want to set for my son. I apologize to my amazing wife and family for putting them through such an embarrassing situation, and I am focused on being the best husband and father I can be. This was not that. I am incredibly proud to be working on Palmer. Looking forward to continuing to make this movie and excited for people to see it.
How long until they reveal that they are in couples therapy trying to make their marriage work? Either that or they announce their separation.
Personally, I do not think that Wainwright is the other woman. That title will always belong to Jimmy Fallon.

---