Can't sleep, listen to Billie Eilish's No Time To Die
February 13th, 2020 under James Bond. [ Comments: 1 ]

Adele, Duran Duran, Sheena Easton, Madonna, and Tina Turner have all voiced a theme song for Bond, James Bond. Now, Billie Eilish has been tasked with the job. Today, they released the audio for her song No Time To Die, and they should call it It's Time to Sleep.
The song is so monotone, it reminds of the music they play with a white noise machine to help you get a good night's rest. It is something your dentist will listen to as he is putting you under. The tune is far from exciting which is what you would expect for an OO7 movie.
Who knows, maybe it is fitting for the much-delayed film? The trailer was lackluster. I guess, they had to slow it down for the ageing Daniel Craig who is leaving the franchise. That and Rami Maleck is the bad guy. He is as thrilling as this song.
I have to go now. I can barely keep my eyes open because that song just put me to sleeeeeeee………..

---
Looks like Craig, Daniel Craig is going out with a bang
December 4th, 2019 under James Bond. [ Comments: none ]

The first trailer is out for No Time To Die, and I have no idea what the film is about. What I can tell, is that Daniel Craig's final appearance as Bond, James Bond is going to be a spectacular one. Full of lots of exciting chases, stunts and special effects. Which at the end of the day is what 007 movies are all about. That and Bond Girls.
Which seems like they are setting up for the new Bond being a woman, Black or anything they want him (or her) to be. Which I am OK with. Remember how upset people were when they picked a blonde man to be the international spy. We obviously got over it!
So much so, many of you will run out to see the picture when it comes out on April 2nd.

---
Daniel Craig feels now is the right time to let his James Bond die
November 25th, 2019 under James Bond. [ Comments: none ]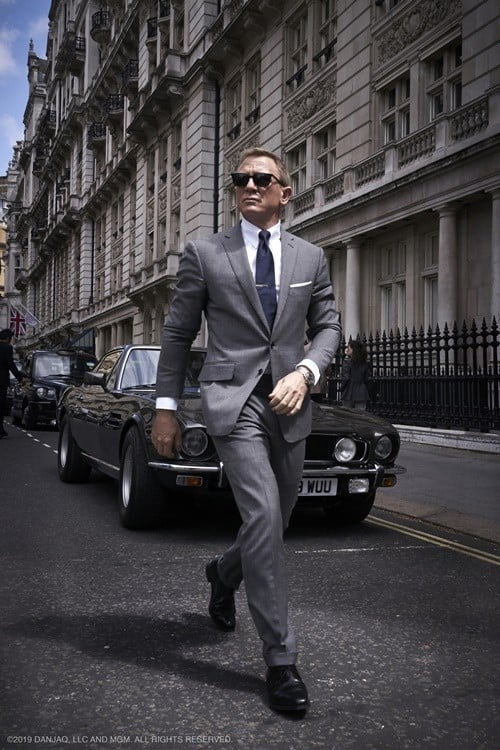 Daniel Craig has played James Bond in five movies, but will he do a sixth one? While promoting Knives Out, a non 007 movie, he revealed his fate to Germany's Express. He told them, "In the future, someone else will have to do it!"
Does Craig, Daniel Craig have any plans after No Time To Die comes out on April? He said, "I don't have any. I am in a happy situation where I am sent a lot of scripts and offered me very different roles. My only plan is to work with good and nice people."
I am sure he will be as hot commodity as it is for being the next Bond, James Bond. Who do you think should get the iconic role?

---
Brolin, James Brolin was almost Bond, James Bond
July 5th, 2019 under James Bond, Josh Brolin. [ Comments: none ]

Back in the early '80s, Roger Moore said he was done playing 007. Therefore, the producers started to look for a replacement. They auditioned several leading men and one of them was James Brolin.
I guess you can say he stirred them the right way because they offered him the role. In fact, they told him to go home to the States and pack for a year of filming in London. He told This Morning today, as he was doing so, Moore decided to reprise his role as Bond, James Bond in Octopussy.
Which means he never got to play the International Spy. As we know the Marcus Welby star is an American, so what type of accent was he going to use? He says that he was going to use an intercontinental one and not a British accent. I guess they did not want another Dick Van Dyke on their hands.
How did he feel when he heard that Moore was going back for more? The actor said, "I am a fatalist in a way. I just went OK." Then he added, "But I look back and I think it would have been a great thing." It would have been the role of a lifetime.
Hearing that he was almost cast, proves that Bond does not have to be a white Brit. Anyone can play the legendary role, as long as they play it well.
Brolin also talked about his son Josh and his children with Barbra Streisand. The proud pop revealed that his son was bullied in school because of his dad's career. Therefore, he did not want to go into show business. Then, one summer he came to LA to spend some time with his pops and said he wanted to be an actor. Within no time he landed a job in a little movie called Goonies. The rest is Hollywood history.
Wait he has kids with Babs? Yes, he does. Four to be exact and they all walk on four legs. As you know they cloned her dog. What the couple was not expecting is that they when the furbaby was born, there would be multiple ones. They decided to keep three and give away the fourth. He also thinks cloning will become more popular in the future. I do not know how I feel about that.
What I do know is that Brolin, James Brolin would have been a good Bond. To see his screen test, then click here!

---
Grace Jones gives Bond 25 a view to her bum as she walked away
July 1st, 2019 under James Bond. [ Comments: none ]

I think we can all agree that Bond 25 is cursed, very cursed. First, the movie was delayed when Danny Boyle dropped out as director over creative differences. Then production had to work around not having Craig, Daniel Craig on set because he injured his ankle. While he was healing, there were a few unexpected explosions on the set. There were also rumors they crew was upset when the new director, Cary Fukunaga, was too busy playing with his Playstation to come to set.
Now, comes one of its biggest setbacks. The most notorious Bond Girl, Grace Jones, was expected to be part of the movie. They even gave her great accommodations near where they are filming. There was just one thing they did not give her enough of and that was lines.
According to The Sun, when she saw how little her cameo was in the 25th Bond, James Bond film, "She was out of there quicker than it takes to rustle up a martini." I guess you can say she was stirred and they were shaken. Can you blame her? She is Grace Jones. She is the Queen and they are her subjects.
What else can wrong with this movie? This is one of those times when you don't ask that question. If you do, then something you cannot even imagine happening will happen.
Although, it sounds like the film will be dreadful. With all that has happened, there are only two ways it can go. It can go very very well or it can go very very very bad. I am rooting for the latter. Which means I might go see it when it comes out on April 3rd. If it comes out…

---