Daniel Craig is getting surgery, ankle surgery
May 22nd, 2019 under James Bond. [ Comments:

none

]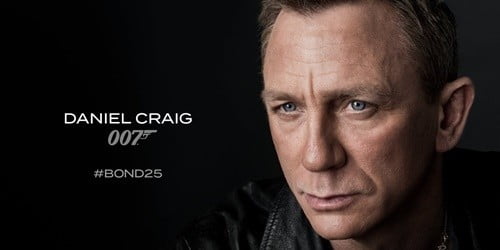 A few weeks ago, there were rumors that Daniel Craig injured his ankle while filming James Bond 25. Today, they finally confirmed it. Production released this statement, "Daniel Craig will be undergoing minor ankle surgery resulting from an injury sustained during filming in Jamaica. Production will continue whilst Craig is rehabilitating for two weeks post-surgery. The film remains on track for the same release date in April 2020."
Does anyone know where Idris Elba was when Craig hurt his ankle? I mean, how much longer does he bloody have to wait to play the iconic role?
---
The present and future Bond, James Bond?
January 7th, 2019 under Idris Elba, James Bond. [ Comments:

none

]

The Golden Globes invites some of the biggest stars, so it makes sense that they would invite both Daniel Craig and Idris Elba. Just like Jennifer Aniston and Angelina Jolie or Taylor Swift and Kanye West, you will want to keep them apart.

Why? Well, Daniel Craig is the current James Bond, and Idris Elba is his rumor and anticipated replacement. Only thing is Craig has not hung up the tux yet. Therefore, imagine how awkward it must have been when the two of them met. I mean, Idris has pretty much been gunning for that job and Craig still has it.

Maybe, all was good between them and they shared a Martini, shaken not stirred, together; and Craig gave Elba advice on how to play one of the most iconic roles in Hollywood history. That is when he is done with being 007 of course.
---
Elba, Idris Elba answers if he is the next Bond, James Bond
August 22nd, 2018 under Idris Elba, James Bond. [ Comments:

none

]

For months, there have been rumors and campaigns trying to make Idris Elba the next Bond, James Bond. Yesterday, while he was walking the carpet for his directorial for the movie Yardie, Good Morning Britain asked him about it.
First, they handed him a martini and asked him if he likes it shaken or stirred. He told them, "stirred fry." Then she asked him, "Am I looking at the next 007?" As he is walking away, he told her, "no," and laughed.
This is the second bit of bad news for the franchise in 24 hours. Yesterday, Danny Boyle dropped out of directing Bond 25 and now this. Maybe it is time for them to hit the pause button and reevaluate how they move forward with other Bond movies. What do you think?
---
Bond 25 is shaken not stirred as Danny Boyle out as director
August 21st, 2018 under James Bond. [ Comments:

none

]

It has been 3 years since we saw Daniel Craig as Bond, James Bond and looks like we are going to have to wait a little longer to see him play the spy again. That is because today, he along with the movie's producers announced a big change behind the scenes. The statement reads, "Michael G. Wilson, Barbara Broccoli and Daniel Craig today announced that due to creative differences Danny Boyle has decided to no longer direct Bond 25."

No word who will replace the Oscar-winning director for Slumdog Millionaire or if his departure will affect production. The film is expected to start filming in December and set to be released November 8, 2019.

They should give it to J.J. Abrams because they give him everything.
---
Could Styles, Harry Styles be the next James Bond?
January 22nd, 2018 under Harry Styles, James Bond, One Direction. [ Comments:

none

]

It has been rumored that Daniel Craig will only do one more James Bond film and then he is done. Since that rumor, several names have been thrown around as a replacement and the latest one might be a little shocking. Idris Elba, Tom Hiddleston, Michael Fassbender and Luke Evans all seem logical, but what do you think of Harry Styles? That's right, Spectre film editor Lee Smith told Daily Star, "Harry could do it. If they wanted a younger Bond then why not? He has got it."

Lee believes this because Styles and Christopher Nolan, who is set to direct the next Bond film and worked with the One Direction singer on Dunkirk, worked well together on the war film.

When it comes to Styles as Bond, James Bond, I just think he is too young. As sexy as he is, he is a cute sexy and not a manly sexy. The spy has to look like man and not a boy. What do you think?
---