Paul Wesley taught Ian Somerhalder how to Dab
June 3rd, 2022 under Ian Somerhalder. [ Comments: none ]
It has been a long few weeks, and we just need something fun to watch. And we are getting that from TV brothers Paul Wesley and Ian Somerhalder. How? The former taught the latter how to Dab.
It is so simple and yet so cute. It is like to drank too much of their Brother's Bond Bourbon, and this is as intellectual as their conversation can be at the moment. And there is nothing wrong with it.
The only wrong thing is that The Vampire Diaries is no longer on the air. If it were, then I would love an episode where Stefan teaches Damon how to do popular dances for the prom.

---
Who knew Ian Somerhalder translated to scarecrow?
October 6th, 2021 under Ian Somerhalder. [ Comments: none ]
Ian Somerhalder shared a corny video of himself in a cornfield looking like a scarecrow.
I don't know who owns the property, but they have someone who is going to protect the crop from all the crows and chicks. Because no woman is going to go past him as soon as they see his gorgeous eyes, they can get you to do whatever he wants.
Well, part of it is the eyes; the other part is that he is a Vampire.

---
Ian Somerhalder reveals why wine and cutting your own hair don't mix
March 26th, 2019 under Ian Somerhalder. [ Comments: none ]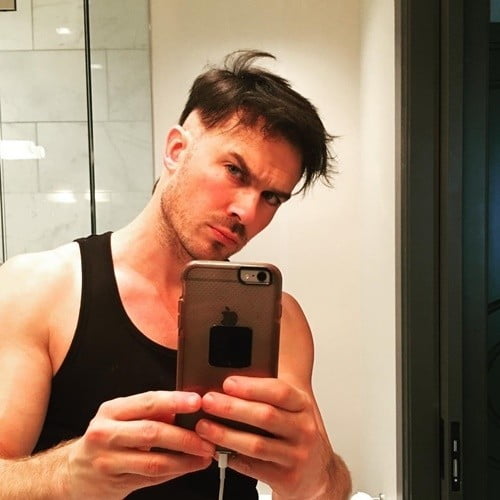 Ian Somerhalder had a few glasses of wine and thought, hey I want a faux hawk. Therefore, he took out the cutters and started buzzing away.
But then he said, "After the 3 glasses of wine wore off and the clippers ran out of battery… something hit me like a ton bricks: a little thing called 'continuity' for aka #VWars reshoots! I stopped trimming… Shit. Biotin smoothies here we come- gotta grow this shit out fast… Hair growing out and gearing up for production now."
Therefore, when the webseries comes out and it looks like he is wearing a wig, we will know why. Too bad he cannot replace hair like a Vampire replaces blood! Which sadly proves that he is not a Vampire. Or is he? Because he does not seem to age.

---
Ian Somerhalder and Nikki Reed have their baby Vampire!
August 10th, 2017 under Ian Somerhalder. [ Comments: none ]

Vampires Ian Somerhalder and Nikki Reed welcomed their first child, a girl, on Tuesday, July 25th. According to People, they named her Bodhi Soleil. Not much more is known, but I am sure the new parents, who have been married for two years, will be dreading her 13th year, especially if it turns out to be like the movie that made her famous!

---
Will Ian Somerhalder and Nikki Reed give birth to a Vampire?
May 4th, 2017 under Ian Somerhalder. [ Comments: none ]

If two actors who played Vampires in some of Hollywood's biggest productions on the mythological creature, got married and got pregnant; does that mean the baby will be born one? That is something we are going to find out any day now because The Vampire Diaries' Ian Somerhalder and Twilight's Nikki Reed are expecting their first child together after two years of marriage.

The Lost actor broke the news on Instagram with, "To our friends, family, and rest of the world. In my 38 years on this earth I've never experienced anything more powerful and beautiful than this. I can't think of anything more exciting than this next chapter and we wanted you to hear this from us first. This has been the most special time of our lives and we wanted to keep it between the three of us for as long as possible so we could enjoy this time with each other and our little one who is growing so fast…because that's what they do, they grow so fast. Thank you for your kind energy." While his wife said, "Hi Little One, I know you, but only because I feel you. How is it possible to love someone so much already? All I know for sure is it's the strongest feeling I've ever felt. We've been sharing this body for quite some time, and we've already experienced so much together. We can't wait to meet you…Love, Your parents"

Hopefully, their baby will have his eyes because they are some of the most beautiful ones I have ever seen. The one thing we do know for sure is that it will be surrounded by love between its parents and all of their animals.

---