Worst Cooks in America Celebrity Edition goes to the '90s
March 17th, 2022 under Food Network, Jodie Sweetin, Tracey Gold. [ Comments: none ]
Worst Cooks in America Celebrity Edition is back on the Food Network after a two-year break, and this edition is going to be themed. Each of the worst cooks was on a '90s television show.
So who are these celebs who finally want to learn how to cook? They are Lori Beth Denberg (All That), Elisa Donovan (Clueless), Tracey Gold (Growing Pains), Jennie Kwan (California Dreams), Matthew Lawrence (Boy Meets World), Mark Long (Road Rules), Jodie Sweetin (Full House), Nicholle Tom (The Nanny) and Curtis Williams (The Parent 'Hood).
Jennie Kwan has my vote to win because I loved California Dreams, followed by Lori Beth Denberg. Wait, I am rooting for all of them but Mark Long because Road Rules is the only show I didn't watch back then. Who do you want to win?
Along with all of the new contestants, Anne Burrell has a new chef by her side, and he is Sandwich King's Jeff Mauro.
Worst Cooks in America: Celebrity Edition: That's So '90s debuts on April 24th. The winner of the $25,000 to their favorite charity will be revealed on May 29th.

---
Food Network teams up with Ben & Jerry
July 8th, 2021 under Food Network. [ Comments: none ]
Ben & Jerry's has some of the most interesting combinations of flavored ice cream. Therefore, it would make sense that Food Network would reach out to them to do a competition show to create possibly new flavors.
Starting on August 16th, six ice makers will compete on Ben & Jerry's: Clash of the Cones. Their creations will be judged by Jet Tila and Chris Rivard, a Ben & Jerry's flavor expert, as well as the public.
"Viewers are in for an imaginative and entertaining ride, watching along as these gifted ice cream makers create original Ben & Jerry's flavors, based on inspiration from some of the biggest stars on the planet in food, music, and film. This is the perfect show for the entire family to gather around and watch this summer," said Courtney White, president, Food Network and Cooking Channel, in a prepared statement to Variety.
Who are these celebrities? They are Chris "Ludacris" Bridges, Food Network's Duff Goldman, Buddy Valastro, and Kevin Bacon. I have the perfect flavor for the latter, maple ice cream with chunks of waffles and bacon. They can call it Kevin Bacon and Waffles.
At the end of the four episodes, they get to chance to wow thee Ben & Jerry, aka Ben Cohen and Jerry Greenfield, for a chance to win the grand prize of $20,000.

---
Questlove is hosting a virtual potluck with his celebrity friends tonight
May 28th, 2020 under Food Network. [ Comments: none ]
https://www.facebook.com/FoodNetwork/videos/591143901514602
We know that Questlove knows music, but did you know he knows food too? Tonight at 10p on Food Network, he is hosting a virtual potluck with some of his friends to raise money for America's Food Fund.
The Roots drummer revealed why he drummed up the night. "America's Food Fund is supporting several organizations including Feeding America, World Central Kitchen, and No Kid Hungry, that are tackling one of the biggest issues many of our neighbors are facing, access to food. I hope everyone will join me and my friends, for a night of food, drink, and laughter in supporting this incredible organization, and having some fun while we're at it!"
Some of his friends, who will be sharing recipes and spilling the tea from their homes, are Bun B., Hannibal Buress, Zooey Deschanel and Jonathan Scott, Ashley Graham, Tiffany Haddish, Patti LaBelle, Eva Longoria, George Lopez, Kenan Thompson, Tariq Trotter, Gabrielle Union, Olivia Wilde, Roy Wood Jr., and more.
Questlove's Potluck should be scrumptious, so make sure to eat it up tonight for yummy food and laughs.

---
Who are the newest Worst Celebrity Cooks in America?
April 10th, 2020 under Food Network. [ Comments: none ]

On May 10th, Chefs Anne Burrell and Tyler Florence are back teaching the Worst Celebrity Cooks in America how to cook. Who are their students this go around? They are Sarah Hyland's fiance' Wells Adams, MTV Challenge's alleged Badass Johnny Bananas, Full House's Dave Coulier, comedienne Bridget Everett, Head of the Class and Riverdale's Robin Givens, Real Housewives of New York's Sonja Morgan and comedian Brian Posehn.

Givens is the hottest one in the kitchen, but will she win? Who do you think will go from the worst cook to the best one? My money is on Posehn.

I don't know what it is about this cooking competition show, but it is one of my favorite addictions. I haven't learned to cook from it, but I enjoy watching them learn how to become masters in the kitchen.

To see Uncle Joey's signature dish, then click here!

---
Worst Cooks in America: Celebrity Edition S5 is hotter than an oven on Thanksgiving
April 3rd, 2019 under DIscovery Networks/Discovery+, Food Network, Morgan Fairchild. [ Comments: none ]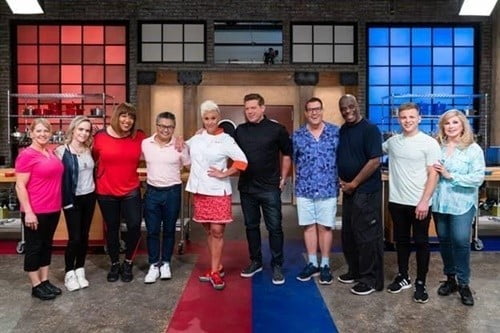 Food Network announced today who will be competing on the fifth edition of Worst Cooks in America: Celebrity Edition and April 21st cannot come soon enough for me. The celebrities who cannot cook this time around are Jim J. Bullock, Morgan Fairchild, Tonya Harding, Jonathan Lipnicki, Taryn Manning, Alec Mapa, Kym Whitley and Jimmie Walker. They will once again be mentored by Chefs Anne Burrell and Tyler Florence.
There are so many people for me to root for, I cannot pick one. I have great interactions with Manning, Bullock, Whitley, Mapa and Fairchild, and I have had a crush on Walker since I was a kid. Therefore, I can't decide. The only thing I know is that I will be watching all 7 episodes as they air.
Not only because I am rooting for almost all of them, but also because it is my favorite show on the channel. If you have never seen it, then you should catch up on their app.

---