BTWF: Dakota Fanning on ER
July 15th, 2020 under Before They Were Famous, Dakota and Elle Fanning. [ Comments:

none

]

Before Dakota Fanning spent time in a sanitorium on The Alienist, she spent some time in a hospital on ER. How cute was the 6-year-old back in 2000?
As cute as she was then, she is even cuter today when she talked about that gig on Live with Kelly and Ryan.
---
Elle Fanning and Phoebe Fox have a Great handshake
May 20th, 2020 under Dakota and Elle Fanning. [ Comments:

none

]

Elle Fanning and Phoebe Fox spent so much time together on the set of The Great that they came up with their own handshake. Although, there is not as much handshaking as there is boob touching. Something, I am sure will give the boys even more reason to watch the Hulu period drama to see what else they do together when the cameras are rolling.
Seriously, if you are looking for something great to binge, then binge The Great.
---
Elle Fanning recreates her Great billboard
May 11th, 2020 under Dakota and Elle Fanning. [ Comments:

none

]

Elle Fanning heard that the billboard for her show The Great was on display near where she was, so she had to go see herself in person. Then when she did, she had to pose just like she did in the poster. Thankfully, it is LA, and there were not that many people around, because of, you know, the coronavirus. If there were, then they would want to know why she was giving them the finger.

Since she does not look the same way as she does in the one sheet. In the poster, she is dressed in a royal gown from the 18th century. In real like, she is wearing sunglasses, a mask, and a tank top. How would they know they are looking at the same woman, who is life-size right in front of them and several stories tall across the street? I wouldn't have realized it was the same person. I would have thought it was an obnoxious tourist trying to recreate that poster because her character is flipping everyone off.

Back to Fanning, I always think it is so cute when celebrities get all excited when they see huge billboards of themselves. Especially for someone like Fanning, who has been doing this since she was a toddler.

The Great debuts on Hulu May 15th
---
Elle Fanning wants to know if she should get a bob?
June 2nd, 2019 under Dakota and Elle Fanning. [ Comments:

none

]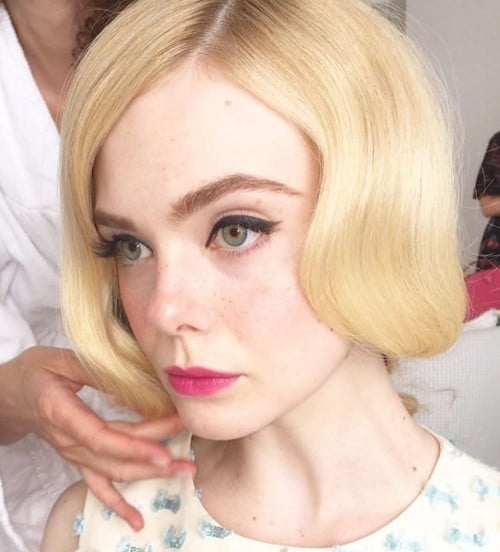 Ever since we got to know the Elle Fanning, she has had long blonde hair. Now that she is 21, she is wondering if she go short.
The awwwwwdorable actress shared a photo with her faux bob, and asked us if she should do it? I think she should go for it because her sophistication that will help to graduate to playing older roles.
---
Elle Fanning is OK after fainting at Cannes
May 21st, 2019 under Dakota and Elle Fanning. [ Comments:

none

]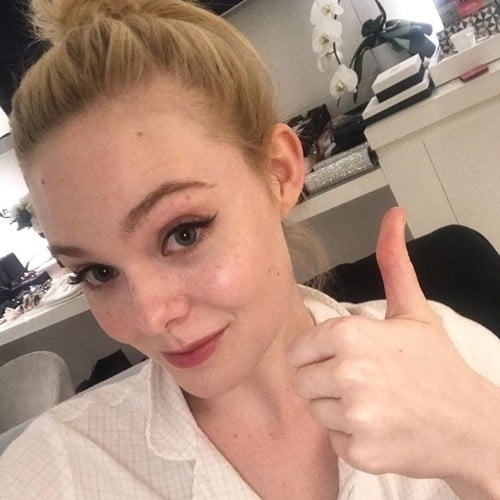 Elle Fanning gave everyone a scare tonight at Cannes when she fainted at a dinner party. According to Variety, she suddenly lost conscientious and fell out of her seat. Her older sister Dakota Fanning, who was sitting next to her, was able to help her to feet. Collin Firth was nearby, and ran over to offer assistance.
The party took a brief pause before resuming and everyone wanted to know how the actress, who is on the Cannes jury this year, was doing. She took to social media with a photo giving the thumb's up and wrote, "Oops, had a fainting spell tonight in my 1950's Prada prom dress but it's all good!! #dresstootight #timeofthemonth"
Hopefully, she will feel better soon and wear looser dresses.
---