Good girl Christina Hendricks is driving men mad
January 31st, 2022 under Christina Hendricks. [ Comments: none ]
Christina Hendricks shared a photo of herself in a black laced teddy, and she is setting men's tounges wagging. The sexy lingerie fits the 46-year-old like a glove. She looks so gorgeous that none of the Victoria's Secrets' Angels have anything on the actress. They wished they looked as fine as she does in those sexy undergarments. Hubba, hubba!

---
BTWF: Christina Hendricks for Visa
July 22nd, 2021 under Before They Were Famous, Christina Hendricks. [ Comments: none ]
Before Christina Hendricks was a secretary on Mad Men, she was a bartender who only took Visa. She looks the same now as she did when she was 21 in that 1997 ad?

---
The Good Girls are back in business
February 16th, 2020 under Christina Hendricks, NBC. [ Comments: 6 ]

When Good Girls ended its second season, Beth (Christina Hendricks) shot and killed crime boss Rio (Manny Montana) in front of FBI Agent Turner (James Lesure). Turner told her to run, and she did.
Tonight at 10p on NBC, it has been a few months after the shooting, and Beth, her sister, Annie (Mae Whitman), and Ruby (Retta) are ready to get back into the business of making money…illegally. They now have legitimate jobs, and their new occupations will help them get back into the biz. As with everything, Annie keeps screwing up, so Beth comes up with another way to get things done.
The fix cannot come soon enough because they all need money. No one more than Ruby. Her husband, Stanley (Reno Wilson), has a job that is making things awkward at home because it is the only one he can get after being arrested for the Good Girls' crime. However, one of the people he works for taught me how perfect my gag reflex. Think you know what he does for a living now?
Anyways, the girls are finally ready to get back into action. What is the worst that can happen? Especially since Turner is back in the picture, and he is letting Beth know that he is still watching her.
Good Girls is a female-empowering show because it shows us that moms and housewives can still be bad. Plus, the chemistry between the three leads makes me wish I had friends like them. Who doesn't need the money, even if it is counterfeit?
Good Girls is like Oceans 8, but much better and wittier.

---
Hey mad men, Christina Hendricks is single
October 17th, 2019 under Christina Hendricks. [ Comments: none ]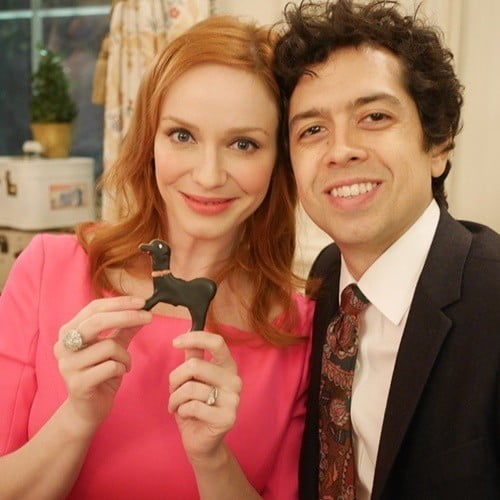 Christina Hendricks and her husband, Geoffrey Arend, celebrated their 10th anniversary by announcing they are splitting up.
The couple broke the news on social media. They wrote, "Twelve years ago we fell in love and became partners. We joined our two amazing families, had countless laughs, made wonderful friends and were blessed with incredible opportunities.
"Today we take our next step together, but on separate paths. We will always be grateful for the love we've shared and will always work together to raise our two beautiful dogs.
"We will be taking time to rediscover ourselves in this transition and we thank you for your patience and support in giving us the space to do so."
Hendricks has been filming Good Girls in Atlanta, while he has been working on Madam Secretary in NYC.
They married on October 11, 2009, and have two dogs, Zou Zou and Triscuit.

---
Do recognize Christina Hendricks' body part in the American Beauty poster?
August 23rd, 2019 under Christina Hendricks. [ Comments: none ]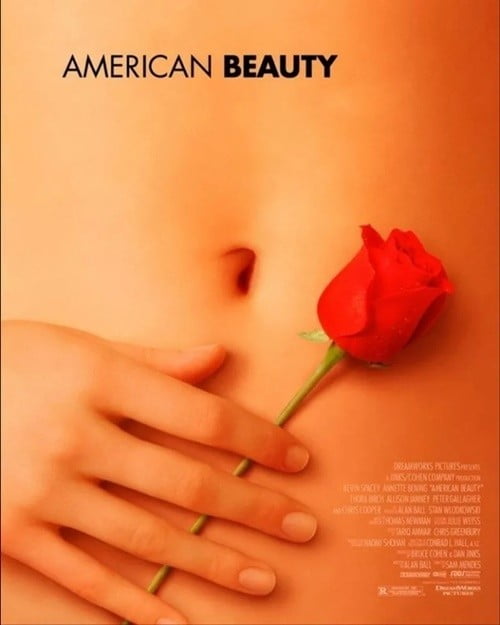 Before we got to know Christina Hendricks on Mad Men, men were mad about her and they did not even know it. The actress admitted that a part of her body is on the famous American Beauty poster.
She revealed, "Fun fact…. wait for it…I used to be a model and sometimes a hand model…. this is my hand and another model's stomach….proud to be a part if this film in ANY WAY!!! #americanbeauty"
How wild is that? This happens all the time. My friend was Jake Gyllenhaal's body double in the Jarhead poster. See nothing in Hollywood is real.

---