When will we say goodbye to The Big Bang Theory?
March 11th, 2019 under CBS, Chuck Lorre. [ Comments:

none

]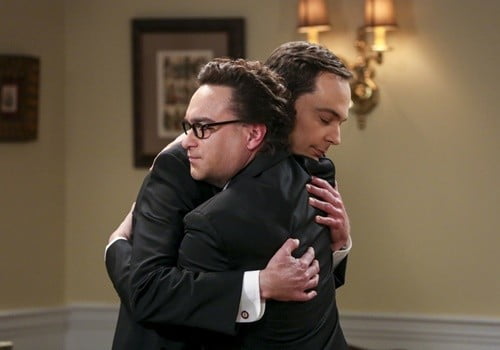 Ever since CBS announced in August that this will be The Big Bang Theory's final season, we have wanted to know when that last episode will air. Today, CBS told us that and when their other shows are ending their seasons.
To see how much time you have to stock up on tissues, then click here!
---
How could CBS pick up these shows and not Gd Friended Me?
January 25th, 2019 under CBS. [ Comments:

none

]

CBS picked up six new shows in May and today they announced that three of them will be back in the fall. Those shows are The Neighborhood, FBI and Magnum P.I. The three shows that have not been renewed, just yet, are Happy Together, Gd Friended Me and this season's worst new show Fam.

I get why they renewed FBI and The Neighborhood (because they are doing well), but Magnum is barely even making a blip in the ratings or in buzz. I guess they are trying to keep Peter M. Lenkov happy so that he can destroy, I mean remake, another one of their old shows like Mannix, Airwolf or T.J. Hooker.

When it comes to Happy Together and Gd Friended Me, I hope they renew both of them. They are their only new shows I enjoy watching, and it is all about me and what I watch.
---
Joey Lawrence is moving in with The Mooch, Dina Lohan and Kato Kaelin
January 13th, 2019 under CBS, Joey Lawrence. [ Comments:

none

]

CBS announced today who is moving into the Celebrity Big Brother House tomorrow night at 8p. This season's houseguests are Jonathan Bennett, Tamar Braxton, Kandi Burruss, Tom Green, Lolo Jones, Kato Kaelin, Joey Lawrence, Ryan Lochte, Dina Lohan, Natalie Eva Marie, Anthony Scaramucci and Ricky Williams.

There are definitely some interesting names moving into that house, but are they interesting enough to make you watch? Who do you think will be the first one to piss everyone off? Who will make everyone uncomfortable? Who will cry first? Who will get drunk first and then the most? What secrets will The Mooch share about his former boss? What has happened to Joey Lawrence since he shaved his locks?
---
The good news is Criminal Minds was picked up for another season…
January 10th, 2019 under CBS. [ Comments:

none

]

Almost every season, Criminal Minds has to wait to find out until the last minute to find out if it will be renewed for another season. This year it does not. That is because CBS picked it up for a 15th season.
That is the good news, the bad news is it will be its last one. The 10 episodes will wrap the shows long run.
According to Deadline, Erica Messer asked CBS if the season finale for this season would be a season or a series finale? That caused the all big wigs to have a meeting with her. They all decided to let her write the show off the way it deserves.
What can we expect from the final episode? Messer told Deadline, "My gut is tearjerker probably because that's how I'll be feeling." Then she added, "I think in honoring the series and saying goodbye, it's probably going to feel like a little bit of a eulogy. So my guess is tearjerker more than anything else, that's how I'd describe it."
No word if the final episodes will air in the fall or be held until 2020. What we do know is that they will begin filming it as soon as they are done taping season 14's 15th episode.
Criminal Minds joins The Big Bang Theory and Elementary that will be ending their runs too. Yet, Bull is still on their air…
---
Fam is the worst new broadcast show of the season
January 10th, 2019 under CBS, Nina Dobrev. [ Comments:

none

]

I love sitcoms. I look forward to new ones whenever they come out. I hate https://www.cbs.com/shows/fam/. The new comedy debuts on CBS tonight at 9:30p and I highly suggest skipping it.
Nina Dobrev plays Clem, a woman who just got engaged to a man with a perfect family. She told Nick (Tone Bell) and his parents (Sheryl Lee Ralph and Brian Stokes Mitchell) that her father is dead and she does not talk to her teenage half-sister. Cue, her troubled sister coming back into her life with her dead father (Odessa Adlon) who is very much alive. Now, Shannon (Odessa Adlon) is moving in with her sister and future brother-in-law, and Clem has to tell her new family all about her old one. Something she does not want to do because she wants absolutely nothing to do with the worst father of the year. Her new family wants to merge with her old one for the upcoming wedding and it is all going to become one huge unfunny mess.
I will start with something positive Ralph and Mitchell are the highlights of the show. Now the negative or everything else. I have been a fan of Dobrev's since Degrassi, but comedy is not for her. Or it could be the lame forced jokes they wrote for her and the cast. When a show is a chore to watch, then it is not worth watching.
---