Lady Gaga gets her own Oreo
December 2nd, 2020 under Candy, Lady Gaga. [ Comments:

none

]

Celebrities get a lot of accolades throughout their careers. I think Lady Gaga just got one of the coolest.
Oreo is dedicating a cookie to Mama Monster in honor of her sixth studio album Chromatica. The vanilla outside will be pink and feature images from the album, while the creme will be green.
The Chromatica Oreo will be available sometime next month for a limited time.

---
Will you follow the rainbow to Skittles Gummies?
November 12th, 2020 under Candy. [ Comments:

none

]

Have you ever wished that Skittles and Gummies would get married and make Skittle Gummies babies? Well, the proud pop announced that they are giving birth to a new candy next year. That's right. We are getting Skittles Gummies.
See, there is something good at the end of the rainbow that is 2021 and tastes sweet! I wonder if you will get as much of a sugar high eating them as you do the hardish candy. Am I the only one who starts singing that song from Empire Records after they taste a little bag of the rainbow treats?

---
Oh no! Planters killed off Mr. Peanut
January 22nd, 2020 under Candy. [ Comments:

5

]

The Super Bowl is supposed to be a happy occasion, but this year it will be a sad one. That is because there will be a funeral for Mr. Peanut during the third quarter.
Planters broke the news on social media. They wrote, "It is with heavy hearts that we confirm that Mr. Peanut has died at 104. In the ultimate selfless act, he sacrificed himself to save his friends when they needed him most. Please pay your respects with #RIPeanut." He died so that Wesley Snipe and Matt Walsh did not have to.
No word who will replace him. It is too soon. However, it is not too soon for his friends to remember him. Mr. Clean was swept up with emotion and wrote, "Always classy, always crunchy, always cleaned up nicely. We'll miss him! #RIPeanut" While Oreo tried to milk it up and asked their fans to "Help us give a 21 dunk salute to our nutty and sweet friend #RIPeanut"
Out of all of the mascots, why did it have to be him? Why couldn't it have been the creepy Burger King?

---
Would you drink Jelly Belly flavored sparkling water?
January 13th, 2020 under Candy. [ Comments:

none

]


Have you ever ate a Jelly Belly jellybean and wish that you could drink it up? Well, now you can!
The Joffer Beverage Company has teamed up with Jelly Belly to release eight different flavors of sparkling water that taste like the candy. They are French Vanilla, Lemon Lime, Orange Sherbet, Piña Colada, Pink Grapefruit, Tangerine, Very Cherry, and Watermelon. These are the eight original flavors that launched in 1976. Since then, they have grown to over 100 flavors. If this line of sparkling water does well, then we will see more flavors. I would live to drink toasted marshmallow, what flavors interest you?
Each can has two ingredients carbonated water and natural flavors. That means that there is zero sugar, zero calories, and zero sweeteners in each drink.
As of now, the cans are only available at Hy-Vee. However, they will soon be available on their websites including Jelly Belly Sparkling Water.

---
Would you eat these flavor candy canes?
September 19th, 2019 under Candy, Fast Food. [ Comments:

none

]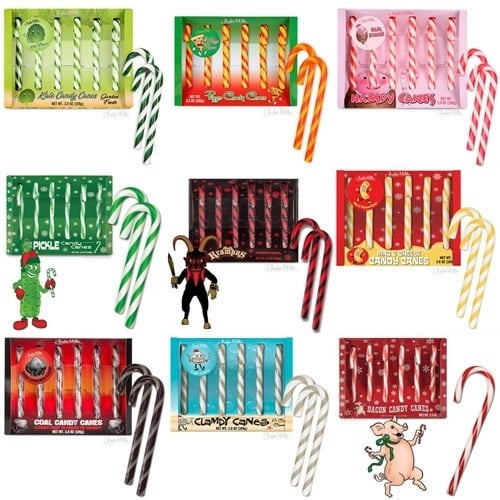 Over the last few years, Candy Canes are no longer just peppermint. They are bubblegum, strawberry, chocolate, Coca Cola, Rootbeer and so many other candy flavors.
Archie McPhee does not do those flavors. They already have bacon, clam, mac & cheese, Krampus, coal and pickle. This year they added three new flavors and they are ham, kale and pizza. An interesting array of flavors.
Those are just the candy canes, they also have lobster, gravy, pickle and bacon vegetable sucking candies.
As nasty as all of this sounds, I really want to try all of them. I might order some of them to taste. Then whichever ones I hate, I will put in an unlabeled bowl and let people try them too. The look on their faces will be my holiday joy. Which is why I better get the coal flavored canes.

---