Oh no! Planters killed off Mr. Peanut
January 22nd, 2020 under Candy. [ Comments:

4

]

The Super Bowl is supposed to be a happy occasion, but this year it will be a sad one. That is because there will be a funeral for Mr. Peanut during the third quarter.
Planters broke the news on social media. They wrote, "It is with heavy hearts that we confirm that Mr. Peanut has died at 104. In the ultimate selfless act, he sacrificed himself to save his friends when they needed him most. Please pay your respects with #RIPeanut." He died so that Wesley Snipe and Matt Walsh did not have to.
No word who will replace him. It is too soon. However, it is not too soon for his friends to remember him. Mr. Clean was swept up with emotion and wrote, "Always classy, always crunchy, always cleaned up nicely. We'll miss him! #RIPeanut" While Oreo tried to milk it up and asked their fans to "Help us give a 21 dunk salute to our nutty and sweet friend #RIPeanut"
Out of all of the mascots, why did it have to be him? Why couldn't it have been the creepy Burger King?

---
Would you drink Jelly Belly flavored sparkling water?
January 13th, 2020 under Candy. [ Comments:

none

]


Have you ever ate a Jelly Belly jellybean and wish that you could drink it up? Well, now you can!
The Joffer Beverage Company has teamed up with Jelly Belly to release eight different flavors of sparkling water that taste like the candy. They are French Vanilla, Lemon Lime, Orange Sherbet, Piña Colada, Pink Grapefruit, Tangerine, Very Cherry, and Watermelon. These are the eight original flavors that launched in 1976. Since then, they have grown to over 100 flavors. If this line of sparkling water does well, then we will see more flavors. I would live to drink toasted marshmallow, what flavors interest you?
Each can has two ingredients carbonated water and natural flavors. That means that there is zero sugar, zero calories, and zero sweeteners in each drink.
As of now, the cans are only available at Hy-Vee. However, they will soon be available on their websites including Jelly Belly Sparkling Water.

---
Would you eat these flavor candy canes?
September 19th, 2019 under Candy, Fast Food. [ Comments:

none

]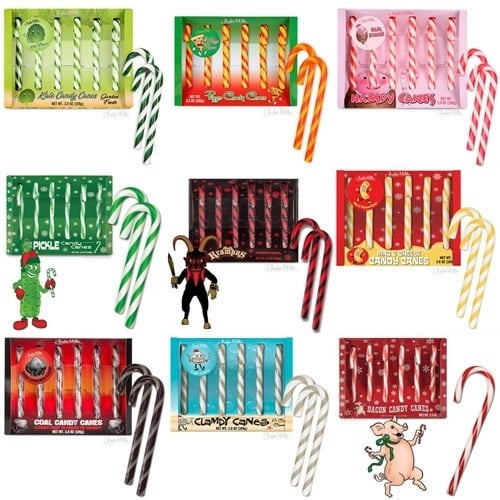 Over the last few years, Candy Canes are no longer just peppermint. They are bubblegum, strawberry, chocolate, Coca Cola, Rootbeer and so many other candy flavors.
Archie McPhee does not do those flavors. They already have bacon, clam, mac & cheese, Krampus, coal and pickle. This year they added three new flavors and they are ham, kale and pizza. An interesting array of flavors.
Those are just the candy canes, they also have lobster, gravy, pickle and bacon vegetable sucking candies.
As nasty as all of this sounds, I really want to try all of them. I might order some of them to taste. Then whichever ones I hate, I will put in an unlabeled bowl and let people try them too. The look on their faces will be my holiday joy. Which is why I better get the coal flavored canes.

---
Would you drink candy corn flavored beer?
October 12th, 2018 under Candy, Odd. [ Comments:

none

]

While I am not a fan of beer, I do like apple cider and pumpkin spiced beer. When it comes to Halloween candy, I love it all…but candy corn. I do not know anyone who likes it.

That is me, it is not Westallion Brewing Company in West Allis, Wisconsin. The brewery has a new flavor on tap and it is candy corn flavored beer. They describe it as, "We created a cream ale using lactose sugars to keep some sweetness, but added Simcoe hops to create a bit of a bite and a balance (and maybe help remind us that it's still beer?). Instead of smashing up some candy corns and throwing them in our beer, we made our own candy corn out of less beer destructive ingredients and threw them into our beer!"

Is it wrong of me, but I so want to try it. It sounds weird enough to be delicious?

BTW did you know candy corn is created by the company now known as Jelly Belly? Before they were known by their name, they were called chicken feed. Which it totally looks like when you think about it. Thank you to the Westallion Brewing Company for sharing that sweet piece of information.

---
Would you eat a Dirty Dishwater or Stink Bug flavored Jelly Belly?
August 13th, 2018 under Candy, Odd. [ Comments:

none

]

Jelly Belly has two new flavors for their fifth edition of BeanBoozled. They are Dirty Dishwater and Stink Bug. Who would want to eat those? Well, you won't know you are eating them, because they look like Birthday Cake and Toasted Marshmallow, respectively. Therefore, you think you think you are eating the sweet flavor, but you are actually eating ones that make you want to hurl.

On that note, that is one of the old flavors from BeanBoozled. The 20 flavors in this edition are Barf, Berry Blue, Birthday Cake, Booger, Buttered Popcorn, Canned Dog Food, Chocolate Pudding, Coconut, Dead Fish, Dirty Dishwater, Juicy Pear, Peach, Rotten Egg, Stinky Socks, Spoiled Milk, Stink Bug, Strawberry Banana Smoothie, Toasted Marshmallow, Toothpaste and Tutti-Fruitti.

As nasty as they sound, I want to try every one of them. Just to see what they taste like. Then, after I had one of each, I will put them all in a bowl and give it to my friends. But I won't tell them about the yucky flavors, I will just let them think they are all the yummy ones. Is that wrong?

If you are not evil like me, then you can add BeanBoozled to your game night. For just $13.99, you can buy the game that comes with two packs of the jellybeans and a spinner. Imagine how much fun it will be to play after a few drinks? Maybe not because one or more of those flavors will make them want to barf! Most likely the one that tastes like barf!

---