Ted Lasso lassoes my heart!
March 15th, 2023 under Apple TV+, Bill Lawrence. [ Comments: none ]
Ted Lasso is back on Apple TV+, and the third season is shaping up to be its best one yet. I was so emotional watching the touching season premiere.
It starts off with Ted Lasso (Jason Sudeikis) dropping his son off at the airport to go back to America to be with his mom. Now that his son has gone home, it is time to focus on the team.
AFC Richmond is last in everyone's poll, and no one has any faith in the team. So it will be a miracle for them not to be in the last place. And that miracle is coming. But I can't tell you how just yet.
Rebecca (Hannah Waddingham) still wants and needs to do better than her ex-husband Rupert (Anthony Head), and she wants and needs Ted to step up. Especially after Nate (Nick Mohammed) totally trashed him during his first press conference as the new manager of West Ham United. When did Nate grow balls? And how will Ted react to all the negative things that Nate said about him?
Meanwhile, Keeley (Juno Temple) is adjusting to having her own PR firm, and it is not going as she expected. To make matters worse, she is still dealing with Roy Kent (Brett Goldstein) dumping her.
And then there is the team. They need a pick me up. Can Ted and Roy Kent deliver it to them? They are going to have to, or they really will finish in last place.
While the team might be in last place, the show is in first place in our hearts. They say this is the last season. And if it is, then I can say they are going out splendidly after watching the first four episodes.

---
I believe we are going to see another great season of Ted Lasso
February 14th, 2023 under Apple TV+, Bill Lawrence. [ Comments: none ]
Apple TV+ just gave us a Valentine's Day gift. That is because they announced that Ted Lasso's 3rd season will debut on March 15th.
The streaming service also revealed what we can expect. In the 12-episode third season of "Ted Lasso," the newly-promoted AFC Richmond faces ridicule as media predictions widely peg them as last in the Premier League and Nate (Nick Mohammed), now hailed as the "wonder kid," has gone to work for Rupert (Anthony Head) at West Ham United. In the wake of Nate's contentious departure from Richmond, Roy Kent (Brett Goldstein) steps up as assistant coach, alongside Beard (Brendan Hunt). Meanwhile, while Ted (Jason Sudeikis) deals with pressures at work, he continues to wrestle with his own personal issues back home, Rebecca (Hannah Waddingham) is focused on defeating Rupert and Keeley (Juno Temple) navigates being the boss of her own PR agency. Things seem to be falling apart both on and off the pitch, but Team Lasso is set to give it their best shot anyway.
However, there is one thing they didn't tell us. And that is if this will be the Emmy-winning show's final season, as rumored. Hopefully, we will get a season 4 because I don't want this series to end.

---
Ted Lasso will have a Spring in his step
January 18th, 2023 under Bill Lawrence. [ Comments: none ]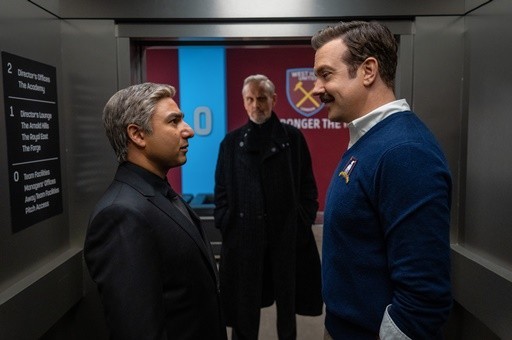 Have you been anxiously awaiting a new season of Ted Lasso and have wondered when it will be back? Apple TV+ announced that the series' final season will debut this spring.
The streaming service gave a little preview of what we can expect, and it looks like Lasso (Jason Sudekis) and Nate (Nick Mohammed) will go head-to-head. Who will win???
That is easy, Ted Lasso at the Emmys, SAG Awards, Golden Globes, and so on!

---
BTWF: Troy Kotsur on Scrubs
March 17th, 2022 under Before They Were Famous, Bill Lawrence. [ Comments: none ]
Before Troy Kotsur has a daughter in CODA, he had a son on Scrubs. The 38-year-old gave an outstanding performance in that 2007 episode.

---
Head of the Class gets an A+
November 4th, 2021 under Bill Lawrence, HBO Max. [ Comments: none ]
When I heard they were remaking Head of the Class, I wasn't sure how to feel about it. I am a fan of the original, and I didn't think they could recreate that magic. However, HBO Max found a way to do it.
It is not the same, but it works for 2021. Shows for teenagers are different now, as compared to what they were in the '80s. Therefore, the producers adapted it for today's youth. However, us former youths can enjoy it too.
So what is the remake about? Alicia (Isabella Gomez) is a new teacher, who wants to be the cool teach, and she is assigned the Honors Debate class. She has five over-achieving students to her class, and she wants to befriend them all. They are skeptical because she is a teacher.
Who are these students? There is Luke, who is the future overworked businessman of American. Miles (Adrian Matthew Escalona) is his best friend, and he is timid. Luke is going to try to get him to come out of his shell by forcing him to do things he doesn't want to do. Luke is doing this to help his friend, not hurt. However, that will backfire on him during the pilot episode.
Terrell (Brandon Severs) is a jock and he has a crush on the Principal's (Christa Miller) popular daughter Sarah (Katie Beth Hall). Sarah is not in the debate class, but she winds up joining.
Robyn (Dior Goodjohn) and (Jolie Hoang-Rappaport) are besties, and they support their classmates. They are neither popular nor losers.
Together the six of them are ready to take on any debate and anyone who wants to take them on. They need to stick together because being the smart kids can cause their classmates to make fun of them. And with Alicia's help, they are going to do just that!
What we get is a show that we will enjoy watching them become a strong group in the first ten episodes that are available to stream now. So spend the weekend binging the comedy. And then, when you are done, you can binge the original Head of the Class.
It is the perfect way to spend the day because they make high school look like fun. That is the good thing about TV shows. They set us up for the fail. What HS was ever like the one we saw on TV?
Head of the Class is created by Bill Lawrence, Amy Pocha, and Seth Cohen.

---