Amanda Bynes gives an update on her life
May 23rd, 2020 under Amanda Bynes. [ Comments: none ]

Back in February, Amanda Bynes announced that she was engaged to be married. Then things went south for her.

Today she gave an update, and things have turned around. She wrote, "Getting my Bachelor's degree from FIDM

"Taking online classes, trying to get a 4.0 GPA :] 🎓

"Looking forward to starting my online store in the future #goals

"Spent the last 2 months in treatment. Worked on coping skills to help with my social anxiety that caused me to drop out of school months ago. Back on track and doing well!

"I'm now living in transitional living and doing therapy during the week.

"Still engaged to tha love of my life Paul 🌹"

Hopefully, she will continue down this path with her fiance' and parents by her side.

---
Amanda Bynes is engaged!
February 15th, 2020 under Amanda Bynes. [ Comments: none ]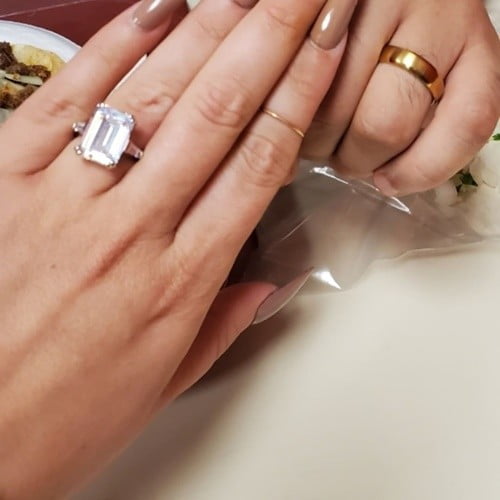 Amanda Bynes has had a rough few years, but things are looking up for the actress. That is because yesterday, she posted a photo with a huge rock on her finger and said, "Engaged to tha love of my life."
Who the mystery man is, we do not know. As long as he makes and keeps her happy, that is all that matters.

---
Amanda Bynes is ready for her comeback!
June 9th, 2017 under Amanda Bynes. [ Comments: none ]

Back in 2012, Amanda Bynes had a lot of interesting run ins with the law. Now five years later, she has cleaned up her act and is sober. So much so, she told Hollyscoop's Diana Madison of The Lowdown that is ready to start acting again. She wants to return to the small screen either doing guest star roles or having her own show. I am sure she will be back on TV before we know it. Especially since she looks like her old self if not better than that.
As we know, she has been going to the Fashion Institute of Design and Marketing here in Los Angeles for the last few years. What does she plan on doing with all of that knowledge? She wants her own fashion line. Proving she really has her act together and we are so happy for her.

---
Amanda Bynes looks fantastic!
August 19th, 2015 under Amanda Bynes. [ Comments: 3 ]

As we all know Amanda Bynes has had her problems over the years recently, and it looks like she has really gotten things back on track. The actress turned fashion student shared a photo of herself yesterday with Michael Costello at the SOAR Los Angeles Gala, and she looks phenomenal. I love seeing her this way, and I hope she continues to thrive.

---
BTWF roles: Ashley Tisdale on The Amanda Show
August 4th, 2015 under Amanda Bynes, Ashley Tisdale, Before They Were Famous. [ Comments: none ]

Before Ashley Tisdale was in the spotlight in High School Musical, she was giving the person in the spotlight some advice on The Amanda Show. How awwwdorable is the 14 year old in that 2000 episode?

---