Alec Baldwin will be in diapers by the time his kids are out of them
September 19th, 2019 under Alex O'Loughlin. [ Comments:

none

]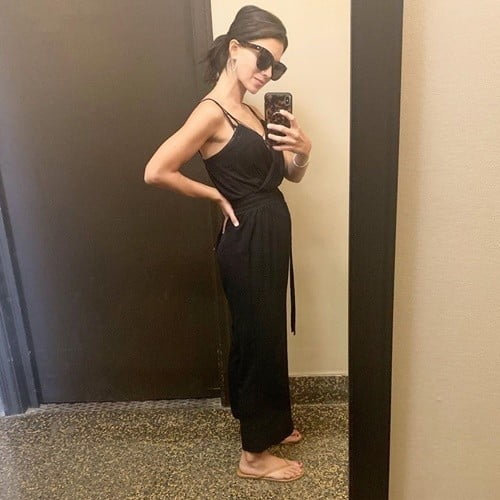 Alec Baldwin and his wife Hilaria are expecting their fifth child together, his sixth, in six years. She did not say how far along she is after her miscarriage five months ago, but she did say, "When you've had so many babies, 6 minutes pregnant = looking like 6 months pregnant 🤦🏻‍♀️🤰🏻🍉"
Baby #6 joins Romeo Alejandro David, 16 months, Leonardo Ángel Charles, 3, and Rafael Thomas, 4, Carmen Gabriela, 6, and his 23-year-old daughter Ireland with Kim Basinger,
---
Is Alex O'Loughlin still ready to quit Hawaii Five-0?
March 29th, 2018 under Alex O'Loughlin. [ Comments:

none

]

The last time , Entertainment Tonight spoke with Alex O'Loughlin in 2016, he told that he does not plan on renewing his contract with Hawaii Five-0 when this season ends. Recently when they spoke to him again, and they wanted to know if he still feels the same way.
He told them, "It's tough for me to think about coming back to work right now, but I'm open to negotiations. I haven't heard much but yeah, I'm open to it." What has changed since then? He said, "A big part of this is that my back injury is doing a lot better after my stem cell treatments. It's a big deal when you hurt your spine…but that injury really scared me."
I am pretty sure CBS will make him an offer he cannot refuse. Even though the show is in its 8th season, it is still one of their top-rated shows.
---
Could next season be Hawaii Five-0's last?
November 4th, 2016 under Alex O'Loughlin, CBS. [ Comments:

none

]

Before Alex O'Loughlin starred in Hawaii Five-0, he had two failed series on CBS, Moonlight and Three Rives, that only lasted a season. Then he got the crime procedural and it is in its 7th season. It has been seven painful seasons for him and he told ETonline that he only has one more in him.
He said, "I have an end date. I signed two more years, seasons seven and eight, and then I'm done. I got too many injuries to contend with. This show is really important to me and I'm pretty sure the world can see that with what I bring. I really care about these characters, I've never phoned in my performances. Every single day, no matter how tired I am, I give it everything I can to make it as good as it can be but that takes a toll. I think if I'd have been an actor who didn't care, I'd have less gray hair and I'd be a lot less tired. But I'm really tired. I do a lot of heavy lifting on the show, I have a harder schedule than anyone else but that's just the way it is for No. 1. That's cool, but it has to end."
An example would be that the Australian native claims that after a surgery he had from an injury sustained from the drama, he went to work the next day and worked as normal.
If he keeps his word about departing the show next season, I would find it hard to continue without him. Not that the other cast members are not good enough to carry the show, it is just his show to carry. Two of CBS dramas lost their leads in the last year, and they are feeling the ratings pinch without their leading men and I don't think this one can go on without theirs. Do you think it could?
---
The many faces of Alex O'Loughlin!
December 6th, 2012 under Alex O'Loughlin, The Many Faces of. [ Comments:

none

]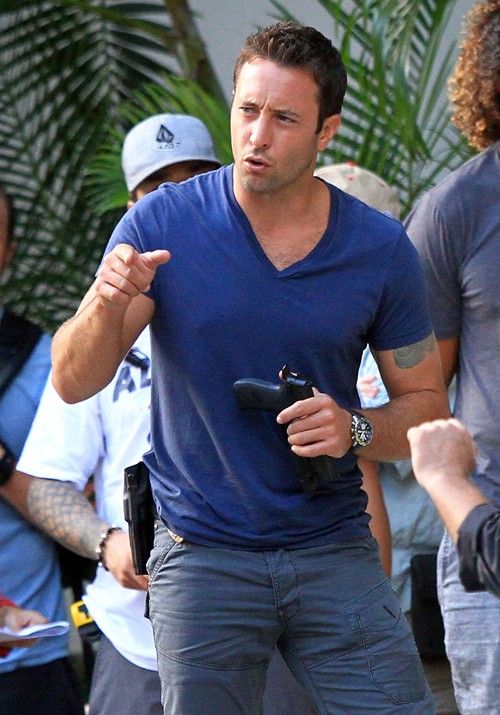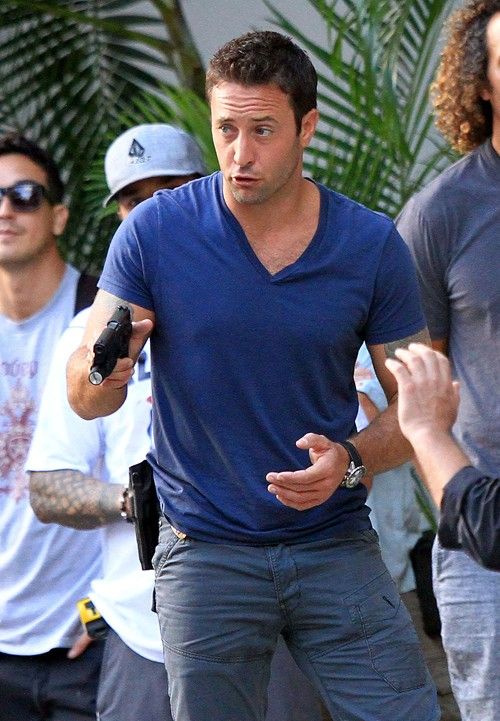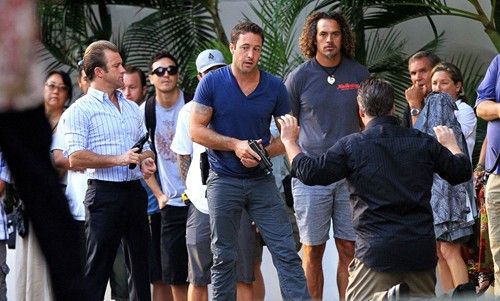 Fame Flynet
We have all gotten to know Alex O'Loughlin's gorgeous face on Moonlight and now we are getting to know some of his facial expressions on Hawaii Five-0! No matter what expression he makes, the new dad still looks gorgeous.
---
Alex O'Loughlin books into rehab
March 3rd, 2012 under Alex O'Loughlin. [ Comments:

none

]

(photo from WireImage)


Alex O'Loughlin has entered rehab and will miss an episode of Hawaii Five-0. His rep told Honolulu Star, "Alex is taking a short break to receive supervised treatment for prescription pain medication due to a recent shoulder injury." It is unclear if that injury is due to a result of the show. When it comes to the show, the studio rep said "We respect and support Alex's decision. Everyone at CBS Television Studios and 'Hawaii Five-0' wishes him well and we look forward to his return."
The CBS drama will film one episode without him and then they will take a break until he is ready to return to shoot the last few episodes of the second season.
Good for him for getting the help he needs.
---