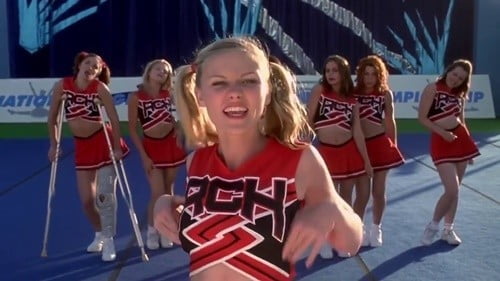 Back in 2000, Universal gave us something to cheer about, a movie called Bring It On. Since then, it has had four sequels made: Bring It On: All or Nothing (2006), Bring It On: In It to Win It (2007), Bring It On: Fight to the Finish (2009), Bring It On: Worldwide Cheersmack (2017).
Next year, it is getting a fifth one on Syfy. But isn't Syfy a horror channel? Yes, it is. And Bring It On: Halloween is going to be a scary one. What is scarier than dueling cheerleaders? This is, "Held down by restrictive rules, an embattled cheerleading squad seeks the freedom of a creepy, closed school gym to practice for regionals, but when members of the squad start to disappear, the cheerleaders must unmask their assailant to save themselves."
Please let the murderers be Gabrielle Union and Kirsten Dunst. Then, I say bring that on.
After that, I want to see a horror sequel for American Pie and call it Band Camp Killer. Every time someone has sex, they get murdered by a different instrument.

---