[ # ] All Shiloh Jolie Pitt wants for Christmas is a dead pet?
November 11th, 2010 under Brangelina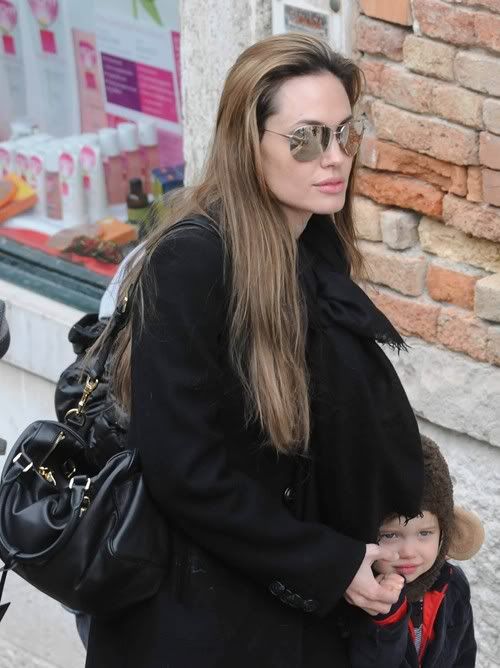 (photo from Fame Pictures)
Angelina has a new movie (The Tourist) coming out so that mean she is doing press. One of the first interviews she did was with
Vouge
and she talked about her 6 kids. When the interviewer asked her if they had any pets, here is what she told them:
"Well, someone found a lizard yesterday," she says. "And Shiloh appeared." (She checks herself momentarily, saying, "I am sure there's going to be some comment about this, which fortunately I will not read," before restarting.) "Shiloh found a dead bird, so she came in and said, 'Can I have a dead pet?' And I'm . . . 'Uh-uh, I don't think it's healthy, honey. I think they have to put him in a box,' and I had to run out to find, like, a taxidermy bird. I just worked it out for her." Did Shiloh know about taxidermy? "No. But I figured that I couldn't keep the actual dead bird from the yard, so I swayed her toward one that had been cleaned, at least." We are both giggling, and Jolie says that Shiloh is indeed "hysterical."
First off ewww. Second so gross. I understand her mom kills people in the movies and wore her then-husband's blood around her neck, but I don't think that means it is OK for her to want a DEAD freaking pet. Did I say ewww? Seriously I am getting the chills thinking about her touching the dead bird with maggots and ants and such. Yuck.
Although kids will be kids and they don't have that same ewww feeling us adults have. When I was her age I played with worms, now when I see them I can't get far enough away from them.

---