Forget the 3 hour orgasm, how about the 7 week long erection
January 15th, 2014 under Odd. [ Comments:

none

]

About two weeks ago on TLC's Sex Sent Me to the ER, a woman suffered from a 3 hour orgasm. Well today the Irish Examiner is reporting that a man had an erection that lasted for 7 long weeks. Unlike the woman and sadly for him, his was not caused by sex.
So what happened? The unnamed man (for obvious reasons) was riding his mountain bike when an accident caused his little me to meet the crossbar. The injury lead to him having irregular bloodflow to his bike and an upper that just wouldn't go down.
Believe it or not, he waited 5 whole weeks to go to the ER and the doctors were stumped. They worked really long and hard to come up with a solution and finally after 2 weeks he was back down to his old self.
So after being erect for 7 weeks, is he still able to pitch a tent? He says yes, yes, yes. Now when it comes to riding his bike the article didn't say, but if I were him there is only one thing I would ride. That one thing that's able to make the erection go away after a few minutes and not keep it going for nearly two months.
I really hope that TLC finds him and does a special about the 7 Week Erection!
---
Aren't you supposed to picture the interviewee naked?
August 26th, 2013 under Odd. [ Comments:

none

]

So many of us have been taught that if you are going to interview someone, you should picture them naked to calm your nerves. Well Lori Welbourne turned things around for the person she was interviewing when she took off her top. Why?
Well August 25th was Go Topless Day in America and she wanted to see if she could walk around without a shirt and bra in her hometown of Kelowna, B.C., in Canada. So she got an interview with the Mayor and Walter Gray said it is legal to go topless in their town but he wouldn't recommend it. Well once she heard it was OK in the law's eyes, she took off she shirt and did the rest of the interview in half of her birthday suit.
I betcha that the Mayor is now looking to pass a law where women are not allowed to go topless in Kelowna after that interview. Would anyone blame him if they did that?
---
The Mayor of Dorset, Minn. is just 4 years old!
July 10th, 2013 under Odd. [ Comments:

none

]




Bobby Tufts is just 4 years old and he already is the Mayor of his town. Now before you think, why would the 20+ people of Dorset, Minnesota elect a 3 year old to (that's how old he was at the time) the position? That is not how they do it in their town. So how do they do it? Each year at the Taste of Dorset Festival, people pay a $1 to have their name entered into the race and the Mayor of that year draws his or her replacement according to AP. Bobby has had such a good time running things that he is once again putting his name in the hat. Hopefully he will pick out his name on August 4th because he has been doing wonders for the town as you can see in the interview he did with WCCO.
Heck I bet he is better Mayor than most of the ones we have actually voted for.
---
Joey Chestnut downs 69!
July 4th, 2013 under Odd. [ Comments:

1

]

Today was the 98th annual Nathan's Famous Fourth of July International Hot Dog-Eating Contest and for the seventh year in the row, 29 year old Joey Chestnut, was the ultimate hot dog. He broke his own record by downing 69 wieners in just ten minutes, something no p0rn star can say they have ever done.
So what does he get for eating all of those hot dogs in 10 minutes, he gets $1,000 for each minute of the competition. It's almost worth it to have all of that mysterious meat in your stomach for $10,000. Almost.
BTW ladies and gentlemen, I am sorry to tell you all he has a girlfriend. I assume she is with him because she knows what he is good at and that can come in very helpful if you know what I mean!
---
Super Viagra Man isn't that super
July 1st, 2013 under Odd. [ Comments:

none

]

via Adventure Rider
You would think if you are going to come up with a mascot for your product called Super Viagra that your statue would have a "you know" bigger than the pill itself. I mean does his little thingy make you want to buy the product? It makes me think he needs a different pill like ExtenZe.
---
If Falling is the new Planking bring back Owling
January 9th, 2012 under Odd. [ Comments:

none

]

via Daily Mail
So we have seen some stupid trends in 2011 like Planking, Owling and Coneing, now in 2012 a group of teens are trying to get people to do Falling. Basically you go to a shopping center and fall around costumers. I am a sadist and enjoy watching people hurt themselves, but this video didn't make me laugh once. Falling can be funny (watch John Ritter on Three's Company) if it is done right, but this wasn't done right.
I know they are asking people to submit their videos, but don't do it unless you can do it right. And that means don't hurt the people who aren't involved because that is plain stupid. The only people who should be getting hurt are the people Falling, now that's funny!
---
Bone rattling sex!!!
October 26th, 2011 under Odd. [ Comments:

none

]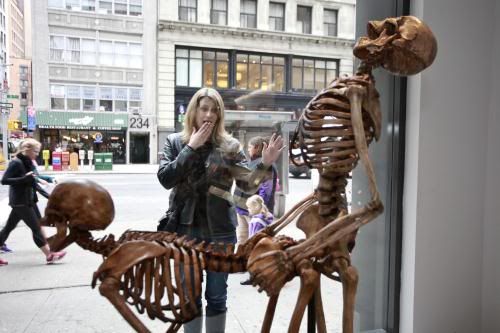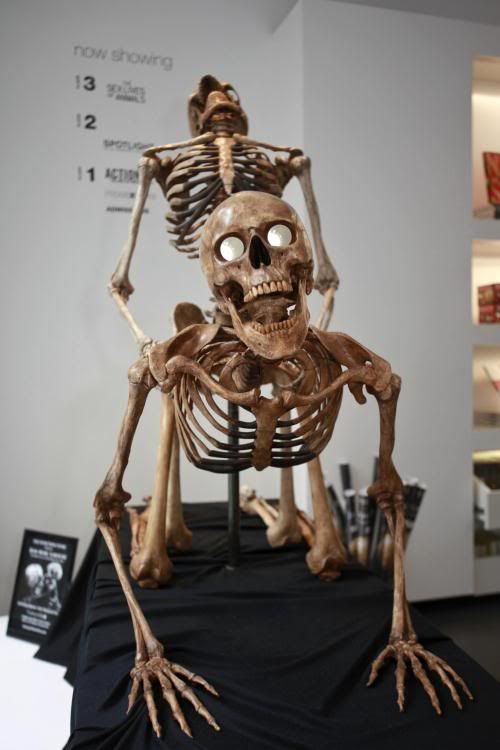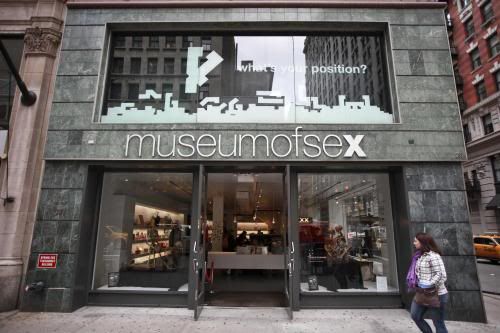 Fame Pictures
The Museum of Sex has done it again and this time they are doing it by showing off what sex looks like with no clothes and no skin! It gives new meaning to bone rattling sex!
BTW I wonder if no dogs are allowed? They would have a field day there, especially with couple that are doing it doggie style!!!
---
This will freak you out!
October 20th, 2011 under Odd. [ Comments:

none

]

(starts at 2:20 in)


Back in 1987 a young actor named Matthew Perry was starring in a show called Second Chance that was about a guy who died and gets a second to change his eternal path by reliving his mistakes and correcting them. Well the show starts out in the then distance time 2011 and predicts that Muammar Gaddafi will die in that year.
Well now it is 24 years later and the 1 season wonder (that I loved) was right, they were just off by three months. If I were a world leader or a celebrity from 1987, I would watch the full series to make sure they didn't predict my death too…
---
This guy has some pretty big balls to tell his story!
October 18th, 2011 under Odd. [ Comments:

1

]

Back in 2008, Wesley Warren Jr. told the Las Vegas Journal that he accidentally striked "his testicles by his own leg as he twisted and turned upon awakening from a sleep". He immediately felt a shocking pain that ran through his body, something he never felt before. When he woke up the next day, his scrotum was the size of a soccer ball. Today they weigh 100 pounds and he needs corrective surgeries that will cost $1 million. He doesn't have the money and he is begging for people to donate to his cause.
I am surprised with all the male plastic surgeons here in LA, that none have them have had the balls to do the surgery for free. I am a woman and I can feel his pain. Where are all of the men to put him out of his?
I seriously hope he finally gets the help he needs because no one should suffer like he is suffering.
---
Sh!t there is no pot of gold at the end of the rainbow
September 22nd, 2011 under Odd. [ Comments:

none

]

Daily Mail
In the last year rainbows have a resurgence because we have seen Double Rainbows throughout the US and appreciated their beauty. But now there is a negative story coming out about those 7 colors in the sky that form a beautiful line after some rain that we all look up to admire. We have already heard the tales about how there is a pot of gold at the end of it. Now we are finally seeing a picture that shows if there is one, and sadly there is not…:-( Well that is unless someone already beat that photographer to it and brought it home with them. Which I saw all that gold on the highway, I would totally stop and snatch it. But then again I am a girl from New York, we will do anything for gold and diamonds!!! What is that wrong?
---