Austin Butler and Vanessa Hudgens are giving off a Elvis and Priscilla vibe
July 23rd, 2019 under Elvis Presley, Vanessa Hudgens. [ Comments:

none

]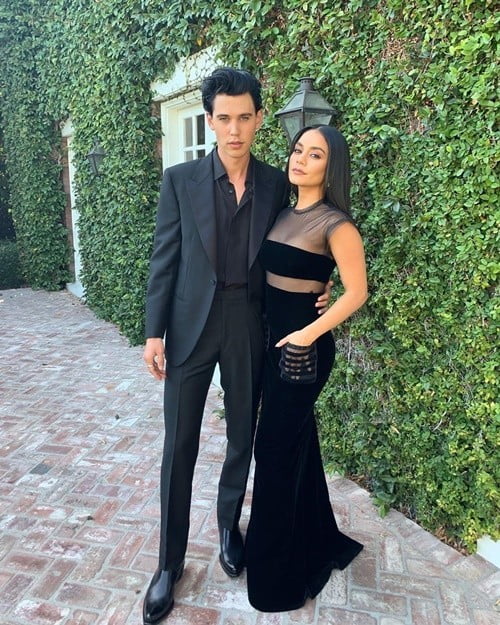 Last week, it was announced that Austin Butler is going to play Elvis Presley in the Baz Luhrmann film about the singer. Yesterday, he and Vanessa Hudgens went to the Once Upon a Time in Hollywood Premiere looking like Elvis and Priscilla Presley from the era the movie was made.
Seriously, doesn't Butler look like the King here? And let's talk about his long legs, I can't wait to see him move his Pelvis like Elvis with those sticks.
---
It's like Vanessa Hudgens knew her boyfriend was going to play Elvis
July 16th, 2019 under Elvis Presley, Vanessa Hudgens. [ Comments:

none

]

Yesterday, it was announced that Austin Butler is going to play Elvis Presley in Baz Luhrman's movie about the singer. Which I think is perfect casting since I have been a fan of his work since I interviewed him for Ruby and the Rockits.
Anyways, three years ago, Butler's girlfriend, Vanessa Hudgens, played Rizzo in Grease: Live and sang about Elvis. I wonder if she knew then that her boyfriend was going to play the role. One thing I think it is safe to say that Hudgens never told Butler, "Keep that pelvis far from me!"
Now, I am going to sound like a mother, but when are those going to get married already? What are they waiting for?
Back to Grease and Elvis. On the day they shot Look At Me I'm Sandra Dee in the original movie, it was the same day the Presley died. Just an interesting fact from Grease.
---
Vanessa Hudgens wanted to audition for American Idol
December 24th, 2018 under Ryan Seacrest, Vanessa Hudgens. [ Comments:

none

]

Before there was High School Musical, there was a brand new singing competition show on the air called American Idol. A young Vanessa Hudgens watched the then Fox show and was like I am going to be on it. But then she got the job of a lifetime and that dream was over. Not that she did bad for herself. Maybe even better than if she did do it.
What makes this tidbit even better is Hudgens told this story to Ryan Seacrest on Live with Kelly and Ryan. She told the host that she was 14 or 15 when the show that made him a household star debuted. His face when she told him that was perfect! Well for us, for him it was painful.
---