Boycott American Girl Doll
February 24th, 2023 under Unadmirable People. [ Comments: none ]
I am normally never the one who calls for boycotts, but sometimes a girl has to do what a girl has to do. So today, I am asking all of you to boycott American Girl Dolls.
Why? They just made us feel really old. In 1982 Prince told us to party like it is 1999. And in 2023, American Girl Doll is telling us that that year is historical with the release of their latest dolls.
American Girl's newest historical duo, Isabel and Nicki Hoffman, are our first-ever twin characters, and they're growing up in the 1990s in Seattle, Washington. Isabel is bubbly, extroverted, and very into pop music. Nicki is thoughtful, introverted, and passionate about skateboarding. Throughout their stories, each twin learns more about who she is as an individual, with Nicki beginning to express herself with zines (homemade magazines) and song lyrics, and Isabel focusing her passion for party planning and interior decorating. As Nicki and Isabel thrive individually, they also have to learn how to get along and support one another, culminating in a very twin-tastic response to celebrating the millennium.
I get that 1999 was 24 years ago, but is it long enough ago that it can be deemed historic? If so, Shady Pines! Yeah, that reference didn't help my case.
If this didn't make you reach for the prune juice and BenGay, wait until you see the computer desk they sell with the twins. To see it, then click here!

---
David Crosby disses a fan's picture of him
July 18th, 2022 under Unadmirable People. [ Comments: none ]
DJBSackett drew a picture of David Crosby and sent it to the singer. When Crosby saw it, he told the artist, "That is the weirdest painting of me. I have ever seen …..don't quit your day job ……"
If I were Crosby, I wouldn't be such a dick. Imagine how his kids with Melissa Etheridge will feel when they find out that Bradd Pitt could've been their dad, but instead, they got half their DNA from Crosby. That will totally have to suck because it is like night and day, and Crosby should keep his day job.

---
Chris Noth fired from The Equalizer
December 21st, 2021 under CBS, Unadmirable People. [ Comments: none ]
Last week, Chris Noth was accused of sexual assault by three women. Since then, his agency dropped him.
As we know, he is no longer part of Sex and the City. But what about his future with The Equalizer? Today CBS and Universal Television announced, "Chris Noth will no longer film additional episodes of The Equalizer, effective immediately."
According to The Hollywood Reporter, he will be seen in one more episode that was already completed.
And just like that, his career is over.

---
Ellen Pompeo told Denzel Washington that Grey's Anatomy is her show
September 30th, 2021 under Unadmirable People. [ Comments: none ]
Ever since Sarah Drew was fired unceremoniously on Grey's Anatomy, I thought that Ellen Pompeo was somehow responsible for it. Then, when excerpts from Lynette Rice's book started being published in Entertainment Weekly about the medical drama started to come out, I thought I can't wait to see what people have to say about Pompeo. It turns out the person who told the worst story about the actress was herself.
Pompeo shared a story about the time 2-time Oscar winner Denzel Washington directed an episode in the 12th season. Meredith Grey was attacked by a patient who left her with a broken jaw. At the end of the episode, the patient apologizes to her, and that is when the trouble began behind the scenes.
"He [the patient] made this choice to speak very softly. And [Meredith] was pissed that [she] had to sit there and listen to this apology, and he wasn't looking at [her] in the eye," Pompeo recalled, wavering between talking about herself and the guest star as actors and characters. "Again, we love actors who make choices, right? And I yelled at him, and I was like, 'Look at me when you apologize. Look at me.' And that wasn't in the dialogue, and Denzel went ham on my ass."

She continued: "He was like, 'I'm the director. Don't you tell him what to do.' And I was like, 'Listen, motherf‑‑‑er, this is my show. This is my set. Who are you telling?' Like, 'You barely know where the bathroom is.' And I have the utmost respect for him as an actor, as a director, as everything, but like, yo, we went at it one day."
It is not her show. She is part of an ensemble. The same way ER was not George Clooney's show, Seinfeld is not Jerry Seinfeld's show, Everybody Loves Raymond was not Ray Romano's show, and Two and a Half Men was not Charlie Sheen's show. The show belongs to the networks and the studios. You are just a face who can be fired or replaced. I bet you ABC could've killed her off last season, and it still would've gone on.
She thinks she is all that, but what has she done since Grey's? Nothing. Do you know what she is going to do after Grey's? Pray that the show remains in syndication so she can get residuals.
She is also going to pray that her co-stars don't start talking about her like they did Patrick Dempsey. I have a feeling that what they will say will make Katherine Heigl look sweet compared to Pompeo.
After this story started trending on Twitter, I started to think that Rice's group might put the final nail in Grey's coffin, as in this might be the final season. I could be wrong. But I feel another show is going to get cancelled because of the Ellen effect. Case in point Ellen, the sitcom, was not Ellen DeGeneres' show, but Ellen, the talk show, is.

---
Lori Loughlin got an acting job
September 28th, 2021 under Unadmirable People. [ Comments: none ]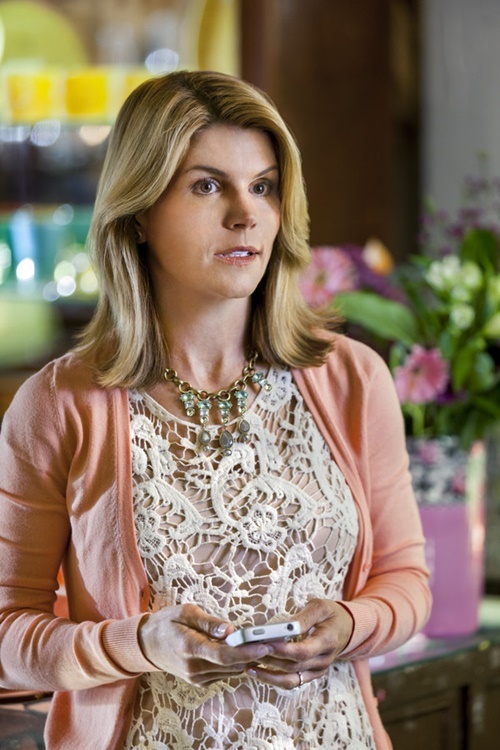 Now that Lori Loughlin has served her time in federal prison by bribing her daughters' ways in college, someone actually wants to uncancel her.
According to Deadline, the disgraced actress will be joining GAC Family's When Hope Calls for the second season on December 18th. Who knew she was family friendly again? I doubt any parent who has struggled to get their kid into college will reaccept her. Will you?
Anyways, When Hope Calls is the spinoff of When Calls the Heart, so she will be reprising her role as Abigail Stanton.
Why would GAC Family give her a job when she is persona non grata everywhere else? GAC's owner is the former CEO of Hallmark Channel, so they have a connection. Plus, it is great free publicity for the network. Did you hear about it before this? I didn't

---