Is Post Malone's song Better Now because it got RickRolled?
August 28th, 2020 under Rick Astley. [ Comments:

none

]

Rick Astley decided to cover Post Malone's Better Now, and the Never Going to Give You Up singer gave it his own flare. The song no longer sounds like something Drake recorded. Now, it sounds like something you would hear at an outdoor show, mid-concert with the stars above you and the breeze cooling you off.
Do you think it sounds better now, better now?

---
Rick Astley covers Foo Fighters
June 18th, 2020 under Foo Fighters, Rick Astley. [ Comments:

none

]

Foo Fighters not only Rick Rolled a bunch of hateful religious nuts, but the band also performed Never Gonna Give You Up with Rick Astley at one of their gigs.
Now, three years later, Astley is covering Foo Fighters' Everlong. It was kind of weird to see rockers perform a pop hit, but it is even weirder to see it reversed. Not in a bad way, it is weird because it is so simpatico.
When musicians can start touring again, I hope these two artists share a bill. Astley is the perfect ying to the Foo Fighters yang. I would pay to see them live.

---
An '80s music fan's wet dream: a-ha and Rick Astley!
February 24th, 2020 under 80s, Rick Astley, Wet dream. [ Comments:

none

]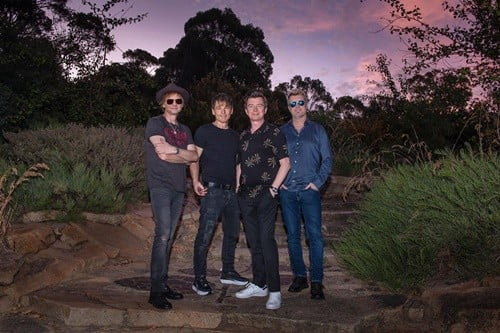 Back in the '80s, everyone was watching the music video for a-ha's Take On Me, and singing Rick Astley's Never Gonna Give You Up. However, the pop artists never met.
Well, now a-ha and Australia are getting RickRolled because both of them touring a land down under together. What a bill!
BTW Morten Harket is still as sexy now as he was when his life was all black and white.
What I would give to hear The Sun Always Shines On T.V. live. Maybe they will continue to be Together Forever or as long as it takes to them to play LA together. I would pay to see their tour.

---
Rick Astley RickRolls his own song
October 22nd, 2019 under Rick Astley. [ Comments:

none

]

Rick Astley has a new album coming out on October 29th and it is full of songs that we know. His songs. However, The Best of Me has a twist. As in, he reimagined several of his tunes including his biggest hits Never Gonna Give You Up and Together Forever.
Today, he released the audio for NGGYU and it so different. Yet, still the same. In a time when so many '80s singles are getting, what I like to call, the coffee shop treatment. The singer decided to do it to his own song. Which gives it a whole new life for a new generation. It also allows the old one to enjoy a favorite in a new way. A way that has me playing it in a loop.
What do you think of it?

---
Could Brexit be RickRolled by Prime Minister Rick Astley?
April 4th, 2019 under Rick Astley. [ Comments:

1

]

Rick Astley announced today that he is running for Prime Minister of the United Kingdom because "This Brexit thing has to be sorted out one way or the other."
I think he could get the job done because you know he is, "Never gonna give you up. Never gonna let you down. Never gonna run around and desert you. Never gonna make you cry. Never gonna say goodbye. Never gonna tell a lie and hurt you."
That and I am pretty sure he would not take crap from Donald Trump, the US President craps all over the UK.
Therefore, call everyone you know in the UK and tell them to vote for Rick Astley as Prime Minister. I already asked my friends on the other side of the pond to do it.

---