Sweet Neil Diamond brings the World together for nearly 4 minutes!
December 21st, 2020 under Neil Diamond. [ Comments: none ]

Last month, Neil Diamond asked everyone in the World to send him a video of themselves singing his 1969 hit Sweet Caroline. The World heard his call and responded. Today, we got to see what happens when the people of Earth can put their differences aside and let music unite them.
I can't stop crying happy tears because I am so verklempt. In the words of Jackie Gleason, "How sweet it is!"
What is also sweet is that Diamond just released 14 Classic Diamonds with new vocals. Those new vocals were given a twist with a new interpretation by the London Symphony Orchestra.
I said sweet so many times in this post, I gave myself a cavity.

---
Neil Diamond wants you for a Sweet Caroline sing-along
December 3rd, 2020 under Neil Diamond. [ Comments: none ]

Neil Diamond's Sweet Caroline has been part of sing-alongs at his concerts, in subways, and on planes. Now, he wants to create an international one. Therefore, he is asking you to record yourself singing the song and send the video to him. Then he will make a compilation video of the winning submissions.
Here's what you have to do:
Step 1: Grab some headphones.
Step 2: Set up either a laptop or a phone to record yourself.
Step 3: Start the record.
Step 4: Press play on the lyric video above and get singing along!
Step 5: Fill in the form on the Sweet Caroline Sing-Along page and drag and drop your video file into the box.
Step 6: Upload your video by 9th December and come back to see the results on 16th December!
I tried to record the video, but my cat was not having my singing. Since I can't do it, do it for me.
I can't wait to see the final product. I am sure it will be some of the much-needed happiness we are all going to need by the 16th.

---
BTWF: Neil Diamond on American Bandstand
December 2nd, 2020 under Neil Diamond. [ Comments: none ]

Before Neil Diamond starred in The Jazz Singer, he talked to Dick Clark about getting into acting on American Bandstand. He looks the same now as he did when he was 25 in that 1967 episode.
If you want to laugh, then you have to watch Diamond's really bad interview with Clark from a year earlier. What was Clark thinking? To see it, then click here!

---
Neil Diamond turns Sweet Caroline into Self Quarantine
March 23rd, 2020 under Coronavirus, Neil Diamond. [ Comments: none ]
Stay safe out there everyone. Thank you to all the people who are out there working their butts off and making sacrifices to keep the world safe.

Posted by Neil Diamond on Saturday, March 21, 2020
D Hettrick was bored, so they rewrote the lyrics to Sweet Caroline to be useful during the Coronavirus crisis. Somehow, Neil Diamond got his freshly-washed hands on them and sang them for all of us to enjoy.
I hope he considers recording the reworked tune because I love it. It goes really well with some Red Red Wine.
Seriously, who else is going to be singing this version when they wash their hands now?

---
Neil Diamond teases a musical
January 23rd, 2020 under Neil Diamond. [ Comments: none ]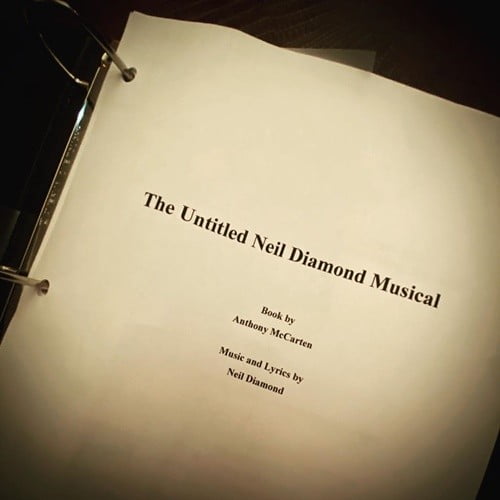 Back in 2018, Neil Diamond announced that he was retiring from touring because he was diagnosed with Parkinson's. What has he been doing since then?
Tonight, he gave us a little hint. The singer posted a photo of a title page for The Untitled Neil Diamond Musical in which he wrote the lyrics and music. What does that mean? We don't know because all he wrote with the photo is "👀".
Does that mean we will be getting a Rocketman or a Mamma Mia? We don't know. However, his music is perfect for either. If it is his old music. It could be all-new songs. We have no clue, but I hope we find out soon. Who doesn't love Neil Diamond music? It is like comfort food.

---