Even the FBI didn't know Missy Peregrym had her baby
April 29th, 2020 under Missy Peregrym. [ Comments:

none

]

Back in October, Missy Peregrym revealed that she was expecting her first child with husband, Tom Oakley. Yesterday, she announced that Otis Paradis was born on March 21st.

She wrote, "A huge thank you to Dr. Brennan & his wonderful wife, Jais, as well as the staff at Lennox Hill for helping us bring our son into this (crazy) world. Thank you for continuing to be there for new families during this time. #blessed"

Thankfully, she was able to safely have her son as the coronavirus pandemic was starting to infiltrate NYC.

---
Missy Peregrym will not finish out this season of FBI
February 6th, 2020 under Missy Peregrym. [ Comments:

none

]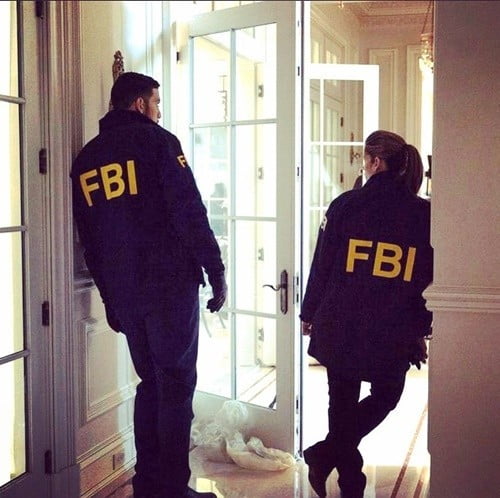 Missy Peregrym announced today that it is her last day of filming the second season of FBI, even though they have a few more episodes to tape.
Was she let go? The actress was, but only to have her first baby with her husband, Tom Oakley. The two were married December 2018 and revealed the happy news in October.
The actress had this to say about departing the season prematurely, "Sad to leave the team early, relieved to be off my feet and able to fully rest before the babe comes, scared of the future… but mostly, grateful." Then she added, "It's no joke working while growing a human, and I would not have been able to do it without our thoughtful crew. Thank you for always having my back, making sure I had grilled cheese, and being so excited about us starting a family. To the FBI Fam, thank you for loyally watching, enjoy the surprises ahead.❤️"
The CBS drama has done a good job of hiding her pregnancy. If you did not know she was pregnant, you are never going to find out by watching the show.

---
Will Missy Peregrym's baby wear Rookie Blue or rookie pink?
October 23rd, 2019 under Missy Peregrym. [ Comments:

none

]

Missy Peregrym and her husband Tom Oakley have some big news. They are expecting their first child together in the spring. The two had a surprise wedding at the end of 2018.
No word if the pregnancy will be written into her CBS show FBI. If they do, they have to get her someone to make the baby soon since her character hasn't been with anyone since her husband died. Although did anyone else get a vibe between her character and Jeremy Sisto's at the end of yesterday's episode?

---
Missy Peregrym has another surprise wedding
January 2nd, 2019 under Missy Peregrym. [ Comments:

none

]

Missy Peregrym had quite a 2018. She is starring in the new hit CBS police procedural FBI, and she ended the year by getting married. Actually, she and Tom Oakley tied the knot on December 30th in a small intimate wedding according to People.

This the Reaper's star's second marriage. She eloped with Zachary Levi in 2014. Their marriage did not last a year.

---
Rookie Blue is back on duty!
June 19th, 2014 under ABC, Missy Peregrym. [ Comments:

none

]

Rookie Blue is back on ABC tonight at 9p with two episodes and you don't want to miss this police drama.
The show picks up after almost immediately after the season finale and Sam Swarek (Ben Bass) is being wheeled into the operating room after being shot. Chloe (Priscilla Faia) meanwhile is out of surgery and she is recovering with her husband by her side. Dov (Missy Peregrym) and Andy (Gregory Smith) are told to take a break from the hospital and they go to eat the 24 hour diner nearby. While they are there in plain clothes, the place is robbed and the robbers hold them hostage not knowing they are cops. When something goes wrong, their lives are put in jeopardy. Will they make out of there alive and uninjured?
Then at 10p, spoiler they do, because Andy becomes a TO to a new Rookie. He is over excited about his first day on the beat and because of that he risks his life and Andy's. Will he learn his lesson or will he quit the force after just one day?
You just have to tune into a drama that gets more arresting each season.

---