Missy Peregrym is pregnant with baby #2
February 7th, 2022 under Missy Peregrym. [ Comments: none ]
Missy Peregrym has some news to share, so she got her son, Otis, who turns 2 next month, to help her tell it. The FBI actress asked her toddler to tap her belly to tell everyone he is going to be a big brother this summer. The only problem is he doesn't know gentle. Hopefully, he will learn what that means before the baby comes.
Talking about gentle, is there a gentle way to write her pregnancy into the CBS show, or will they keep it hiding like they when she was pregnant the first time?
Peregrym just celebrated her third wedding anniversary with Tom Oakley.

---
Missy Peregrym brings her son to work
October 9th, 2020 under Missy Peregrym. [ Comments: none ]

Back in March, at the beginning of the coronavirus pandemic, Missy Peregrym gave birth to her first child with Tom Oakley. Because of that, she was able to keep photos of her son private.

Now, that she is finally back at work on CBS's FBI, we are getting our first glimpse of 6-month-old Otis. The little guy is so precious. Then again, look at his mom! He gets his cuteness from her.

---
Even the FBI didn't know Missy Peregrym had her baby
April 29th, 2020 under Missy Peregrym. [ Comments: 1 ]

Back in October, Missy Peregrym revealed that she was expecting her first child with husband, Tom Oakley. Yesterday, she announced that Otis Paradis was born on March 21st.

She wrote, "A huge thank you to Dr. Brennan & his wonderful wife, Jais, as well as the staff at Lennox Hill for helping us bring our son into this (crazy) world. Thank you for continuing to be there for new families during this time. #blessed"

Thankfully, she was able to safely have her son as the coronavirus pandemic was starting to infiltrate NYC.

---
Missy Peregrym will not finish out this season of FBI
February 6th, 2020 under Missy Peregrym. [ Comments: none ]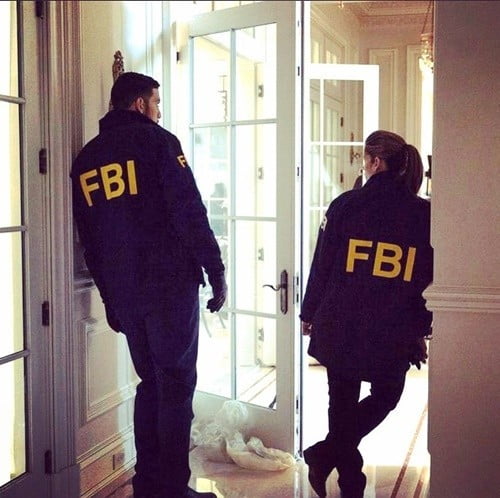 Missy Peregrym announced today that it is her last day of filming the second season of FBI, even though they have a few more episodes to tape.
Was she let go? The actress was, but only to have her first baby with her husband, Tom Oakley. The two were married December 2018 and revealed the happy news in October.
The actress had this to say about departing the season prematurely, "Sad to leave the team early, relieved to be off my feet and able to fully rest before the babe comes, scared of the future… but mostly, grateful." Then she added, "It's no joke working while growing a human, and I would not have been able to do it without our thoughtful crew. Thank you for always having my back, making sure I had grilled cheese, and being so excited about us starting a family. To the FBI Fam, thank you for loyally watching, enjoy the surprises ahead.❤️"
The CBS drama has done a good job of hiding her pregnancy. If you did not know she was pregnant, you are never going to find out by watching the show.

---
Will Missy Peregrym's baby wear Rookie Blue or rookie pink?
October 23rd, 2019 under Missy Peregrym. [ Comments: none ]

Missy Peregrym and her husband Tom Oakley have some big news. They are expecting their first child together in the spring. The two had a surprise wedding at the end of 2018.
No word if the pregnancy will be written into her CBS show FBI. If they do, they have to get her someone to make the baby soon since her character hasn't been with anyone since her husband died. Although did anyone else get a vibe between her character and Jeremy Sisto's at the end of yesterday's episode?

---