Jeremy Piven broke 8 ribs, but didn't say how he did it
January 10th, 2022 under Jeremy Piven. [ Comments: none ]
Jeremy Piven has been quiet on social media for about a month, and he explained why over the weekend.
"I've been a bit silent for the last month as I've been healing up… Breaking 8 ribs is no joke my friends. But it's nothing compared to the struggle of most. Grateful for my renewed respect I have for health and wellness, can't take it for granted for a moment," he wrote. "I will dive right back in and do a podcast to let you guys know what's been going on. Who would your top choices be for a guest? @howulivinjpivenpodcast."
Since he didn't explain how he broke a third of his ribs (we have 24), how do you think he did it? I mean, there has to be a really good story behind the injury. So, what do think it is?

---
Jeremy Piven recreates Stanley Tucci's Martini making video
May 4th, 2020 under Jeremy Piven, Stanley Tucci. [ Comments: none ]

Jeremy Piven decided to take the audio from the infamous video of sexy Stanley Tucci making a Martini and acted it out with Krista Allen.
Did I learn how to make a Negroni from it? Nope. What I did learn is that Piven should stick to scripted comedy, and Allen is under-appreciated for her comedic timing.
What did you think?
BTW if you are the only person who missed Tucci's bartending lesson, then click here!

---
Jeremy Piven has hair
November 1st, 2019 under Jeremy Piven. [ Comments: none ]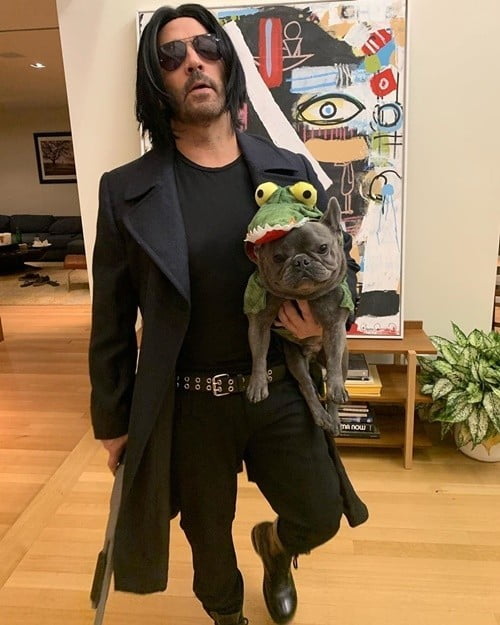 Ever since we first saw Jeremy Piven on the big screen, he has not had the fullest head of hair. However, for one night only, he had a head of hair that makes women want to run their fingers through it. That is what makes Halloween so special. You can have whatever look you want and no one questions it.
When it comes to his shoulder-length locks, he has never looked sexier. His John Wick costume lights the wick on my candle.

---
BTWF roles: Jeremy Piven in Carol & Company
February 28th, 2018 under Before They Were Famous, Jeremy Piven. [ Comments: none ]

Before Jeremy Piven was a billionaire in Wisdon of the Crowd, he was a plumber at a hotel in Carol & Company. He looks the same now as he did when he was 24 in that 1990 episode.

---
Did accusations against Jeremy Piven cost his show a pickup?
November 27th, 2017 under Jeremy Piven. [ Comments: 1 ]

Weeks after several women accused Jeremy Piven of sexually assaulting them, CBS finally announced today that his show Wisdom of the Crowd would not get any additional episodes. In other words, it is cancelled. While the drama is doing about the same ratings as their other 2 new dramas, SEAL Team and SWAT, it makes you wonder why his show did not get the back 9 and theirs did. They have bigger (to their brand) names attached to them unlike him Piven who does not really scream CBS like David Boreanaz and Shemar Moore. Which could be why. But my personal theory, is his show sucked. The pilot was so bad, I could not even review it. I am sure a lot of other people felt the same way and that is why CBS made the wise choice for the crowd and parted ways with it. While looking like they are being all noble by parting ways with someone who has been accused of of sexual assault by at least 3 women.
Piven had this to say about the end of his show, "Wanted to thanks all of you guys for supporting us at #WisdomoftheCrowd sorry we don't get to continue with this great family we have created . Proud of the work we did and we will Finish out our 13 episodes with full hearts!"
If you are one of the few people who enjoys it, the remaining 4 episodes will play out during its regularly scheduled timeslot.

---