Nick Cannon reveals how he got Beat Shazam
June 1st, 2023 under Jamie Foxx, Nick Cannon. [ Comments: none ]
Jamie Foxx was supposed to host Beat Shazam again this summer with his daughter Corrine, but he suffered an undisclosed medical complication. Therefore, Fox needed someone to fill in for the ailing host, and they went with Nick Cannon.
Today, Cannon was interviewed by Extra, and he talked about how it all went down. "It was a lot. It was over text and emails," he said. "I was actually working on something else, and they say, 'Jamie wants you to do this.' And I was like, 'I'll do anything for Jamie.' Once I got the blessing, I'm there. I got the blessing from him and Corinne [Foxx]."
Does Cannon have the blessing to disclose what is wrong with Foxx? He does not, and he is going to respect the actor's privacy. Then he added that when Foxx is ready to talk about it, he will. But until then, they are going to put out the information they want out there and not what some asshole wants to make up without any proof.
On that note. Can we talk about sad Billy Bush sounds trying to be all hip while talking to Cannon? In the words of K.C. and the Sunshine Band, "Baby, give it up. Give it up. Baby, give it up!"

---
Corinne Foxx says Jamie Foxx is out of the hospital
May 12th, 2023 under Jamie Foxx. [ Comments: none ]
On April 13th, Corinne Foxx posted that her father, Jamie Foxx, was hospitalized with a "medical complication." But she never said what it was.
Since then, we have not gotten any updates on his health. However, on May 3rd, someone posted on his Instagram a statement that read, "Appreciate the love!!! Feeling blessed."
He posted that message because Fox recast the Foxxes on Beat Shazam earlier that day with Nick Cannon and Kelly Osbourne.
Well, this week, there were rumors that the Oscar winner had taken a turn for the worst.
So today, his daughter released an update on his condition. "Update from the family: Sad to see how the media runs wild. My Dad has been out of the hospital for weeks, recuperating. In fact, he was playing pickleball yesterday! Thanks for everyone's prayers and support!" Corinne wrote. "We have an exciting work announcement coming next week too!"
So, who do you believe? I think if he had been out of the hospital, the family would not have been as quiet. Nor would his friends. So until we see him, I don't believe anyone.

---
Nick Cannon replaces an ailing Jamie Foxx on Beat Shazam
May 3rd, 2023 under Fox, Jamie Foxx, Nick Cannon. [ Comments: none ]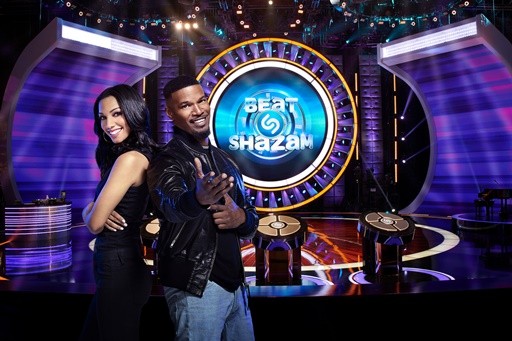 On April 12th, Jamie Foxx's daughter, Corinne, posted on Instagram that her father was in an Atlanta hospital with a "medical complication." Since then, she has been social media silent.
There have been rumors the Oscar winner suffered a stroke, but no one has confirmed or said anything.
However, today TMZ posted a story that Foxx is still hospitalized after three weeks.
And since the show must go on, Beat the Shazam will go on without him.
Fox released this statement, "Beat Shazam has been an unscripted mainstay on the FOX schedule for six seasons and counting.
"This season, not wanting fans of the game show to miss a minute of the fun, Nick Cannon has offered to fill in as guest host for his friends, Jamie and Corinne Foxx. Kelly Osbourne will be filling in as guest DJ.
"Everyone at FOX Entertainment wishes Jamie well as he continues his recovery, and we greatly appreciate Nick's willingness to jump in and help this summer."
Beat Shazam is expected to debut on May 23rd.
When it comes to Foxx, hopefully, he will be better soon and can host the show again next year.
UPDATE: Jamie Foxx posted this on Facebook, "Appreciate all the love!!! Feeling blessed."
Although, I am not sure he is the one who wrote it. It could be someone posting for him because people want to know how he is doing due to this latest development. I hope I am wrong. And continues to be on the way to full recovery.

---
Jamie Foxx is hospitalized for a "medical complication"
April 13th, 2023 under Jamie Foxx. [ Comments: none ]
Jamie Foxx, 55, is in Atlanta filming the Netflix movie Back in Action. However, production has been shut down just days before they were expected to wrap because he is in the hospital.
His daughter Corrinne Foxx wrote, "We wanted to share that, my father, Jamie Foxx, experienced a medical complication yesterday. Luckily, due to quick action and great care, he is already on his way to recovery.
"We know how beloved he is and appreciate your prayers. The family asks for privacy during this time."
She did not say what the complication is that is ailing her father. Hopefully, he will be back on the set soon of the cursed film.
I am saying that because the film, which also stars Cameron Diaz in her comeback role, has been plagued with issues.
While filming in London, Foxx reportedly was unhappy with the way filming was going, so he had four people fired. After that incident, the crew found an old unexploded bomb on location. Thankfully, it did not go off.
With all of these things going on, you have to wonder if Diaz will ever make another movie.

---
Cameron Diaz is back in action
June 29th, 2022 under Jamie Foxx, Uncategorized. [ Comments: none ]
https://twitter.com/i/status/1542190656386236416
Back in 2014, Cameron Diaz announced that she was retiring from acting. Now, 8 years later, she is ready to get back in action with Jamie Foxx.
The two worked together in 2014's Annie, her last movie before her retirement. That movie was rightfully panned, so you can't blame her for taking him up on his offer to star in Netflix's Back to Action. Hopefully, it will be better than their last film. Although, that is not that hard to do.
Production starts later this year on the movie.

---