John Oates won't let emergency surgery keep him from rocking
February 26th, 2020 under Hall & Oates. [ Comments:

none

]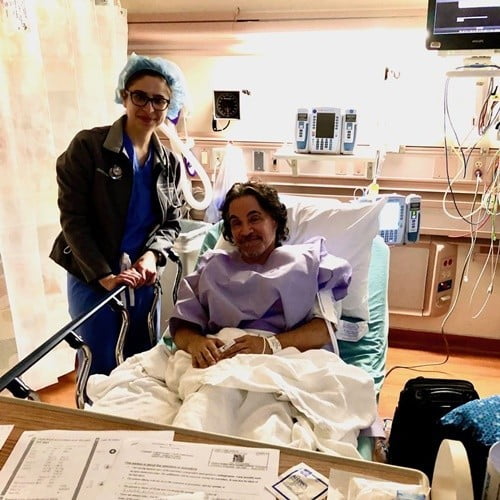 John Oates posted a photo of himself lying in a hospital bed and revealed that he had emergency surgery six days ago at Vanderbilt Hospital.
He wrote, "Last week I felt pain under my right rib and had to go in for emergency gallbladder surgery. Talk about frightening!" Then he added, "Now 6 days later getting ready to start the first show on H&O tour in Hershey tonight and Madison Square Garden on Friday."
It is crazy that he could have emergency surgery less than a week ago and then hit the stage with Hall & Oates like nothing ever happened. Forget the Method of Modern Love, it is all about the method of modern medicine.

---
Hall & Oates & Grohl?
September 25th, 2019 under Foo Fighters, Hall & Oates. [ Comments:

none

]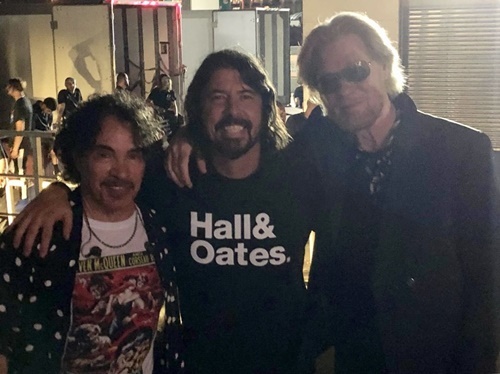 When you think of the bands that Dave Grohl would be into, Hall & Oates will be on the bottom of them list. However, they are not. Here is the Foo Fighters singer posing with the duo wearing a shirt with their names on it.
Maybe the duo can become a trio? I would love to hear him sing Private Eyes and Maneater with them. It would be totally bitchin'.
I love that the Nirvana drummer is all into Adult Contemporary artists like this duo and Rick Astley. Give it a few years and the Seattle band will be muzak too. We will be jamming to Smells Like Teen Spirit in the elevators.

---
Is this the best Hall & Oates costume?
October 24th, 2018 under Hall & Oates, Halloween, The Goldbergs. [ Comments:

none

]

Throughout the decades, people have been dessing up as Hall & Oates for Halloween. Tonight on The Goldbergs, Erica (Hayley Orrantia) and Geoff (Sam Lerner) dressed up as the duo. Not the rock band, but 2 things that make you feel better when you are sick. Halls cough drops and Quaker Oats oatmeal.
I don't know why, but it made my dreams come true. Did they make Daryl Hall and John Oates say, "I can't go for that?" Since I found out about it on their Twitter page, I think you guess the answer. They are the love train too!

---
Hall & Oates are on Cleveland's list tonight!!!
November 22nd, 2009 under Hall & Oates, Seth MacFarlane. [ Comments:

none

]

Tis the season for holiday specials and The Cleveland Show is getting their first of many Thanksgiving's episode tonight on Fox at 8:30p! And what better to celebrate Turkey Day with, but with a band who has given us many songs to be thankful for…Hall & Oates! I can't wait to see what this singing duo on my favorite new animated show of the fall. (Shhh it is the only new animated show that premiered this fall, but you know what I mean!)
BTW something I am thankful for is what Seth MacFarlane created all those years ago with Family Guy that lead to The Cleveland Show and American Dad. Sunday nights are better because of him!

---
John Oates 'stache wants his own TV show
July 25th, 2009 under Hall & Oates. [ Comments:

none

]

Private Eyes have spotted this trailer that will Make John Oates Dreams come true and Sara Smile if it can picked up as a TV show. John Oates and mustache are Back Together trying to get a TV deal for JSTACHE! Ride the Machine and they went to Funny or Die to promote because it!
So is this Kiss On Your List or saying Say It Isn't So and I Can't Go for That, No Can Do?

---