Relative Race needs your ideas for season 12!
March 24th, 2023 under BYU TV. [ Comments: none ]
On Sunday, Relative Race's 11th season is going to debut on BYU TV. But they have already moved on to planning for season 12.
Therefore, they are reaching out to the fans for ideas! They want to know what our suggestions are for a daily prize and what you think they should do for a daily penalty. So, if you have some thoughts for them (like I did), then click on this link.
And when you are done, make sure to watch the new season, which will make us cry a lot of happy tears as the contestants meet the family members they never knew about. Gd I love this show, and Dan Debenham, who is doing well with his new cancer treatment.

---
Relative Race's Dan Debenham gives an update on his cancer
March 20th, 2023 under BYU TV. [ Comments: none ]
Last season at the beginning of Relative Race, Dan Debenham announced that he was diagnosed with stage IV prostate cancer earlier in the year and had just finished going through chemotherapy.
Since then, we haven't gotten an update from the host about how he was doing.
Yesterday, he released a video, and he is looking great. His hair has grown back. But instead of having brown hair, he is now grey. He looks so good that BYU TV won't let him dye it. And I agree with them.
That is how he is doing on the outside, but what about his cancer? "I finished my chemotherapy. Yet I am starting two new FDA-approved; it's still clinically chemotherapy, but I don't get really sick. And I don't lose my hair. And it is really helping," he said. "So I am feeling a lot better. And while I still have a long ways to go, I also have my Relative Race family, and that includes all of you…So I am good!"
And he wanted to let us know that he is feeling the love and prayers we have been sending his way.
Hopefully, these new treatments will help him beat cancer, and he will be hosting Relative Race for many more years.
On that note, season 11 debuts on Sunday. And you don't want to miss the new season of the best reality show on television. You never know which family members the teams are going to meet and which ones are going to make you cry the hardest. There are always tears but happy tears.

---
Relative Race will be back in March with Dan Debenham
February 27th, 2023 under BYU TV. [ Comments: none ]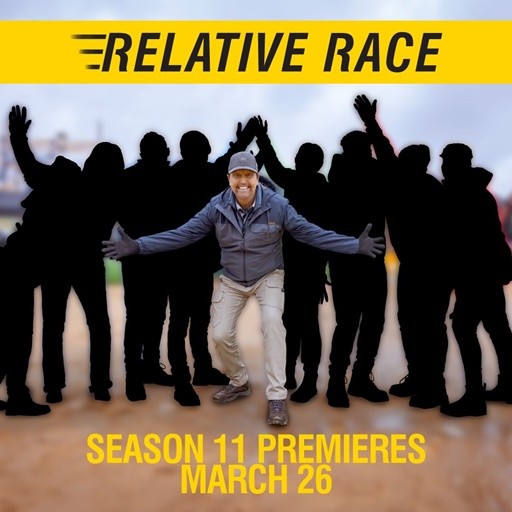 Relative Race/Instagram
I have some good news and some great news.
The good news is that Relative Race will be back for its 11th season on BYUtv on March 26th. The great news is that Dan Debenham will be back as the host.
Debenham announced at the beginning of season 10 that he was diagnosed with stage 4 prostate cancer and had just finished his chemo treatment. Since then, we haven't gotten an update on his health.
But that changed yesterday when they announced the new season. I asked how he was doing, and they told me, "He is feeling well and is in great spirits! He and his family appreciate the support and prayers." Then they added, "Dan is thrilled to be back!"
And we are thrilled to have him back. He is the heart of the best reality show on television. If you are not watching the show that literally brings families together, then you are missing out on the show that makes you cry happy tears every week. That is because four teams of two get to meet family members they have never met before, thanks to DNA tests proving they are related. So there have been adopted people who meet their birth parents for the first time. If that doesn't turn you into a blubbering mess, nothing will.

---
Relative Race's Dan Debenham reveals he's battling stage 4 prostate cancer
September 19th, 2022 under BYU TV. [ Comments: 3 ]
Relative Race is back for its 10th season on BYU TV on Sunday nights. Before yesterday's premiere episode started, the show's host Dan Debenham had a message for the fans of the reality show that helps contestants find the family they never knew about. He revealed that he has been battling stage 4 prostate cancer for over a year and has just finished chemotherapy.
"I wanted to share my journey with all of you. In doing so, I realize that cancer is something that has affected so many of you. Through all my rounds of radiation and chemotherapy, it was my family that was there for me, physically, emotionally, and spiritually. Their love, and their prayers, their support, it's lifted me up and carried me through the tough times," Debenham said. "I've often thought of all of our Relative Race teams throughout the years and their desperate search and sincere hope they'll find anyone that is family. You know, I often say that Relative Race is a journey like any other. And as I quietly shared my own journey, I am so grateful for the thoughts and the prayers on my behalf. And for those of you who may be on this same journey, know that my thoughts and prayers are with you."
Today, I ask you to pray for him to beat cancer. Take a few minutes out of your day to pray for a man who has brought joy to many others by bringing families together for the first time.
And to all the men out there, go see your doctor and get your blood checked. A simple PSA test can help you catch prostate cancer early.

---
Relative Race wants you to vote on the daily outcome starting today
May 22nd, 2022 under BYU TV. [ Comments: none ]
Relative Race is back in production, as you read this, on its 10th season, and we, the fans, are being asked to play a part in the show this year.
Starting today and for the next 9 days, they want us to vote on one picture per day that each team took as an assigned subject. We won't know how our vote plays a part in the game until the show debuts in the Fall.
Host Dan Debenham says our "votes will be a huge factor in determining the team's daily results." So we have a big say this season. And I like that. Even though I don't know what it is.
So, how do we vote? We can go to either the Relative Race Instagram or Facebook page and vote once for our favorite photo from 4:30-5:30p MDT (6:30-7:30p EDT) from May 22nd to May 30th.
What is Relative Race? It is my favorite reality show. Well, that doesn't help you. Each season, 4 teams of 2 go from location to location in a car with an old school map to meet family members they have never met or have not seen since they were babies.
Most of the teams have one member who was adopted and will be meeting their biological family for the first time. So get the tissues ready because I ugly cry several times a season. When they meet their mother or father for the first time, we all turn into blubbering babies. It is so beautiful and heartfelt.
What other reality show does that? None. And since it is a competition, each week, when they get to the location of their mystery relative, they have to do a challenge. After they are done with the challenge, they then go to meet their new family member.
In seasons past, the winner was determined how long it took them to get from one relative's house to the other one's home, and the challenge can either hurt or help their time on that.
They do that for 9 days, and then on day 10, the remaining teams play in one last challenge, and the winner goes home with $50,000.
Does that make sense? If not, you can watch past seasons on BYUTV or their app for free. I promise you will adore this show as much as I do. Just make sure you have enough tissues to watch 9 seasons of tear-inducing, happy episodes.
I cannot say enough good things about this series. I wish there were more competition series that are as wholesome and as rewarding as this show. I want to compete on the show and meet new family, but I don't have anyone in my life I could spend 9 days in a car with and not kill them.

---